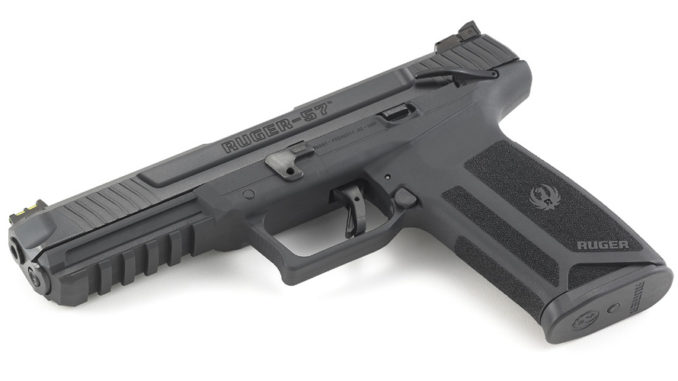 Ruger released their newest pistol today, the Ruger-57. This pistol is a bit of a surprise for the community, as it is Ruger's first gun chambered in the 5.7x28 cartridge. Think a budget Five-seveN pistol from FN.
Ruger-57 Details
The Ruger-57 takes design cues from the popular Security 9 series. With a polymer frame, tabbed trigger, and manual safety the pistol has familiar lines and controls that most will be familiar with. Lefties are in luck, as the magazine release is reversible. The ambidextrous safety is enlarged, making even the most generous 1911 safeties look inadequate. The slide is cut for shooters to mount optics from either Burris or Vortex.
Magazines are made from steel hold 20 rounds standard, with 10 rounders available for ban states. Two magazines are included with the gun,. The Ruger-57 features a rear sight fully adjustable for windage and elevation, and a fiber optic front sight. Similar to the Glock 34, the slide is features lightening cuts to reduce mass.
MSRP on the Ruger-57 is $799
Check out the Ruger-57 Press Release below
Introducing the Cutting-Edge Ruger-57 Pistol

Sturm, Ruger & Company, Inc. (NYSE: RGR) is thrilled to introduce a cutting-edge new platform - the Ruger-57™ pistol. The Ruger-57 is a full-featured handgun wrapped around a standard capacity, 20-round steel magazine, chambered in the high performance and low-recoiling 5.7x28mm caliber.

The most touted feature of this new pistol is its impressive ergonomics. The slender steel magazine is surrounded by a glass-filled nylon frame featuring an optimized texture, making for a natural and ergonomic grip. Despite the longer cartridges, the trigger reach is no longer than many common 9mm Luger handguns. All of the controls are easily accessible, like the 1911-style ambidextrous manual safety, robust slide release and the reversible magazine latch.

The flat-shooting 5.7x28mm cartridge is recognized for its superior ballistic performance. The lighter weight projectiles have significantly less felt recoil than 9mm Luger, allowing quicker sight reacquisition.

Rounding out the package is a windage and elevation adjustable, serrated rear sight and rapid acquisition fiber optic front sight for fast, accurate shooting; Picatinny-style accessory rail; and Secure Action™ fire control which combines Ruger's reliable and proven internal hammer with a short, crisp trigger pull and a positive reset. To top it off, the slide is drilled and tapped for easy mounting of optics with a separately available optic adapter plate, available at ShopRuger.com.

"The Ruger-57 is destined to become one of America's favorite handguns," said Ruger President and CEO Chris Killoy. "This pistol is soft shooting, accurate, powerful and just plain fun to shoot."

The through-hardened, billet steel slide with lightening cuts features enhanced front and rear cocking serrations. The steel barrel features a black nitride treatment for wear resistance, and the fire control housing is precision CNC-machined from anodized aluminum. The pistol is 8.65" long and weighs 24.5 ounces. It ships in a lockable hard case and includes two, 20-round steel magazines (10-round, state-compliant model also available).
Affiliate Disclaimer: Firearm Rack is funded through direct donations and affiliate programs. Some links on FirearmRack.com are affiliate links. Using one of these links costs nothing extra, the retailer pays a percentage of the sale to Firearm Rack. Funding in this manner will assure that factual information is always first. If you would like our Amazon affiliate link or find more retailers on the Support Us page