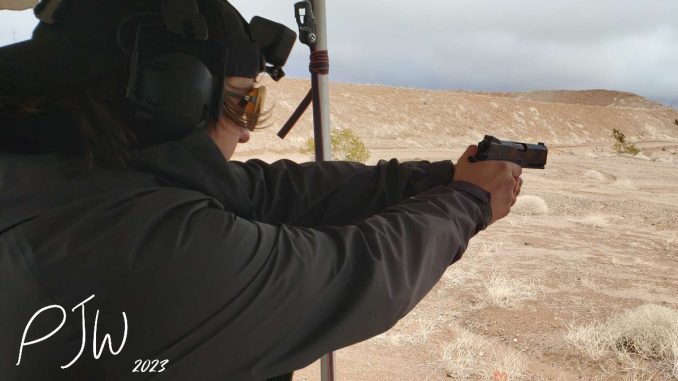 Prior to SHOT Show 2023, a friend exposed me to the Alpha Foxtrot 1911-S15. It was a solid aluminum frame 1911, that took Shield Arms S15 mags. I already use S15 mags in a Glock 48, so I wanted to check out the 1911-S15. Well, Dan and I had the opportunity to do so today. How did the 1911-S15 shoot, and what about Alpha Foxtrot's other handguns?
Alpha Foxtrot On the Range - 1911-S15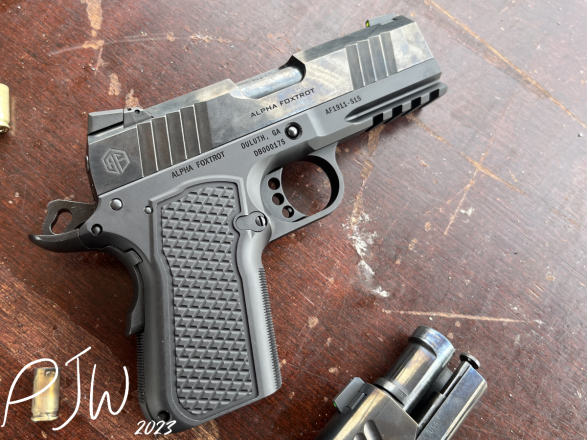 The "belle of the ball" from Alpha Foxtrot (AF), (at least for me), was the 1911-S15. This is a neat 1911, as it has a solid aluminum frame, and takes Shield Arms S15 mags. The bane of most 2011-style handguns are proprietary, expensive magazines. However, the 1911-S15 takes magazines that are common, affordable, and are made pretty well. I was able to fire a few magazines through the 1911-S15, and it was extremely pleasant.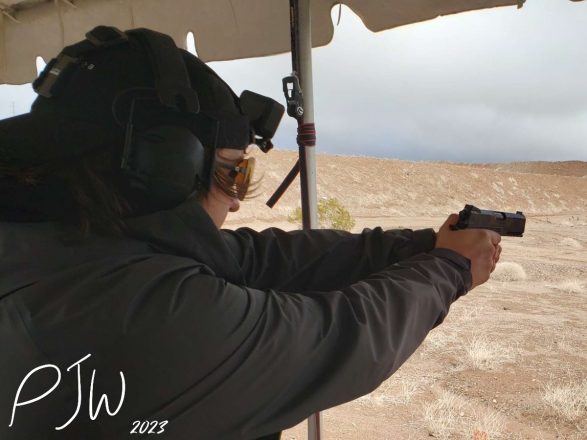 Despite being a fairly small gun, recoil was extremely manageable. The design is a barrel-bushingless mechanism, with lockup still being tight. With this being a 1911, you'd expect a great trigger, and it has it. I did run into a malfunction, with the magazine coming out of the gun under recoil. While a strange malfunction, both Dan and I ran into it. The representative from AF and I both agreed that it was likely a combination of large hands, and a weaker magazine release button. Despite this, the gun was extremely enjoyable to shoot. A factory accessory rail is included too, and I'd love to toss an X300 on here. The rep also confirmed that optic ready (RMSc footprint) and Commander sized guns would be coming out before too long. I'm hyped up for that.
MSRP is $1640 for the 1911-S15.
Alpha Foxtrot On the Range - AF1911s
Aside from the 1911-S15, we shot the more traditional models of Alpha Foxtrot 1911.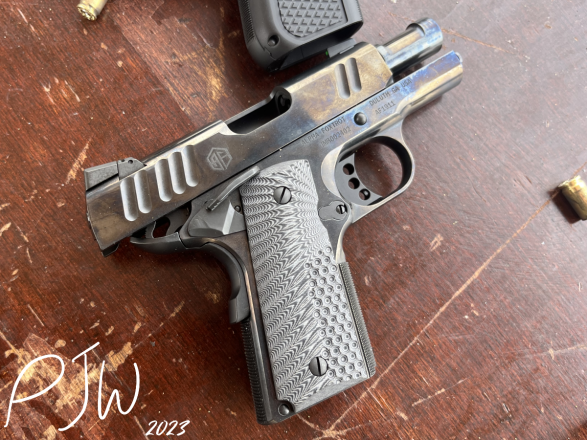 AF had their AF1911s, in their Polished DLC finish. We shot the 3" 9mm model, along with the 5" 9MM, .45ACP and 10mm offerings. These 1911s were very smooth shooting guns. Excellent triggers all around, great frame checking, aggressive grips, and beautiful finishes. The 3" gun was not snappy, but was rather pleasant to shoot.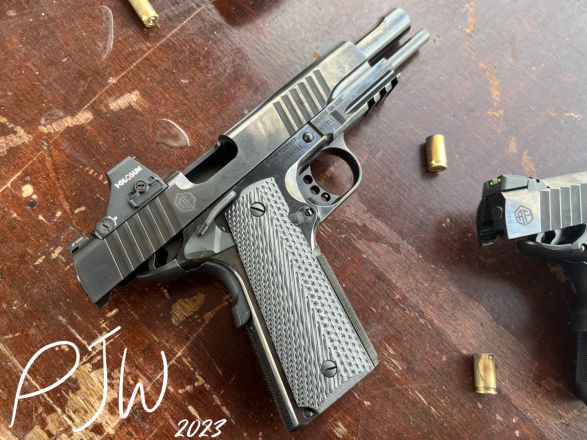 While I am not a fan of 10mm, the AF1911 chambered for it was still nice. It may sound like a broken record, but these guns feel really well made. The factory optic milling is a great feature too, as shooting 1911s with optics really does feel like cheating.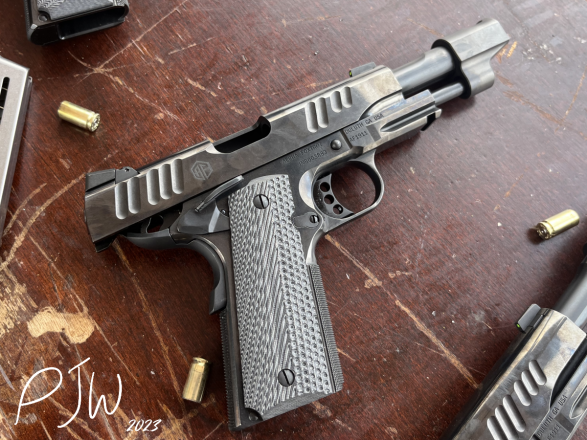 Of the non-S15 fed 1911s, the factory compensated .45 AF1911 was my favorite. I've never felt .45 feel this soft before, as the gun had nearly no recoil. Again, excellent ergos, controls, and triggers. The 9mm comped AF1911 was pleasant too, but the .45 felt so unique.
All of the AF1911 models come with accessory rails standard, along with a barrel-bushingless design. I really dig these 1911s. MSRP starts at $1490.
Here's some footage of us shooting the Alpha Foxtrot 1911s:
In Closing
I had never heard of Alpha Foxtrot prior to about a month ago, but I'm glad that I did. Given the price point and feature set, these guns are pretty impressive. I might need to snag an optic ready 1911-S15 in the future.