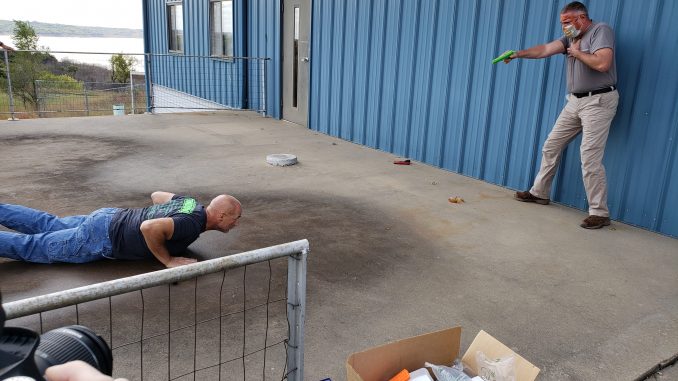 After attending Chuck Haggards' four hour OC Spray / Less Lethal course earlier this year, I was hungry for more. This is a subject that I'm relatively poorly versed on compared to firearms, and that needed to change. When I saw an instructor course pop up, I jumped at the opportunity to learn.
Location
Class takes place at the Living Water Ranch, just outside Manhattan, Kansas. The property is a sprawling ranch located in the Flint Hills, backing up to Tuttle Creek Lake. Dormitories and a cafeteria are available on site, though I did not make use of them.
Weather
Weather was fantastic, sunny, fairly warm, with very little breeze.
Equipment
Nothing is required on the part of students for this course outside of note taking material. Chuck provides all equipment necessary for exercises.
Personnel
18x students were in attendance, 5x of which are women. This was a star studded cast of characters for class! We had several Active Self Protection members including John Correia and many of his new instructors. Jon Hauptman and Sarah Cade-Hauptman of PHLster, Chris Cybert of Citizen's Defense Research, Gabe from KSG Armory were also in attendance. Several law enforcement officers, and a handful of straight civilians were also present.
The Lead Up to Agile Training & Consulting Close Quarter Handgun
This was my fifth experience with Chuck Haggard as an instructor. The first with Chuck assistant instructing during my Rangemaster Instructor Development Course. This includes his CQC Pistols and Low Light Handgun courses. Chuck spent 17 years on the SWAT team in Topeka, KS, serving over 2,200 high risk warrants, and has an extensive background in Jiu Jitstu.
Classroom OC Academics
The majority of this course takes place in the classroom. Many students are already familiar with each other from other training events. Several attended the Active Self Protection Bibles & Bullets conference from the previous weekend, sticking around for Chuck's course the following day. With this in mind, introductions are limited, and we almost immediately dive into the bulk of the material.
Chuck begins detailing the purpose behind hosting this course, and why pepper spray (OC) is a superior option for personal protection. In short, its' ability to be carried in some capacity in all 50 states, true non-lethal status, and more make OC especially attractive.
Alternative Tools
From here we move onto other less lethal tools. Tasers, stun guns, impact weapons like saps and batons are covered. Haggard talks on their history, employment, effectiveness, and more. Legalities are discussed, both for the civilian, and uniformed user. Once these are understood, we dive into pepper spray.  Topics covered include use against individuals and groups of threats, use on animals, use of force levels associated with OC, and more. Several real world examples of successful OC employment are given; we also talk to incidents that could have been solved by OC for superior outcomes, to include names like Kyle Dinkeller and George Zimmerman. After this Chuck speaks to suggestions of wasp spray as an alternative to OC (spoiler: bad idea), and the possible use of fire extinguishers in certain situations.
This slideshow requires JavaScript.
Next we move onto other riot control agents. Histories, compositions, employment, and more are covered for several agents used domestically and abroad. For those caught up in bad situations, mitigation factors are covered as well. Students share their experiences from traveling as well as military and law enforcement service from their interactions with various riot control agents.
Shifting back to OC, we learn about ways to measure the potency of your can, as well as construction of canisters and the impact that can have on employment and longevity. This leads into discussion on the various spray patterns available to users. Streams, cones, gels, foams, and more. Each has their place in context, with a few standing out as better for most circumstances.
Range Time with Chuck Haggard and Live OC Exposures
A little after lunch time we head outside for a few live exposures. Only a select few students get the sauce, which is both a relief and disappointment for me. Before we begin, Chuck speaks to handling being sprayed. Techniques for protecting yourself against spray, and the results of an exposure; keeping your back safe and your eyes open.
For exposures Chuck uses DefTech Mk4 and Mk6 cans, as well as test units of POM. Some students previously have experience with OC exposures, while others do not. Two students test the effectiveness of masks and glasses after seeing them widely used in riots and protests throughout 2020.
After live exposures wrap up we move to another portion of the range for group training with inert sprays. Here we go into the MUC (Managing Unknown Contacts), to include pre-fight indicators and target grooming. We discuss stance and grip for OC use, ranging for use with OC, and micro-ranging for defensive purposes. Everyone is afforded the opportunity to spray and be sprayed with inert cannisters.
That's A Spicy Pepper Ball
Between exposures and MUCing John Correia, of Active Self Protection, brings out a PepperBall TCP to see how it stacks up against typical OC spray. Interestingly, we got accurate hits out to 25 yards, which is far better performance than we expected. On the other side, reliability was lacking. Chuck speaks to these in class, giving them a less than stellar review.
More Classroom OC Academics
Later we return to the classroom for the last part of the day. Chuck shows us a video of him using OC in the line of duty, and we break down its' contents. From here we watch a handful of other videos to analyze them, with some having inappropriate use of OC, and others that could have benefited from its' use.
To wrap up the day Chuck Haggard fields questions from the student body to ensure nothing goes unanswered. Afterwards everyone gives feedback for class and among ourselves, certificates are passed out and we head our separate ways.
Final Thoughts on Agile Training & Consulting OC Instructor Course
If you're wanting to learn more about alternative means of personal defense, look no further. Despite having taken a shorter version of this course earlier this year, learning was in no short supply. Chuck's knowledge is both broad and deep, and he's a masterclass at distilling that knowledge for students. Even if you don't plan on instructing, the lessons learned are beneficial to anyone. In short, I highly recommend this course.
A Special Note
Special thanks to the Living Water Ranch for hosting a great weekend of training at their fantastic facility! For this specific class at Living Water Ranch, Chuck donated a large portion of the proceeds to the Ranch. They are a non-profit which aids children in the foster care system. The ranch is a gorgeous facility, and the staff were all welcoming to everyone. This is somewhere I plan on visiting again in the future.
Check out Agile Training & Consulting on Facebook and on their website