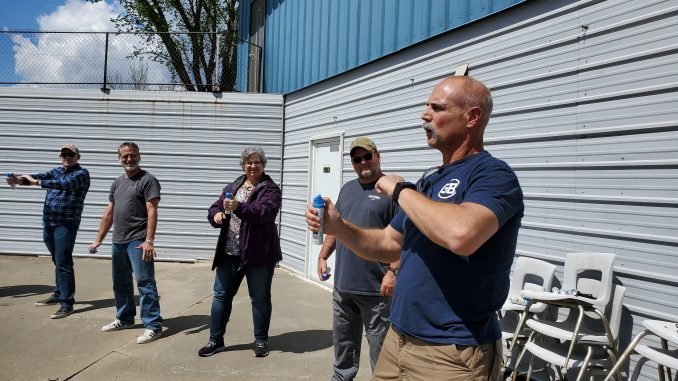 About a year ago I began carrying pepper spray (OC) to supplement my carry pistol. While this may seem fairly straightforward, I'm not one to base self defense off of assumptions. Most information online is fairly basic, and there is virtually zero training on the subject locally. Luckily, there are a few good resources available. One of those resources is Chuck Haggard, of Agile Training & Consulting.
Location
Class is held at the Living Water Ranch, just outside Manhattan, Kansas. The property is a sprawling ranch located in the Flint Hills, backing up to Tuttle Creek Lake. Dormitories and a cafeteria are available on site, though I did not make use of them. This is something I'll take advantage of next time I'm out that way.
Weather
The weather was beautiful for my weekend of training. Partly cloudy, in the high 70's to low 80's with a breeze. There were a few sprinkles of rain during classroom portions that did not disrupt training.
Equipment
No equipment is necessary for this course. Chuck provides inert models of OC spray to demonstrate ranges and patterns. Bring a pencil and paper to take notes.
Personnel
11 Students in total. Ages range from late teens to mid 60's, with roughly 2/3 being male. Some had never sought training before, with a few training junkies like myself being the minority.
The Lead Up
Chuck is regarded as one of the foremost experts on the employment of OC, stemming from his extensive law enforcement background. Prior to this class I was already familiar with his work; having watched his "Between a Harsh Word and a Gun" lecture online, which this course is based off of. I also had seen him on a handful of podcasts discussing everything from OC to revolvers, and more. Additionally, Chuck was the assistant instructor during my Rangemaster Instructor Development course from the previous year.
Classroom Academics
The majority of this course takes place in the classroom, with lecture, demonstration, and PowerPoint taking center stage. Class begins with Chuck's introduction and credentials. 1989 marks his introduction to OC, and he holds the honor of being the first cop in Topeka to employ it against a suspect. As of today, he has around 400 real world employments and over 2,000 uses in training.
Before diving into the details of OC use, Chuck covers other less lethal options. He discusses pros and cons, as well as myths of stun guns, batons, tasers, and more. Each filling their own niche, but falling short in many areas. His preference is OC, and we are soon to find out why.
Effective decision making and appropriate use of force are a large focus of this course. Haggard uses several real world examples to help drive his points home. Some feature appropriate uses of OC, and others are situations where OC use could have enabled a more positive outcome. In short, OC can reduce incidences of injury, and prevent the need for greater applications of force. I'll leave the "why" portions for Chuck to explain. In this block, we also learn about the pros and cons of both wasp spray and fire extinguisher use in place of pepper spray. The former is something I frequently see being recommended for home and office defense. I wish more people could hear Chuck's take on OC alternatives.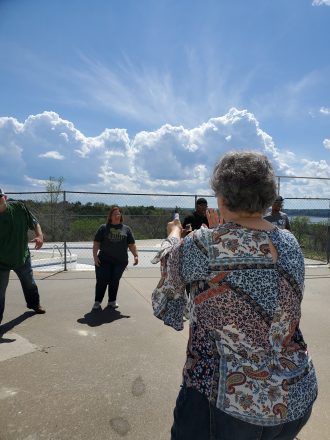 Less Lethal Nerdery
Next we begin the technical portion of our academics. Spray patterns of various cans along with tactics for each are both verbally and physically demonstrated. This portion was one of my favorites, as I had some preconceived notions about Cone patterns specifically, which ended up getting shattered before my eyes. Chuck goes on to discuss other riot control agents we may face around the world, along with solvents and decontamination procedures for each. Some myths get busted regarding scoville heat units, marketing hype, and other bad data.
The classroom portion wraps up with a segment on the MUC--Managing Unknown Contacts. This is a term I became familiar with during my time at ECQC from Shivworks. Essentially we are learning how to effectively make decisions about those around us and how to best respond. Words cannot describe how important this concept is, and how little attention it receives outside specific communities. Want to learn how to see things before they happen? Learn to MUC.
Range Time with OC
Class moves outside for the final block of academics. Chuck begins by having everyone remove their weapons in a safe manner, stowing them away from the student body. From here he goes into more detail about MUC. Topics covered include specificity of language, effective movement, camera-friendly posturing, and more.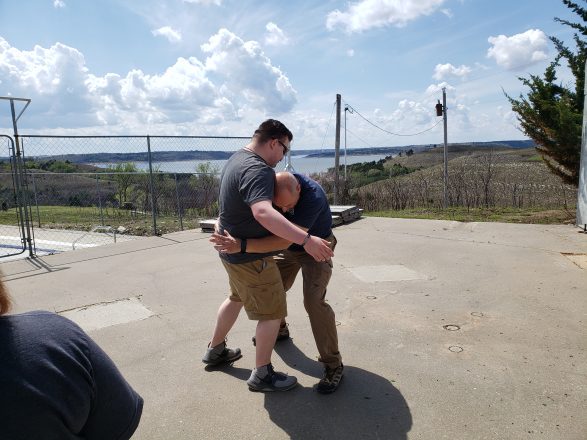 Now we arrive at the physical application of the skills we've learned throughout the day. Each student is provided eye protection, an inert can of pepper spray, and a partner. We get a few reps in at verbal de-escalation, followed by giving our aggressor the proverbial "spicy treat" to the face. Luckily, the cans are only filled with mint-scented water, so no feelings or faces get hurt. I think I am the only student who was hoping to get a taste of the real thing.
The day wraps up with feedback for Chuck, along with a few more questions from the students.
Final Thoughts on Agile Training & Consulting OC Spray / Less Lethal Options
Pepper spray isn't just for your teenage daughter. Much like with firearms, there's more to OC than what the guy behind the counter or your brother who was a cop can tell you. This class is excellent, and does a lot to debunk bad information that is rampant about both OC and personal defense in general. Chuck Haggard does a fantastic job at effectively communicating information while keeping the class engaged. His mix of humor, data, and relevant examples is on point; helping to make things entertaining and informative.
At only four hours and less than $100 in total, this course is a no-brainer. If you or a loved one carries pepper spray, sign up for this. Not only will they be more effective, but they'll be more confident as well.
A Special Note
Special thanks to the Living Water Ranch for hosting a great weekend of training at their fantastic facility! For this specific class at Living Water Ranch, Chuck donated a large portion of the proceeds to the Ranch. They are a non-profit which aids children in the foster care system. The ranch is a gorgeous facility, and the staff were all welcoming to everyone. This is somewhere I plan on visiting again in the future.
Check out Agile Training & Consulting on Facebook and on their website
If you're in the Manhattan, Kansas area and need to find local training or a great range, take a look at Tall Grass Shooting Sports, the host range for this class.