The Colt MARC 901 rifle is a bit of a different take on the .308 AR concept, but is it really necessary? Given Colt's track record recently I am a bit skeptical, after all, they are the company that brought us the All American 2000, the Colt Z40, and the Colt Double Eagle. Confidence inducing right? Even though Colt has a spotty track record with introducing new platforms I was hopeful.
When the MARC 901 showed up I was a bit taken aback that they would ship a $2000 rifle in a cardboard box instead of spending a few more dollars on a plastic hard case. I guess I should have expected this from Colt since that is what they have been doing for years, but given their current hardships maybe it is time to stray from the "old ways" and start being more customer focused. Last I checked the Cold War was long over and the large majority of buyers are not military or law enforcement that store their rifles in an arms room rifle rack. Does this matter in the long run? No, but I do think that when a plastic case is $10, there is no reason not to ship a several thousand dollar rifle in one.
On to the specs from Colt's website.
LE901-16SE Special Features

User Configurable 1-Piece Upper Receiver with Back Up Iron Sights (BUIS)
Full Floated Barrel
Bayonet Lug and Flash Hider
Ambidextrous Controls
Accepts Mil-Spec 5.56 Colt Uppers

| | | |
| --- | --- | --- |
| MSRP | | $1,999 |
| CALIBER | |  .308 Win |
| BARREL LENGTH (IN.) | |  16.1″ Heavy |
| BORE | | Chromed, 4 Grooves, 1-12″ RH Twist |
| FRONT SIGHT | | Flip-Up, Adjustable Post for Elevation |
| REAR SIGHT | | Flip-Up, Adjustable for Windage |
| EXTENDED LENGTH | |  37.5″ |
| COLLAPSED LENGTH | |  34.24″ |
| WEIGHT | | 8.4 lbs |
| ACTION | |  Direct Gas System, Locking Bolt |
| FINISH | | Matte Black |
The rifle looks to be pretty standard fare for a .308 AR at first glance. Many of the accessories that Colt has decided to include with the top of the line LE901-16SE are well-proven parts, it is nice to see them included even if they are not my taste.
The flash hider on the MARC 901 resembles a Vortex flash hider. The Vortex has proven itself as effective making it an easy choice, although dated.
Edit: I would have liked to see an A2 flash hider used to bring the cost down a bit or even a brake used.
The front gas block has a nice folding front sight, I did find it a bit difficult to fold back down after it was deployed, you have to slide the stiff lever up while folding the sight down. The sight has a standard A2 front sight post nestled inside.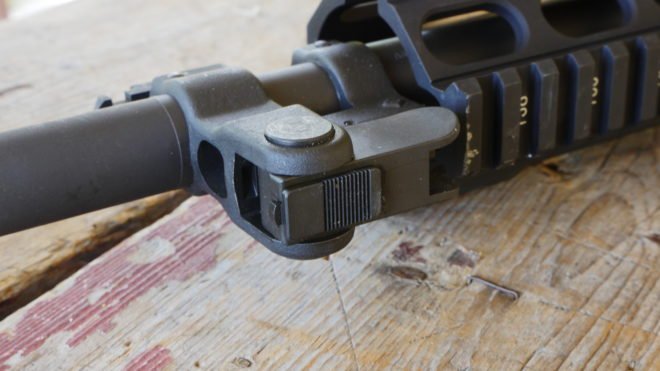 The rear sight looks to be a Troy folding sight with Colt's logo on it. Again, a nice part that it is easy to see why Colt chose to include it.
The monolithic upper has some nice T markings along the top of the rail so that you can attach your accessories to the M1913 rail in the same spot every time.
Here is where I start to question Colt's thinking. The sides and underside of the handguard have threaded holes so that you can attach one of the four supplied rail sections to the upper. Why they didn't set the rifle up for Keymod or something that doesn't rely on screws that can come loose as a result of the .308's recoil is beyond me. I feel this was a rather poor decision given that you can't change the handguard for something else.
I have never been a fan of monolithic uppers as I don't feel they bring enough to the party to justify their weight. I would have much preferred to see a nice free float tube on the high-end MARC.
This is the bag o' goodies that Colt sends out with the rifle. The lack of care when packaging this rifle is starting to become a theme. I know that if I paid $2000 for a rifle I would be a bit miffed if my rails showed up scuffed.
The contents of the bag include a mess of easily lost small Allen screws, 4 rail sections, and a QD sling swivel. I would have appreciated an Allen key being included, but there was none.
Mounting the rail sections requires a 1/8″ Allen key that Colt decided to not include. As I said earlier, without using some sort of thread locker I feel like these are going to be loosened over time with the .308's recoil. With handguards being something I change around often I do not like the idea of using thread locker for fear of damaging the irreplaceable hand guard's threads.
The controls on the MARC 901 are probably one of the largest improvements. Here you can see the bolt release on the right side of the rifle, sadly you can use this only for releasing the bolt, not locking it back. Below that, you have a pretty standard mag release as well as a standard forward assist on the upper and a dust cover.
There is standard bolt catch on the left side of the rifle like you would find on just about any AR pattern rifle. Below that is the mag release for left handed shooters. As a righty, I didn't find this useful at all. Kudos for thinking about the 10% of the population that is left-handed.
The stock that Colt used is a Vltor Imod, another proven part.
One thing I really liked was that Colt marked the buffer with .308. I know I haven't talked about it yet, but you can convert this rifle from .308 to 5.56 with a conversion kit and a new upper. I wasn't able to test this because Colt so wisely didn't include the conversion kit with the rifle for testing. The conversion kit has an insane MSRP of $216.49. No thanks. That is about half the cost of a 5.56 rifle all on its own then add the cost of an upper and you are well at the cost of a stand-alone 5.56 rifle.
Edit: I have been corrected here. Colt used this particular lower design in order to allow the rifle to accept 5.56 uppers with the conversion kit that is sold separately. As I mention later in the article Colt did not provide that kit even though it was requested, I was not able to mount a 5.56 upper as a result.
The charging handle was a bit of a letdown. Why they decided to use a standard latch in the age of optics is beyond me. The bolt carrier is pretty straightforward offering no new innovation. I am not sure if the bolt interchanges with any other rifle system or if this is a MARC 901 exclusive.
It did have some really cool machining marks on the inside of the carrier though. You can see that Colt did properly stake the gas key.
The rifle has three places to attach the supplied QD sling swivel making attaching a sling an easy task.
On to shooting the MARC 901.
I set up to zero the rifle with my friend's ACOG mounted on top. I really need to buy one of these outstanding optics at some point. I have to admit, I was a bit apprehensive about really getting tucked into the rifle as a result of past experiences on an LR308. The trigger is a pretty standard Mil-Spec unit with an 8 pound 7-ounce pull. I guess that is about standard for a stock trigger.
The recoil was pretty stout as should be expected with any .308 based AR.
Next up was shooting my steel target at 200 yards for a bit of fun before moving onto the accuracy test. I didn't have any trouble with landing shot after shot on a 12″ round steel plate.
Now to take aim at the targets I set up at 100 yards.
My best 5 round group looked pretty good. Ammo used was Winchester white box and some military surplus that I had laying around.
The worst group was much wider, but that is clearly because I pulled one of the shots. No matter, the MARC 901 provided rather good accuracy for a "battle rifle"
Rapid fire at 50 yards was the next thing I wanted to give a try with the MARC 901. I set up some targets and did some quick transitions while double tapping each target.
The rifle transitioned from target to target nicely, but the recoil made follow up shots either slower or a bit of a widespread. Close quarter shooting isn't exactly where this rifle might shine, but then again with a 16″ barrel, it seems that my time at the 100-200 yard range was where the MARC 901 really seemed at home.
I have to say, I am unimpressed with the MARC. I feel that with an MSRP of $1999 it is a bit overpriced with the SCAR coming in a just a touch more expensive and a far better choice in my opinion. Had Colt included the caliber conversion it might have been an interesting option for those of you that have to jump through hoops to register a rifle, it would make it easier to have several calibers in one registered firearm.
For a shooter in a free state, there is little reason for me to choose the MARC. When I can buy both a 5.56 rifle, a .308 AR, and a decent handgun for the price of MARC, it's caliber conversion kit, and a 5.56 upper I can't think of a single reason to buy one. If you have decided that you still want to look into the MARC 901 you can learn about the rifle on Colt's website here.
This post originally was run on The Firearm Blog - http://www.thefirearmblog.com/blog/2015/12/22/gun-review-colt-marc-901-ar-15/