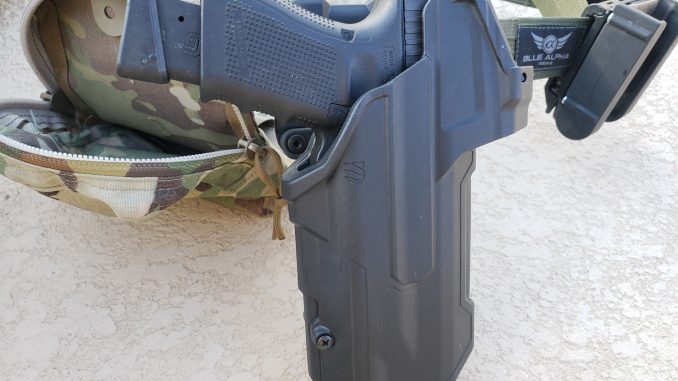 I don't carry outside the waistband often, usually reserving that for certain classes and competitions. When I do carry in this manner, I often have a Safariland 6354DO or 6360RDS on my hip. Over the past few years, these models have become harder to find, and their replacements from Safariland leave something to be desired. With these issues in mind, I became curious about some of the alternatives on the market.
First I tried the Alien Gear Rapid Force, checking out their first entry to the "duty" style market. Next, I set my sights on the latest offerings from Blackhawk. While the old and infamous Serpa is far from what I recommend, the new T-Series seemed to be shaping up nicely. After success with their L2C carry focused holster, I reached out to Blackhawk to check out the L2D. How does it stack up to the competition?
Context
I am not sworn law enforcement, nor am I armed security. My time in the military was primarily CONUS, and I was never issued a weapon outside of qualifications. This review is in the context of someone who trains and competes as a civilian, and sometimes requires gear such as this for those events. There will likely some takeaways for those carrying in the line of duty, but do not take this as a condemnation nor recommendation for those purposes.
Construction and Design of the Blackhawk T-Series L2D
At first glance, the Blackhawk T-Series L2D is a fairly standard duty style holster. This specific model is configured for a Glock 17, a slide mounted optic, and a Surefire X300U. Blackhawk also offers versions compatible with the Streamlight TLR-7/8, TLR-1/2, and the SIG P320 with a TLR-1/2. Thanks to the open muzzle on the T-Series L2D, longer muzzles such as the Glock 34 are fully compatible without modification.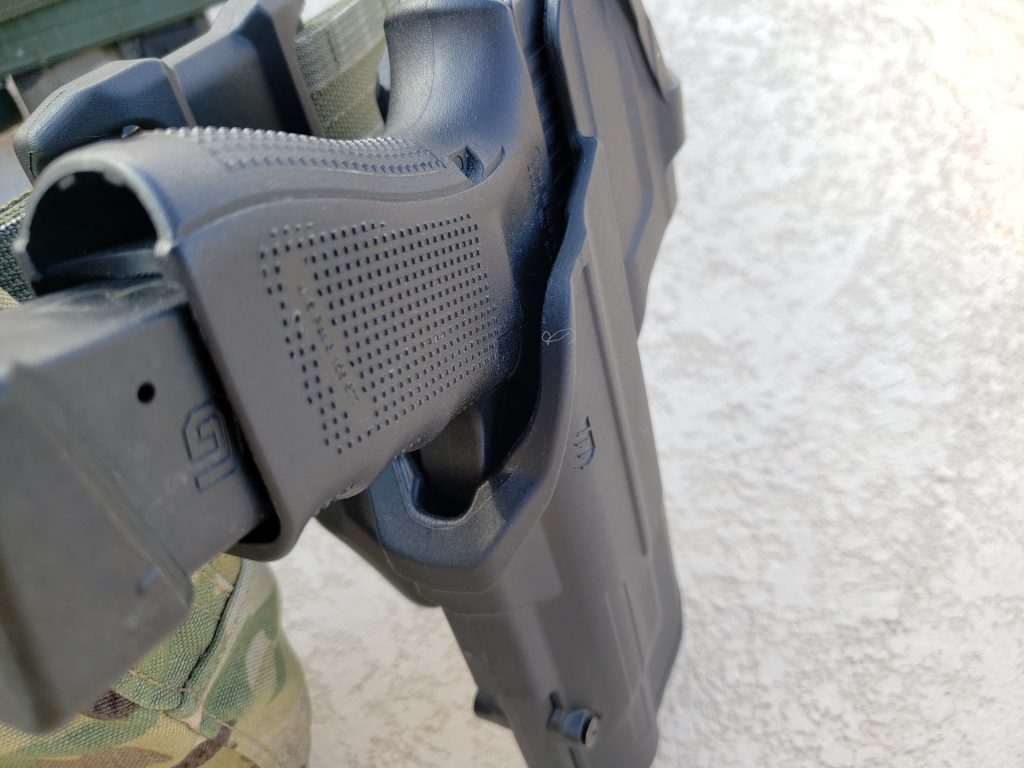 Unlike some other holsters, there is virtually zero rattling with the L2D. This is thanks to a coating applied to the inside of the holster, reducing noise without increasing drag on the drawstroke. While not something I look for in a holster, it's definitely noticeable and appreciated.
A big surprise for me was how little room there is between the trigger guard and the holster. For a light bearing holster, the fit is fairly snug. This a great feature, helping prevent unauthorized access to the trigger. Even when using the slimmer 1911, I was unable to get a finger inside the L2D.
Retention
Retention on the light-bearing T-Series L2D comes from the weapon light. This means users must have a light mounted to get retention. As a side benefit, this also means the holster is somewhat universal. To this end, I've used a full size 1911 with this holster without issue in Steel Challenge. I wouldn't recommend this process for serious use, but it seems fine for casual range sessions. On the subject, retention seems comparable with both A and B variants of the X300U.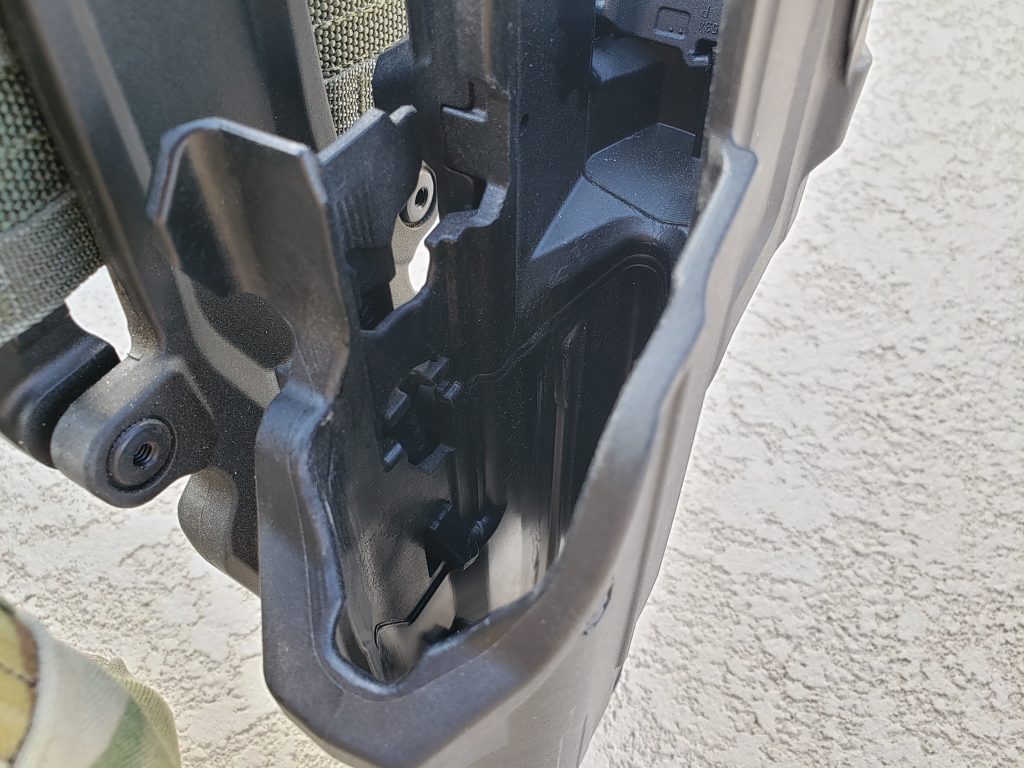 As with many competitors, retention is slightly adjustable on the Blackhawk T-Series L2D. Adjustments are made using a screw that tightens or loosens the holster around this pistol, located near the weapon light. A Phillips head screwdriver, or something similar is required to make these adjustments. As a nice touch, thread locker has been added to this screw to avoid any accidental ejections under hard use.
The Thumb Release
Retention is automatically applied to the pistol when inserting into the holster. Users should hear an audible click, indicating the gun is locked in, though a quick tug will confirm this. To remove the pistol, press the large release lever inboard with the dominant thumb. This release is ALS friendly for Safariland converts, in terms of location, direction of movement, and force required.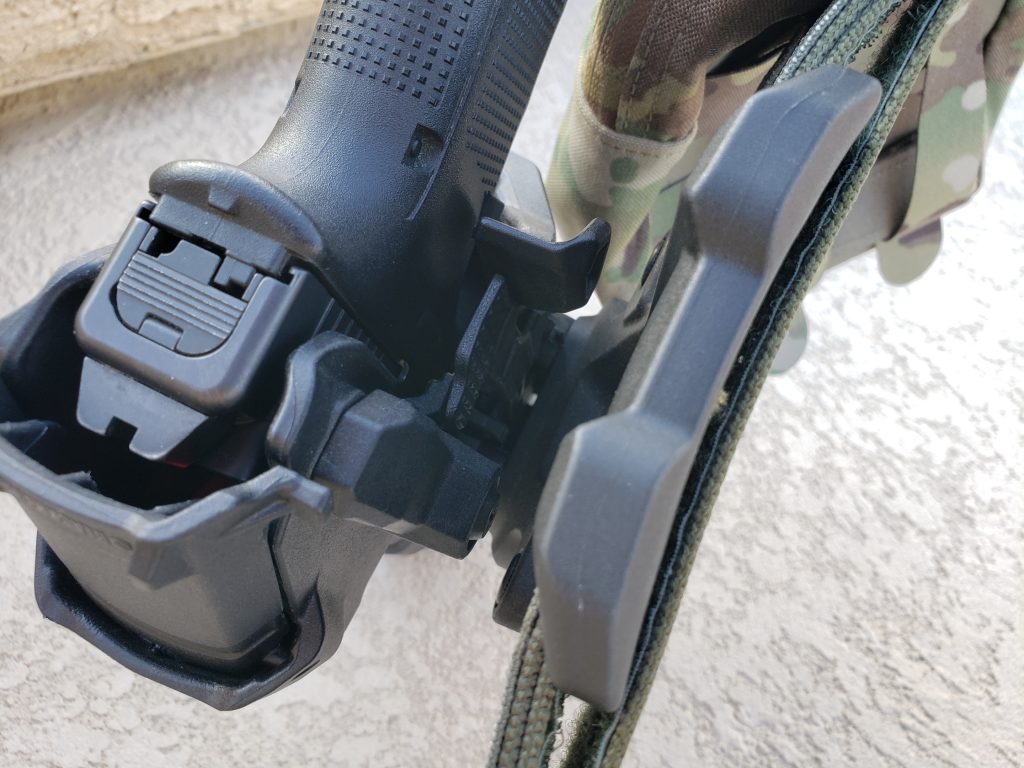 Surprisingly, I had zero issues getting the gun out, unlike my experience with the T-Series L2C holster. A large wing protects the release from behind, and a smaller hump shields it from frontal attacks, reducing risk to the wearer in the event of a gun grab.
Blackhawk offers a Level-3 version of this holster, the L3D, which adds an additional layer of security for those requiring it. Think along the lines of an SLS bail. As of this writing, I have not interacted with the L3D variant.
Belt Mounts on the Blackhawk T-Series L2D Holster
The included belt mount on the L2D is stellar. Blackhawk has created a new mounting plate for the T-Series, known as the Jacket Slot. My holster came with roughly a mid-ride height mount, though other options are available, to include belt slides, quick-detach plates, drop leg rigs, and more.
The holster is attached to the belt via one of two methods. Two screws create closed loops, securing the holster to the belt. I chose the simpler method of threading my belt through the loops, then tightening the screws to avoid the holster sliding back and forth. For higher speed wearers, these loops also fit through MOLLE/PALS webbing if that's your thing. The screws feature thread locker to keep them firmly in place.
Once mounted, there is a fair bit of adjustment with the holster. Users can add positive or negative cant, along with a simple straight drop, to suit their preferences.
Optic Compatibility
Not all versions of the T-Series are optics ready, so be sure to verify before purchasing. This being an RDS version, we have at least some level of compatibility. During testing, I confirmed that the Trijicon RMR and SRO, Aimpoint ACRO, Holosun 507C and 509T all fit in this holster. The Aimpoint ACRO prevents the dust cover from closing, but retention is not impacted. The Holosun 509T won't allow the dust cover to close completely, but it is mostly covered.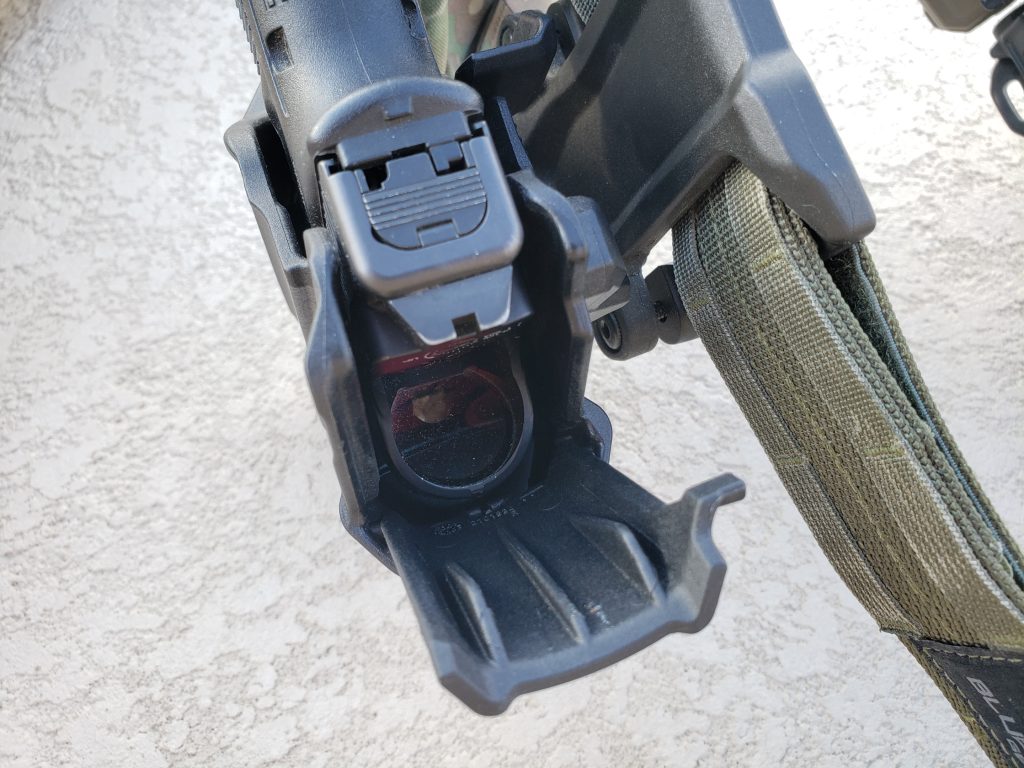 There are no issues with the optics hood when drawing, as it simply slides out of the way. Occasionally, the hood will get stuck in the down position, requiring it to be cleared with my support hand before reholstering the pistol. This hood is removeable without tools and easily reattached.
Real World Use
I used the Blackhawk T-Series L2D over the course of several months. It saw action in Steel Challenge, Gunsite Academy 260 Shotgun, and my regular range time. Several hundred drawstrokes were performed in dry practice, both with a handful of Glocks, and my 1911. Transitioning from the 6354DO to the L2D was seamless, which was a pleasant surprise coming from the L2C.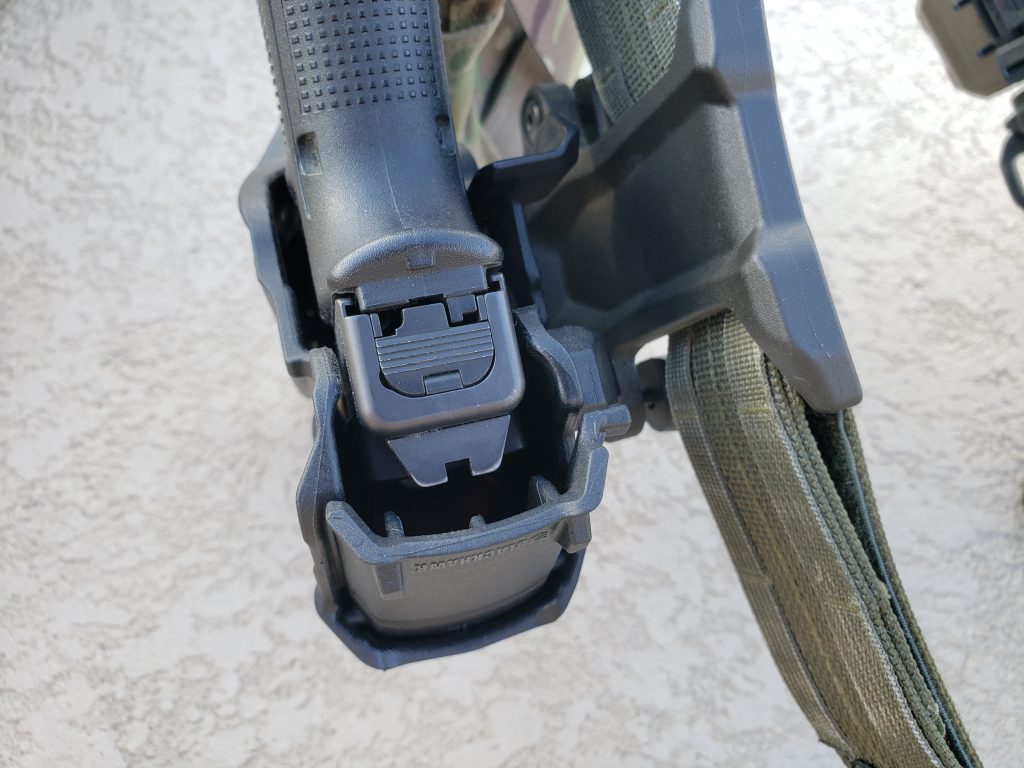 While differences have been negligible, the Blackhawk feels slightly faster than my other duty style holsters. What is measurable is the amount of failures to deactivate retention I've had with this holster. That number is zero; and while it is certainly possible, the L2D has proven much more reliable in this sense than the competition.
No durability testing was performed during this review, but some minor gun grabbing attempts were made. The L2D walked away no worse for wear in our unscientific, non-torturous attempts.
Final Thoughts on the Blackhawk T-Series L2D Holster
Blackhawk has really stepped up their game with the T-Series line. As a devout Safariland user, I have zero issues recommending the L2D. As of this writing, I have no plans on removing it from my gun belt in the foreseeable future. Whether you're competing, training, or looking for open carry options, give a serious look to the Blackhawk T-Series line.
MSRP on the Blackhawk T-Series L2D light-bearing, RDS holster is $149.99. You can check out the entirety of the T-Series lineup >>HERE<<
Author's Note: This holster was provided to me free of charge for purposes of this review. No expectation of a positive review was provided by me, nor Blackhawk.