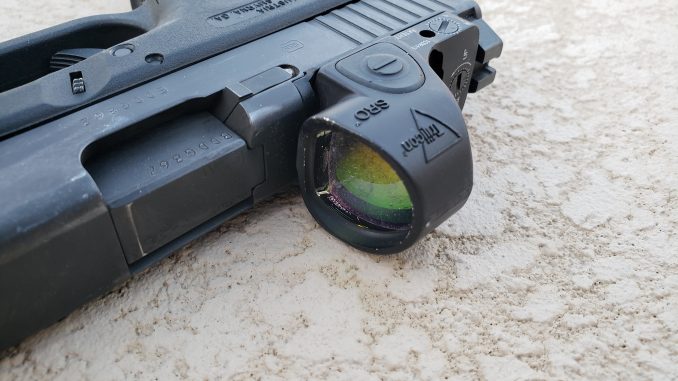 Trijicon is one of the biggest names in the red dot optic game. Having great results with their older RMR, I was eager to test out the newer SRO. Focused on competition, with a bigger window, it seemed like the SRO would offer some serious benefits for performance shooting. How does the Trijicon SRO stack up to the competition?
Construction and Use of the Trijicon SRO
As with most open emitter optics, mounting screws insert through the top of the SRO into slide. The SRO uses the same footprint as the RMR, so plates and other accessories have a chance of working with both unless otherwise noted. For the duration of this review, I used the C&H Precision V4 RMR plate with my gen4 Glock 19 MOS. This optic is a fair bit taller than the RMR, which came as a bit of a surprise. Due to this, you'll want taller BUIS than normal, as my GL-429 just barely peek over the top of the body, making them nearly useless.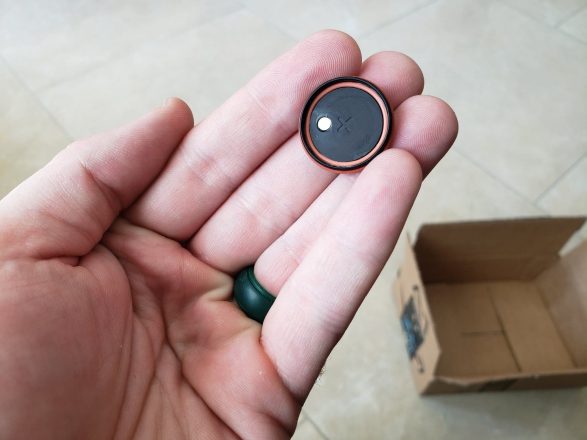 In a major improvement for most shooters, batteries are inserted through the top of the SRO. The battery cap is screwed into place, and features a rubber O-ring to help seal internals from the elements. This cap can be a bit difficult to loosen/tighten, causing users to strip the cap. Luckily, there are a handful of dedicated tools available to alleviate this issue, though I have not used one to date. The inside of the battery cap features a small magnet that helps avoid bobbling your battery, which is a nice touch.
Battery Life and Function
Trijicon claims a 3 year battery life on the SRO. As we've found with other optic reviews, quoted lifespans aren't always accurate due to differences in battery selection, brightness levels, temperature, and other factors.
To start this review, I put a fresh Energizer battery in the optic just after mounting it on 08 September 2022. Surprisingly, the battery was dead on 22 January 2023, with no prior notification that its time in this world was short. Rarely do I have optic on max brightness, and the auto-dim feature has been active for the entirety of this review. Energizer batteries are not what I typically recommend, getting worse life than Duracell in optics in my experience. This pack of batteries is also slightly old, which likely impacted performance.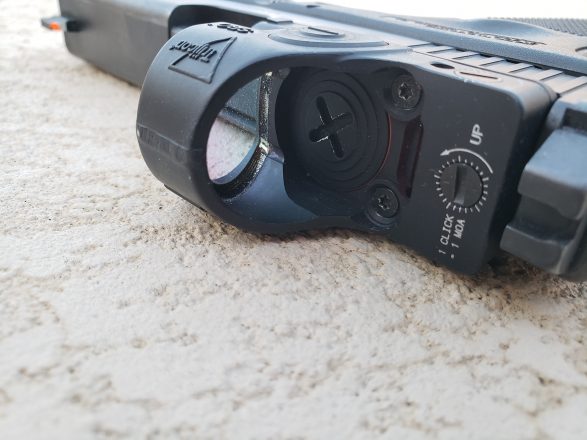 This goes to show that you cannot trust quoted battery life, always be prepared to use your BUIS, and check your gear before leaving for the day. At this time, I'd recommend changing your batteries every two to three months with the SRO to avoid any issues. Your mileage may vary, as I'm sure someone will tell me their example has run for three decades on max brightness without any issues.
Design and Durability
The circular housing of the Trijicon SRO is known to be less durable than options like the Aimpoint ACRO or Trijicon RMR. That being said, it seems to be more than suitable for gun games and range time. Regarding its viability for conceal carry or duty use, that is up to the individual, as opinions vary widely. Personally, I have trusted it in my holster for the better part of the last six months.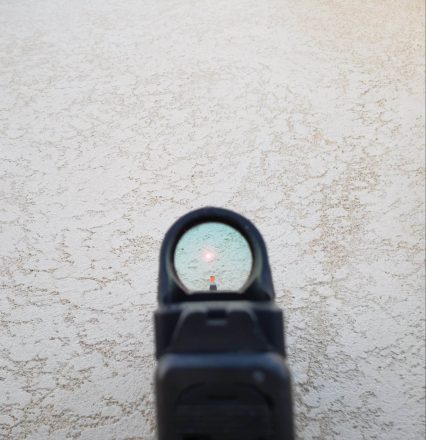 Per usual, I did not perform any drop tests or specific durability checks outside of standard use as part of this review. For that kind of data, I recommend checking out Aaron Cowan's content over at Sage Dynamics.
Controls and Adjustments
Controls are essentially identical to the RMR. There are large + and - buttons on either side of the housing, which adjust brightness upwards and downwards. These buttons are a bit stiff, avoiding any unwanted adjustments, though they lack and audible or tactile indications of being pressed. There are eight brightness settings, to include two night vision modes. Users can opt for auto-brightness adjustments, or lock in their preferred settings using specific sets of button presses to suit their preference.
Adjustments
Much like with the RMR, the SRO requires zero dedicated tools for adjusting zero. The rim of a case or small screwdriver should be sufficient to sight in your optic; I typically use part of my Victorinox Tinker. Adjustments are 1MOA per click, with a slight audible cue that you've made an adjustment. However there is no tactile indication in my personal SRO.
Reticle and Glass Quality
Glass quality on the Trijicon SRO is decent, but not stellar. There is a slight amount of magnification, though significantly less than on my RMR. Edges of the lens have minor distortion, but its severity and spread is lesser than on Holosun optics. As with other Trijicon products, there's a bit of notch filter, with the top of the window being darker, and the bottom half being nearly clear. This should help improve battery life, and does nothing to impact the shooting experience of the SRO.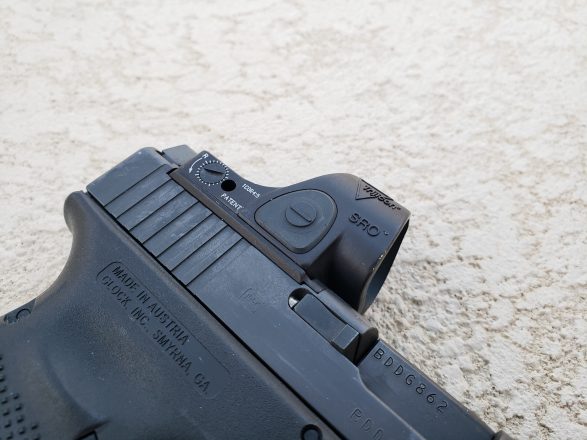 Overall I'd put the SRO's glass below Aimpoint in quality, but better than any eastern options I've handled. In short, I have no complaints here.
The reticle is fantastically bright, and plenty suitable for even the high desert sun. With a bit of an astigmatism, there's a fair bit of starburst, though others report fairly clean dots, even when bright. Trijicon offers three reticle sizes, 1MOA, 2.5MOA, and 5MOA, with mine being the 2.5MOA version. If I were to buy one again, I'd likely select the largest option to help reduce the starburst effect with my eyes.
Range Time with the Trijicon SRO
I began the review process by loaning my SRO to a friend. He mounted the optic to his gen3 G19 using a Brownells slide, using it in regular practice and the Tactical Games in Meridian, Mississippi. During this time he put just over 1,000 rounds of standard pressure 9mm through the optic, with no hiccups or concerns to speak of.
Rounds fired with SRO w/o plate
1000x On Target 115gr FMJ
25x Blazer Brass 124gr FMJ
Once I got my SRO back, I mounted it on a gen4 G19 using a C&H Precision MOS plate. During my review process I took the gun through regular practice, and several matches to include IDPA, Steel Challenge, and GSSF. This configuration clenched me 3rd place in Unlimited in the 2023 Smokin' Glock Southwest Regional GSSF match. In total, 1,997 rounds were fired with this SRO mounted between to pistols during the course of this review.
Rounds on C&H Precision Plate
8x Fiocchi 115gr FMJ
145x On Target 115gr FMJ
150x Blazer Brass 115gr FMJ
350x Aguila 115gr FMJ
65x Blazer Brass 124gr FMJ
249x Federal American Eagle 124gr FMJ
5x Federal HST 124gr JHP
A Few Notes
One of the most common advantages I see people claim of the SRO is the larger window speeding up dot acquisition. I have not found this to be the case, and actually believe that I have had greater difficulty finding the reticle with this optic than with closed emitter optics or the RMR, especially in unconventional positions. That being said, I do not believe that this is a significant issue, though it was noticeable.
On a handful of occasions I chose to use the SRO as a pseudo charging handle. While I don't recommend this practice, I was curious how the optic and plate would hold up. To date, this hasn't proven to create any issues, though I wouldn't make a habit out of it.
Low Light Applications
In late 2022, I attended a low light IDPA match, where I used a handheld light to identify my targets. Using a neck index technique, I found that the SRO reflects substantially more light toward the user than with smaller windowed optics. Curiously, this effect seems worse when the reticle brightness is higher, though that may be attributed to the additional visual stimuli of the bright reticle and reflected light.
Stepping down the brightness of the optic reduces this issue, while still being bright enough to avoid being washed out by the handheld light. I have tested this with the Modlite OKW, Cloud Defensive MCH with an EDC head, and a variety of other lower powered lights.
Here Comes the Sun
Around Thanksgiving 2022, I headed out to the desert to shoot with family and friends. Shooting from the early afternoon into darkness allowed me to see how the SRO performs in failing light. When facing the sun, there is an extremely bright and crisp false dot, comparable to a 6MOA reticle, nearly identical to on other optics. Though this false dot is not as bright as the actual reticle when both are in the window, it could be easily mistaken for the real thing.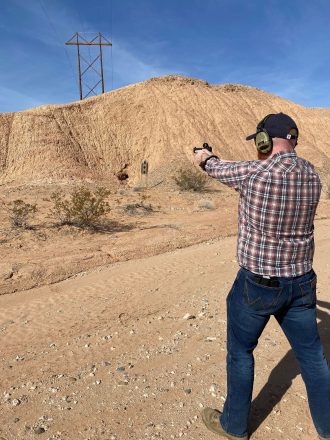 During the Smokin' Southwest GSSF match, I began the first stage with late morning sun. This created a large inverted U streak along the top of the glass. While it did not impact my performance due to the angle of most shots, it could have been distracting in certain situations.
Final Thoughts on the Trijicon SRO
The Trijicon SRO is a quality optic, but far from the easy-button solution some claim it to be. Its issues in low angle sun make me hesitate to continue carrying it, though it has otherwise proven to be a reliable piece of equipment. For gun games and fun, it is a solid choice, and finds itself in the holsters of many USPSA shooters across the country. My concerns here are less to do with the SRO as a product, and more with larger windowed, open emitter optics as a whole. As a conceal carrier, I would lean more towards options like the RMR, or ACRO, though the SRO isn't a hard "no" for me.
MSRP on the Trijicon SRO is $771, though street prices are closer to $500.