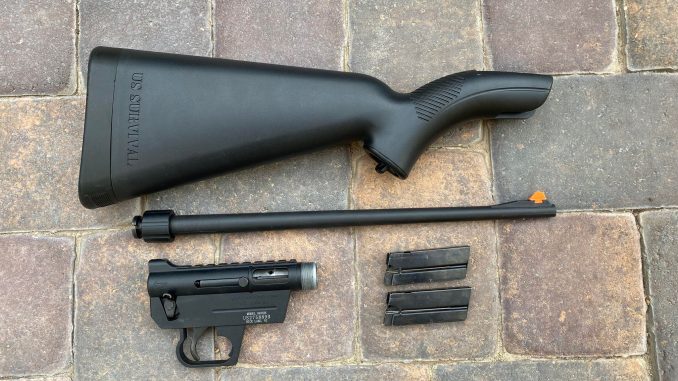 Growing up my dad taught me to shoot on little .22 rifles. Some of my fondest memories are from hunting and  plinking with my dad at our cabin in rural Missouri. While my husband and I shoot regularly, it is almost entirely practice and training for self defense, with fun being low on the list of priorities. After mentioning missing plinking to my editor, he contacted Henry Repeating Arms, requesting a US Survival Rifle on my behalf. Here are my thoughts after several months with the takedown .22 rifle.
What is the Henry US Survival Rifle?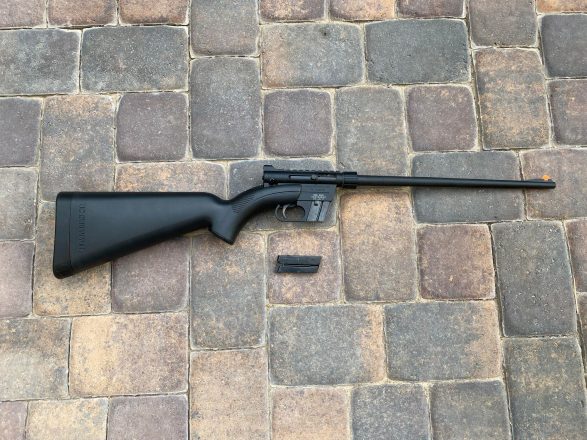 The Henry US Survival Rifle is just that, a rifle made by Henry with survival in mind. The entire thing breaks down into parts and fits inside the stock. This makes the gun easily carried in a backpack, car, or other places as you make your way into the woods. With portability in mind, the Henry Survival Rifle is very lightweight, coming in just over three pounds empty. On several occasions I plinked away one-handed at steel targets and soda cans while relaxing in a camping chair on the range. While I prefer more typical rifle sights, the peep sights on this gun were easy to get used to, and made short work of anything that crossed their path.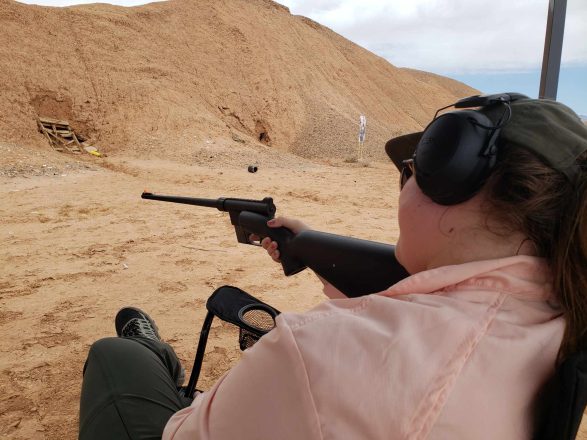 I won't get technical, but here are the basics. The rifle is semiautomatic, chambered for .22LR, and feeds from a detachable 8-round magazine. The hollow stock is polymer, and the barrel is a steel sleeve wrapped in ABS plastic. The front sight is a bright orange blade, and a small rail tops the receiver, though using this will prevent storage within the stock. There's a large safety lever on one side of the gun, and a magazine release just in front of the trigger guard. The trigger is light and crisp, but I did not measure the exact weight.
Sink or Swim
One thing I kept hearing was that the Henry Survival Rifle was watertight, and would float if dropped in water. This is something I was eager to test, even as someone living in the desert. After firing several hundred rounds I decided to test these claims in the bathtub. Unfortunately the idea of a floating gun doesn't seem to hold water. Upon being placed in the tub, bubbles immediately began leaking out from several places on the stock.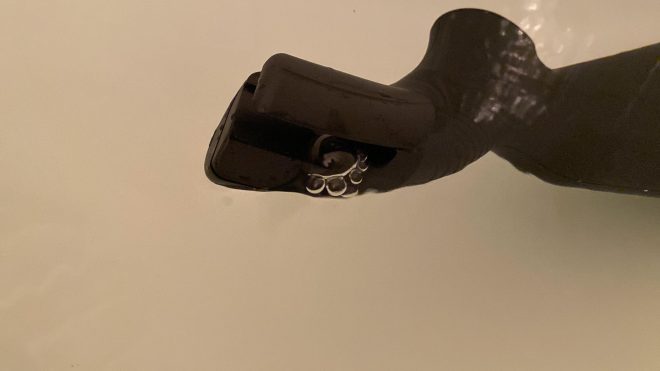 After about 30 seconds the whole thing sank to the bottom. This is certainly better than nothing, giving you time to grab the rifle in an emergency, but not quite what I had expected. At the end of the day I was pretty disappointed to not own a floating gun. But to be fair, Henry only calls the gun "water resistant", which isn't inaccurate, just watch out for people online telling tall tales.
Range Time with the Henry US Survival Rifle
Over the course of several months my husband and I fired just over 800 combined rounds through the Henry Survival Rifle. It certainly has preferences, but overall it was reliable 96% of the time. The gun seems to prefer ammunition from Winchester, CCI, and Aguila. I recommend avoiding Norma, and Browning ammunition with your Survival Rifle, as they provided the bulk of our stoppages. Henry recommends high or hyper velocity ammunition for proper function.
Henry also recommends cleaning the gun after every 100 rounds. We opted to wait to clean or lubricate the rifle to see how that impacted reliability. After nearly 600 rounds, the Survival Rifle seemed no worse for wear outside of a few ammunition preferences.
Minor Complaints
After about six months of time with the Henry Survival Rifle I only have two complaints. First is how loose the stock cap is. While this does play into how secure the stock is from water, that isn't where my main issues come from. On more than one occasion we had the stock cap fall off when holding the gun vertically. This allows the contents to fall out onto the ground without warning. Nothing was ever damaged, but this is an inconvenience, especially when this kicks up desert dirt and sand. Slightly tightening the fit of the stock cap would help to solve this issue.
Second is how tight the receiver screw got, especially after shooting. It's good that the screw stays tight, as that keeps the gun all together, but when trying to take it apart I usually struggled. This difficulty was made worse when my nails grew out and I had less space to get the pads of my fingers on the screw. Just something to consider for other ladies who are interested in taking the Henry Survival Rifle with them on their rucks.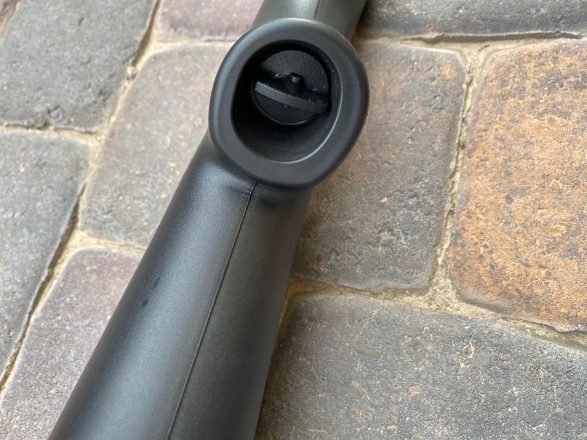 On a more positive note, the Henry Survival Rifle holds up very well for such a lightweight and inexpensive gun. My first time taking it onto the range I worried that it'd easily break. That assumption couldn't have been further from the truth. It's held up surprisingly well over the many range trips we've taken it on. We don't baby the gun, but it isn't abused either.
Final Thoughts on the Henry US Survival Rifle
The Henry U.S. Survival Rifle is so much fun to shoot and reminds me of what I got to do as a little girl with my dad. A collapsible, water resistant gun is still a fascinating concept to me. At the end of the day I don't know if this is a gun that I'd want to be my "primary" .22 rifle, but for the occasional jaunt in the backwoods I wouldn't hesitate to add this to my pack.
The Henry U.S. Survival Rifle comes in black, and two True-Timber camo options. MSRP is $344.00 for the all-black model, and $420.00 for the camo versions. You can check them out directly from Henry >>HERE<<