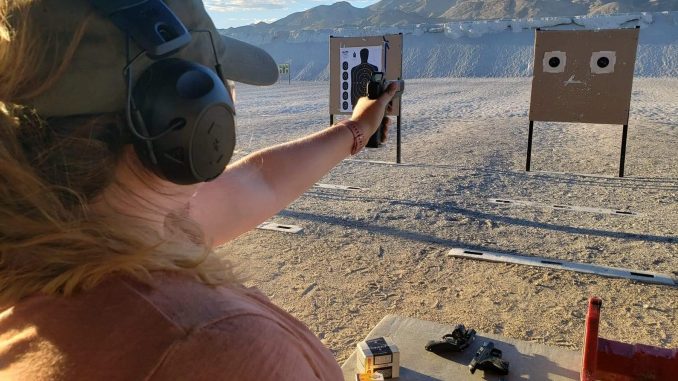 Most of my life I didn't think about self defense. In fact, I didn't know that defending myself was an option. I accepted victimhood should violence have found me. Over the past year I have become a conceal carrier, and am passionate about protecting myself and my family, but how did I get there?
My Background
Introduction to Firearms and Shooting
I grew up like many children in the United States, with a gun in my house. We had more than one because my dad was a pretty avid hunter, and I was the child who wanted to hunt with him. From a very young age my dad normalized guns in our house and emphasized gun safety. The rifles were not locked up, but were left unloaded in dad's closet. We knew not to touch them and we knew not to point them at anyone. I knew that when I pointed the gun at something (not someone) I must intend to shoot, and hopefully be able to enjoy some fresh game for dinner.
Home defense was a perk of having hunting rifles, but they were not ready to defend the home from a would-be intruder. I remember more than once my dad protecting the home from an annoying raccoon or an unlucky opossum in the wee hours of the morning.
As I got older the dialog changed and we spoke more about "common sense" gun laws, and the need to prevent bad people from getting guns. We were afraid of the crazy people on the street carrying guns. When Constitutional Carry passed at home we were appalled. How would we know whether or not someone was armed?
As A Young Woman
When I was about 20 I moved into the city to be close to my church and school. I lived a block off of the highest crime street, and attended church in the heart of it. Very ignorantly I felt safe believing the home security system I purchased would deter home intruders. I thought walking to car at night with boys would scare off the bad men. None of those things would be beneficial in the moment the worse case scenario occurs.
I accepted that if someone tried to do me harm my only choice was to be victimized. My only hope was that they would kill me quickly because I didn't want to be tortured and in pain. Dying would have been fine. I did not know that there were tools I could use to defend myself. It wouldn't be for a few more years that I would actively want to make it home every night.
The Turning Point
Introduction to Self-Defense
In early 2020 I got a boyfriend who was a conceal carrier. It was very weird and uncomfortable at first. I could not understand why he felt the need to carry a gun around, literally, all the time. The concept of "wanting to survive" was still very foreign to me as well.
"I wish I had a gun."
Fast forward a few months to July 2020. The world was still on lockdown, and I took long walks with my toddler niece and baby nephew. I had found a nice trail, in a nice part of town. It was easy to walk for the toddlers, shade trees overhead, and fairly busy with other families. Perfectly safe.
Until one day on our walk back to the car a woman stopped me and said, "Don't be alarmed, but just so you know, a man walked into the woods back there carrying a machete". What the actual fuck? This trail was in the nice part of town, it was the middle of the day, this was an active trail. I had two small children and no way to protect them. For the first time in my life I thought, "I wish I had a gun".
Thankfully we made it safely back to the car, and I didn't care to think about carrying a gun for another year.
Ignorance Won't Stop Violence
In December 2020 my brand new fiancé told me about a class he wanted to take, The Armed Parent/Guardian. I was immediately interested. I accepted the fact that my future baby daddy, and uncle to my niece and nephew carried a gun, and I wanted to learn what he was going to learn. I wanted to be helpful if he had to use a gun while our children and I were around. There is a lecture only portion, which is what I chose to attend since I wasn't planning on conceal carrying.
I found the lecture so impactful that I purchased my first firearm, a Glock 48, and began conceal carrying within a month of taking the lecture.
This is what it is like to love life?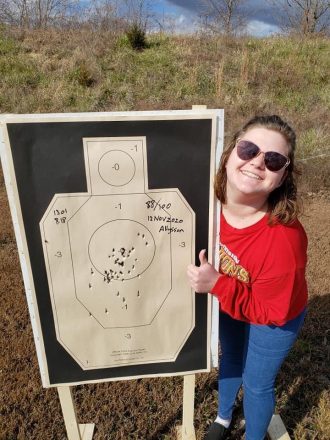 I am a little more than a year into conceal carrying. I recently purchased a second Glock 48 MOS to be my training gun. I have just over 100 hours of formal firearms training from Gunsite. to FPF Training Street Encounters, and more private training from my husband. I feel more confident in my ability to defend myself and my loved ones from people who would want to do us harm. For the first time in my life I want to fight to be alive.
I don't know what it was about starting to conceal carry, but I want to come home at the end of the day. I am looking forward to what my future has. My life is worth fighting for, and so is yours.