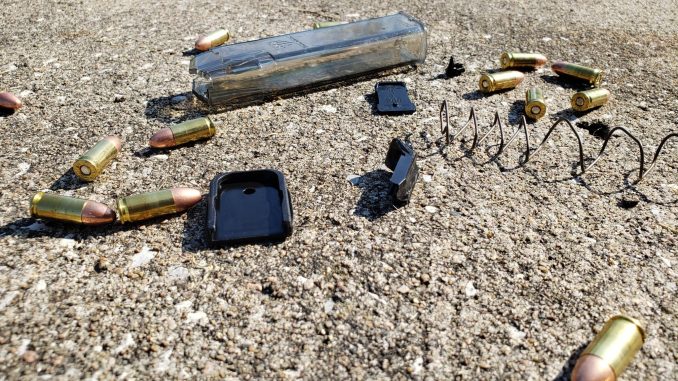 ETS is one of the most popular manufacturers of aftermarket magazines on the market. Offering unique, translucent, magazines, their products are instantly recognizable. How do their Glock magazines stack up to the competition?
Dimensions
ETS magazines, much like those from Magpul, are made entirely from polymer. This allows ETS to offer an extremely lightweight and affordable product. Their 22 round magazine comes in at a scant 1.7 ounces, making it the lightest in the series to date. Magazines fit the entirety of their stated 22 round capacity, with no difficulty during loading. There is no room for additional rounds, so overloading should never be a problem.
Overall size is comparable to the 21 round GL9 magazines from magpul, and meet the 140mm requirement for USPSA. The thickness of the polymer seems slightly thinner than that found in the GL9 mags. Unlike many extended magazine, ETS keeps the same floor plate angle as shorter magazines. The only functional difference with this is the inability for magazines to freely stand when fully loaded.
Function
Before being trusted on my belt all magazine extensions endure a drop test. Parameters are simple. Each magazine is fully loaded, then dropped five times onto concrete from shoulder height. Mags are dropped straight down onto the extension as though falling from a firing pistol. The magazine's follower broke into several pieces during the second drop. The floor plate flies off, and the ammunition scatters across the floor. The magazine body and floor plate seem to be in perfect condition.
Unfortunately, ETS uses a proprietary follower, so I cannot cannibalize one from a factory Glock magazine. Without a way to remedy the situation, this breakage stopped me in my tracks. I initially ended the review process here, but decided to try again, to see how the magazine stacked up in live fire. After contacting ETS, they sent me a replacement follower within a few days.
Range Time
Live fire consists of regular range time, along with a handful of classes to include Sentinel Concepts Handgun Elements, and the Armed Parent/Guardian. Functionality is lacking, but far from the worst I've seen thus far. After cycling over 300 rounds through this magazine, I began experiencing intermittent sluggishness in feeding. This continued to occur for another 100 rounds, at which point the magazine was removed from service. Nothing severe enough to cause stoppages, but noticeable lag in during slide closure. Additionally, I have repeatedly encountered issues with the slide locking open on empty. These issues occur across three different Glocks, affirming that they are magazine related.
Final Thoughts on the ETS 22 Round Glock Magazine
Overall I would not recommend ETS magazines at this time. Their clear bodies and lightweight are interesting, but my interest stops there--for now. While I have broken OEM followers before, they are easily replaced due to the wide availability of spare Glock parts. With ETS using proprietary followers, if one breaks, you're out of luck. Use on the range is lackluster, doing nothing to make up for lack of parts availability. If you're a Glock guy and absolutely want to save a buck, Magpul magazines are decent enough for training. For defensive purposes, and guns other than Glock, stick with OEM magazines.
If you want to buy ETS anyway, they're currently available from ETS with an MSRP of $21.99 >>HERE<<