Henning Group manufactures aftermarket parts and accessories for a wide variety of handguns and the AR15. With products for some less common pistols, and one of the few 45ACP Glock extensions, Henning fills a handful of niches in the community. I opted to try their +6 Glock extension in my quest for the best.
Mounting
Mounting the Henning Group extension is very straightforward. Remove your OEM floor plate and internals from the magazine. Transfer your follower onto enhanced power spring and reinsert into the magazine. Next, slide the magazine onto the extension from rear to front. Finally, tighten the extensions' screw to secure it to the magazine body. This screw is serrated along the sides for toolless use, but will also accept an allen key for more torque.
Henning Group Magazine Extension Dimensions
Henning Group extensions are dimensionally on par with the competition, with a slightly lean to the slim side. Top and bottom edges are slightly beveled, with the entire body being just slightly wider than the magazine itself. The bottom is of the extension is serrated with the Henning logo milled out. Five grooves wrap across the front from either side along the middle of the extension for extra grip. Don't expect a mirror sheen like options from Taran Tactical or Dawson Precision; Henning Group has given their extensions a slightly grippy texture like unfinished steel. This is a welcome addition, as it aids your grip with wet hands from rain or sweat.
Henning extensions meet length requirements for USPSA, adding six rounds of 9mm to your magazine. These are noticeably lighter than competitive options, coming in at just 4oz flat. This prevents any issues with mags dropping free while reducing the burden on the shooter.
Function
Before being trusted on my belt all magazine extensions endure a drop test. Parameters are simple. Each magazine is fully loaded, then dropped five times onto concrete from shoulder height. Mags are dropped straight down onto the extension as though falling from a firing pistol. After five consecutive drops, my Henning Group magazine extension was no worse for wear. The rougher finish helps to conceal cosmetic damage from impacts.
Henning's extension became one of my primary mags during 2019 and early 2020. They traveled with me through USPSA, Shooter Symposium, the Rangemaster Handgun Instructor course, and Citizen's Defense Research Handgun Tests & Standards. This extension has somewhere in the realm of 1,000 rounds cycled through as of the time of this writing. My Henning extension has seen every type of weather, endured dozens of drops into dirt, sand concrete, and more. To this point, I have not experienced a single malfunction with this magazine extension. The retention screw caused concern initially, but it has never loosened under recoil or impact from drops, firmly remaining in place.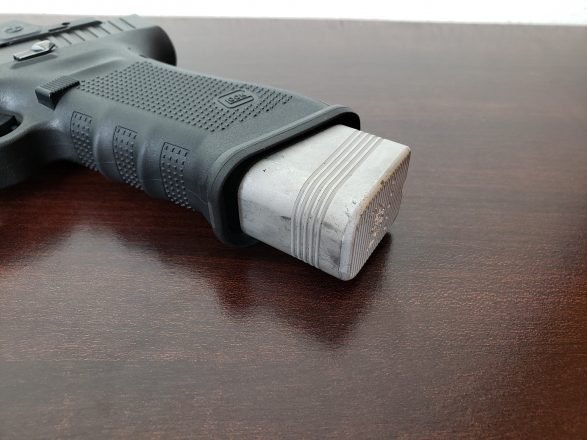 I have one area of concern, which has not proven an issue as of yet. Despite using a Henning enhanced power spring, my magazine feels as though it is using an OEM spring. In other words, spring pressure is very low compared to my other extensions. I feel as that this could reduce reliability in the longer term. There are no noticeable side effects of this during range time however. Simply a thought in the back of my mind. A spring change is a simple solution if problems ever arise.
Final Thoughts on Henning Group Glock Magazine Extensions
Overall, Henning Group magazine extensions have been excellent. The form factor and weight cuts the balance between EDC and competition. Reliability is flawless, so far. Mounting is easy and requires no tools. They may not be the most aesthetic pleasing extension in my eyes, but the function is spot on. I would definitely recommend these extensions.
MSRP on the Henning Group +6 extension kit is $39.95, which includes the enhanced power spring. Shooters have the choice of several colors, along with a few variations of design. You can find them for sale on Hennings' website, >>HERE<<