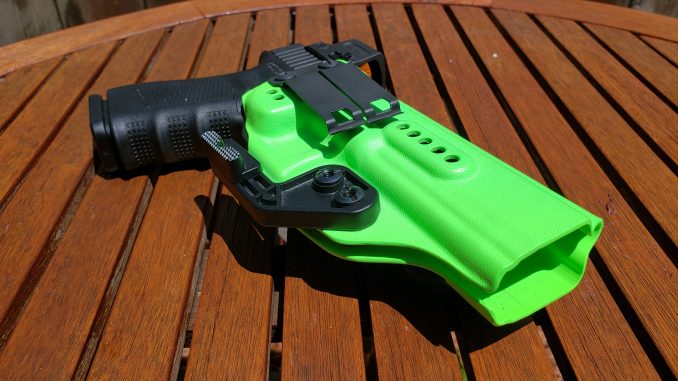 I first became familiar with KSG Armory after one of our other writers reviewed their Duolos holster. Shortly thereafter, I had the opportunity to train alongside KSG's owner, Gabe, during Chuck Haggard's OC instructor course. When I mentioned that I'd been looking for a new holster, Gabe told me he was working on an updated their Halcyon, and I dove at the chance to check one out. Receiving the holster in November 2020, it became my daily carry through this article's publishing date.
Construction and Design
The KSG Armory Halcyon is a vacuum formed holster, made from kydex. With a variety of options for belt attachments, belt claws, and holster length, the Halcyon is appropriate for both appendix and strong side carry. I exclusively carried mine at the appendix position throughout the review process. Despite a wide variety of customization, the Halcyon avoids any excess that could be a detriment for concealment or comfort.
The holster features an open muzzle, allowing for debris to fall straight through, along with the use of longer barreled guns. I opted for the Glock 34 length Halcyon for use with my EDC G34. Users can choose between a high or medium sweat guard, with my preference being medium for comfort. The guard allows for enlarged slide release levers, working excellently with the G34 release. KSG flares the mouth of the Halcyon, making for easy holstering without impeding comfort. This flaring also allows the use of left handed magazine releases. The optics cut has been compatible with everything I've thrown at it, including the RMR, ACRO, and Holosun 509T. There are also provisions for suppressor height sights.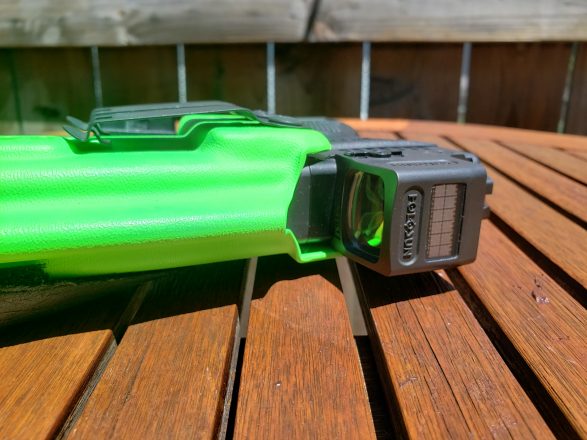 Edges of the Halcyon are melted, ensuring your sensitive bits avoid any unpleasant poking. The trigger guard is fully covered, leaving no room for the ingress of foreign objects when holstered. Concealment is improved thanks to the inclusion of a claw. Users can choose from the Modwing, Dark Wing, or RCS claw. I opted for the Modwing with its adjustable height. KSG Armory offers a foam wedge as an add on, though I use a Dark Star teardrop wedge.
One Complaint
I have one complaint about the KSG Armory Halcyon. I would like for the magazine release to be slightly more relieved. Currently it covers up the top half of the release when holstered. Slightly less material here would help facilitate easier holstered magazine changes. This is specifically geared towards usefulness in classes, not necessarily the real world. Being such a niche application, it's barely worth mentioning, as 99% of users will never notice this "problem".
Retention
Retention is adjustable using two rubber washers below the trigger guard. Retention is solid from the factory, though I slightly increased mine. On one occasion I needed to retighten the screws, though a drop of thread locker would mitigate that concern. There is a positive "click" when the pistol fully seats at higher retention levels for those looking for that.
Mounting Options
There are 16 holes for mounting belt attachments, allowing for two different types of attachments. My Halycon came with Pull-the-Dot loops, which I later replaced with a DCC Monoblock. This upper field of mounting holes is one of the new features with the updated Halcyon. While these micro adjustments seem insignificant, my experience says otherwise. Simply moving one spot up and over resulted in a massive improvement in concealment and comfort.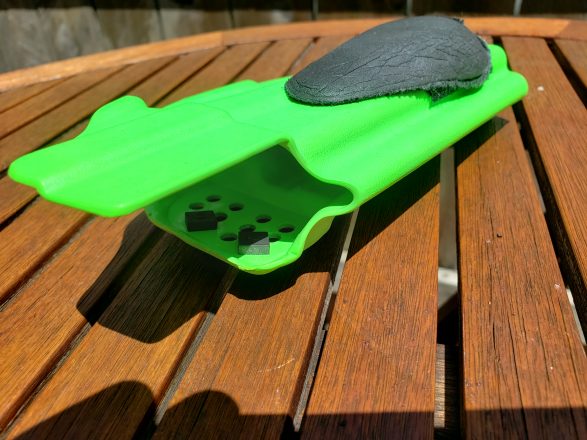 Users can also use the lower holes for more traditional DCC clips if the Monoblock isn't their thing.
Real World Use
This holster has accompanied me on drives lasting up to 10 hours, along with my daily 120 mile commute. I've taken it through Sentinel Concepts Handgun Elements, and The Armed Parent/Guardian. Hundreds of dry fire reps at home. From -25 degrees to 100+, the Halcyon has retained its shaped with no apparent issues. In short, the holster has been through its paces.
Though typically worn on my Magpul Tejas belt, I did briefly have the Halcyon on a PHLster Enigma. Mounting is made a little easier using a fixed retention conversion kit, but I had no issues as-is.
Final Thoughts on the KSG Armory Halcyon
I love my KSG Armory Halcyon. It has replaced the Tenicor Velo as my favorite holster. I plan on buying two more. One spare, and an emergency left handed holster in the event of an injury. It has proven itself time and time again.
Pricing starts at $70, with several options raising and lowering the price from there. You can buy your own KSG Armory Halcyon >>HERE<<
This slideshow requires JavaScript.