Though KSG Armory does not have the wide kind of name recognition that Tenicor or PHLster might, their Doulos Light-Bearing Holster deserves serious consideration by anyone looking for a strong option to AIWB carry their handgun with mounted WML. After almost four years of carrying with a Raven Concealment Vanguard Advanced 2, adding a weapon-mounted light meant I needed something which would accommodate my Glock 19, Holosun 508T, and newly-acquired Streamlight TLR-7A in the appendix position. I ordered a Doulos Light-Bearing Holster configured for my gun, and KSG Armory shipped it within a day.
I've been carrying it for a few months now, including to Tom Givens' Rangemaster Firearms Instructor Development Course and Karl Rehn's Advanced Handgun course. I carry it daily, and could not be happier with its performance. Its overall profile is thin, not much thicker than my gun/light combo. I once previously - and very briefly - wore a PHLster Floodlight. The experience felt something akin to what I assume is the feeling of jamming a masonry brick inside my belt. I was concerned about the overall profile when searching for a WML-ready AIWB holster. My choice of the Streamlight TLR-7A provides for a thinner profile than the Surefire X-300 which the Floodlight holster accommodated. The Doulos Light-Bearing Holster fits well and is quite comfortable with the included appendix bump installed.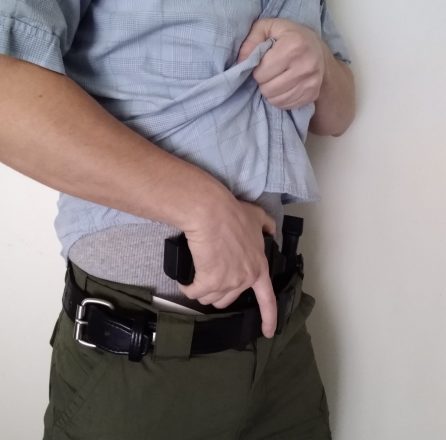 Belt Clip Options and Setup
Of the available options, I chose the 1.5" AIWB belt clips from Discreet Carry Concepts. The positive engagement of the DCC clips is great. The independently - and near infinitely - adjustable clip heights allow for a high degree of individualization. After experimentation, I settled on a middling ride height with a slight cant possible with the fixed DCC clips.
The height keeps enough space for my fingers to get around the grip without slamming into my belt. Once placed, the holster simply doesn't move. It is repeatedly and reliably exactly where I expect it to be. The wing, which is also adjustable by the installation of differing heights of tips, keeps printing to a minimum, even as a smaller man carrying 17-round magazines which protrude past the end of the magwell.
Doulos Form, Fit, and Function
The Doulos Light-Bearing Holster is available in a variety of options for lights and firearms. KSG Armory uses their own molds to form the kydex, and quality hardware which provides adjustable retention. The construction of the holster is solid, the edges are blended very nicely, and the workmanship is top notch. The retention appears to depend on the holster's grip on the TLR-7. The Doulos Light-Bearing provides a nice positive click when secured on a belt IWB without slowing the drawstroke.
A velcro backing can be installed for the use of an available appendix wedge. I ordered one to try it, but I found that the standard bump was sufficient for my style of wear and positioning. User choice in mounting position of the clips allows for adjustable tilt and ride height, and a packet of red Vibratite is included. This degree of adjustability is not available from all manufacturers. KSG Armory also gives three options for sweat guard height on this holster. I chose the mid-height sweat guard, which serves to keep more of the slide off of my skin or undershirt and gives me a larger reference point on which the side of the muzzle can be indexed for holstering. This reduces the chances of an undershirt getting caught with the gun during holstering, reducing the risk of a dangerous negligent discharge.
Why KSG Armory?
At least a few dozen minor makers of Kydex holsters are around and about. Belt sanders, jigsaws, sheets of kydex, high temperature presses, forming jigs, and hardware packs are available to anyone with a credit card, and digital ad space is cheap. I've given business to one or two other such minor makers over the years, but never as a repeat customer.
This is my second KSG Armory holster. My experience with both holsters has been nothing short of outstanding. It is a very strong option for any buyer in the market, and at $108 as configured ($85 base price, $20 DCC clip upgrade, $3 optics compatibility) the Doulos Light-Bearing sits at a comparable price with the competitive offerings from the big names. The Doulos is available for a number of handgun and light combinations direct from KSG Armory.