BLUF: Hygenall LeadOff foaming soap and disposable wipes are worth their weight in gold. If you want to keep yourself lead-free, inside and out, invest in these now.
You're Out of Your Element!
When I was asked if I was interested in testing some hand soap and cleaning wipes, I had no idea what the hell I was going to talk about. I'm a gun guy, not a soap guy. Was I supposed to bust out a microscope and compare how the Hygenall LeadOff stacked up against the Softsoap and Gojo I normally buy?
Despite my reservations, I agreed to review whatever was sent my way, figuring I'd be able to come up with something to say once I'd gotten my hands on the product.
Full disclosure: I was sent the products reviewed here at no cost to me. I did not interact with the manufacturer, as I received them as a third-party and am getting no other compensation than keeping the test samples I was given.
Get the Lead Out
It turns out that shooting is somewhat of a dirty hobby. The small explosion that occurs when you fire your gun launches more than just a lead bullet down range; it also sends both visible and microscopic particles into the air and onto your skin and clothing. These particles are bad stuff, and you are exposed to a ton of them if you frequent an indoor range or reload your own ammo like I do. I'll save you the science lecture on why you shouldn't be rolling around in the stuff, but for the inquisitive, there's a good explanation
here
. For once, curiosity may be saving the cat.
Typically when I finish loading a batch of ammo or return from the range I wash up with a couple squirts of Gojo. The abrasive pumice in the soap helps to remove the lead and powder still visibly stuck to my hands, or so I thought.
This is where Hygenall claims to stand out from the crowd. According to the product literature, Hygenall uses a patented formula that disrupts the electrostatic bond between heavy metals, such as lead dust, and your skin. This allows the microscopic bits to wash down the drain when they would normally be left behind by regular soap.
A League of Their Own
Unfortunately, I do not own a microscope so I was not able to put the electrostatic claims to the test. What I can tell you is that I will be swapping my Gojo for Hygenall LeadOff soap, and not because of the electrostatic disruption.
The LeadOff manages to clean my hands faster, and more thoroughly while using less product than the other soaps I have tried. Typically it takes me two or three intense washes with other brands to get my hands "good enough" after cleaning guns from a range day. With LeadOff, it only took one washing and the results were nearly "good as new."
Not only does Hygenall LeadOff work faster and more efficiently than other brands, it also is more gentle on the skin. For those unfamiliar with Gojo, it is filled with small pieces of pumice, which is used to scrub away dirt and grime, whereas the LeadOff is a foaming liquid. This makes washing much more pleasant, especially if you have cuts or scrapes.
For a little icing on the cake, Hygenall LeadOff has a mild moisturizing effect. This was especially helpful as I received the products during the winter. My dry and cracked hands breathed a sigh of relief when greeted by gentle foam instead of the usual stew of crushed rock and creme.
Something for Everyone
What about those who don't want to carry around a bottle of liquid soap? No need to worry, there's an app--err--a product for that, in the form of Hygenall LeadOff wipes. The same science applies to the disposable wipes as does the foaming soap, but in a much more convenient package. These come in various sizes, from a large canister to individually packaged units, perfect for a
range
bag or
car
.
The LeadOff wipes gave me a little trouble right off the bat, specifically with the packaging. When I tried to open the seal at the top of the canister, the little tab ripped off. Unfazed, I grabbed another piece of the seal, and that ripped off too.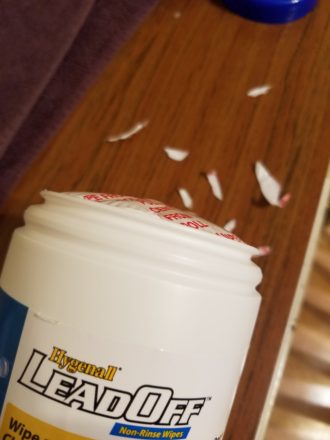 This happened again and again until I had completely removed every piece of the seal that I could get my fingers on, yet the container remained unopened. This was soon remedied with a swift thrust from the knife on my Leatherman Squirt. Not a deal breaker, but a slightly frustrating.
True to form, the LeadOff wipes clean magnificently with none of the negative effects of competing alcohol-based wipes.
I wouldn't hesitate to recommend either the Hygenall LeadOff foaming soap or the disposable cleaning wipes. Both outperform similar products by such a great margin that I find it difficult to even refer to them as competition. Do your health a favor and pick up some Hygenall LeadOff products before you head off on your next range trip.