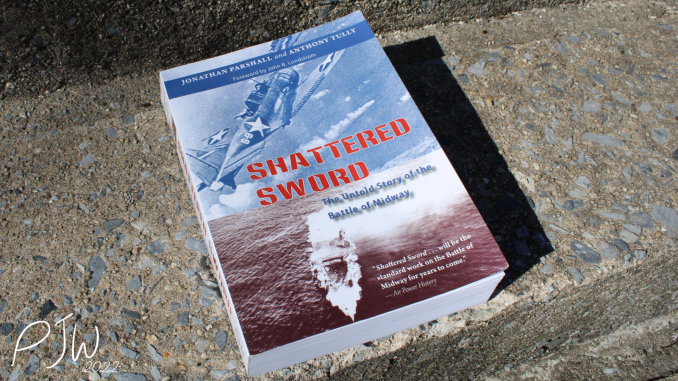 2021 was a year where I returned to one of my old hobbies; Learning more about military history, and the events that lead to victories and defeats. A focal point for me was the Battle of Midway. I've been fascinated by this battle since I was a child, and getting to learn more about it seemed like a good plan. I kept coming back to talks by a certain Jonathan "Jon" Parshall, and decided to purchase his book. Shattered Sword - The Untold Story of the Battle of Midway was penned by Jon Parshall and Anthony "Tony" Tully. Well, I really enjoyed the book, and wanted to talk about why you should give it a read too.
How Shattered Sword Came To Be
Shattered Sword was published in 2005, but was years of work in the making. Jon Parshall and Tony Tully were both historians with a focus on the Pacific Theater of WW2, who came together to publish the definitive account of what really happened at the Battle of Midway. Jon and Tony pulled from operational documents, survivor accounts, previous works, and freshly (for 2005) uncovered documents. This lead to the most comprehensive telling of the battle.
One of the biggest driving points for writing Shattered Sword was to dispel myths about the battle. With this being known as a massive US victory and an even larger Imperial Japanese defeat, mythos is bound to form. Without spoiling the whole book, Jon and Tony levy that the battle was not as lopsided as commonly thought. The idea of the American underdog and the Japanese goliath quickly falls apart when the events are explained. The truth is more interesting than any fabrication of the battle, and Jon & Tony really show that.
What Makes Shattered Sword So Good?
Shattered Sword is a densely packed bundle of information, but it is not dry. Shattered Sword was written artfully, and keeps you glued to the proverbial seat. Jon and Tony do an excellent job in making the battle seem personal, through introducing the reader to all of the major players. Many books on history make people seem wooden, as if they were caricatures rather than flesh and blood people. Shattered Sword places you squarely in the shoes of many of the people involved. It's not just what they did during the battle and sounding events, it is what they thought and felt too. We get to feel the stressful environment on the bridge of Akagi, and the tense cockpit of Dick Best's SBD Dauntless. Well written non-fiction can read like fiction, as reality is often more interesting than the fictitious.
Aside from the excellent writing, there are many great photographs, diagrams, and appendices in this book. Many unseen (in the West) photos are here, which really help to paint a picture of the Imperial Japanese Navy. Jon has also made many excellent diagrams and images that show group movement and bomb/torpedo hits on ships. Towards the back of the book are also all of the referenced sources, and appendices of related info, such as pilot logs, ship information, and much more. This really paints an clear picture of the events leading up to, and including the battle.
Should You Read Shattered Sword?
Well, the answer depends on how much value you place on WW2 battle knowledge. I personally find the Pacific Theater of WW2 extremely interesting, and I think a large part of that is due to there being less info out there about it. Shattered Sword is easily the most comprehensive account of the battle, and should be the starting point for reading about it. If you consider yourself a WW2 history nerd, this book should be in your collection.
Pick up a copy either directly from the Shattered Sword website.
Resources To Learn More About The Battle of Midway
Linked below are two excellent talks that Jon Parshall had done over the last decade. Certainly worth a watch!