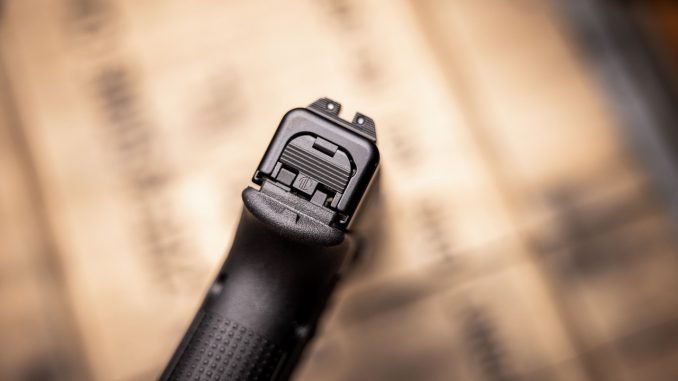 Yesterday, Langdon Tactical announced the return of the Striker Control Device. What is the SCD? Glad you asked, we covered that in this article last year.
You can get yours >>HERE<<, or check out the details below.
LTT Striker Control Device (SCD)
Formerly developed by Tau Development Group, Langdon Tactical Technology, Inc. is now manufacturing the Striker Control Device.

What is the Striker Control Device? 

The Striker Control Device (SCD) is a cover plate for your Glock pistol that blocks therearwardmotion of the striker when thumb pressure is applied to the back of the slide – similar to a hammer on a DA/SA hammer fired pistol. It was originally developed by Tom Jones and Todd Louis Green from the inspiration of double action hammer fired pistols, where shooters are taught to keep their thumb on the hammer when holstering. Keeping your thumb on the back of the hammer gives you positive feedback should something be caught in the trigger guard to prevent the gun from firing.  The SCD does just that for the Glock striker fired pistols.

The SCD blocks movement of the trigger bar and prevents the trigger from moving.
The SCD does not lock or otherwise interfere with the normal operation of the pistolunlessphysical force is being purposely applied by the user. When using any normal firing grip (IE: hand is not on the back of the slide), the SCD is not engaged, acting as a traditional back plate.
Installation of the SCD requires you to remove the existing backplate and install the SCD.

The LTT SCD works with all of the Gen 5 Glock pistols.  We have SCD's in production for slim frame guns (43, 43X and the 48) – please add your name to the wishlist to be notified when they are in stock. PLEASE do not email us asking for it. It's coming. We have a limited supply of the Tau Development Striker Control Devices, which is why you see them as an option.

Delivery Times: We have a rolling delivery schedule of these, they will ship in 1-10 business days.  If we are out of stock, please add your name to the wishlist, we will update as we receive more from finishing.