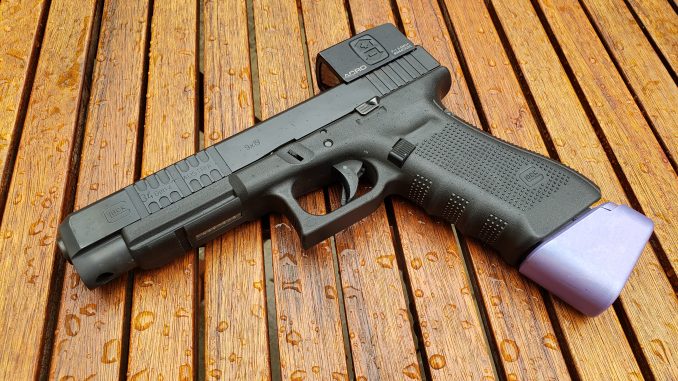 A few years ago, I'd never heard of Hyve Technologies. Then, seemingly out of nowhere, they became one of the most common magazine extensions on the range. When making selections for my second round of reviews, Hyve was a no-brainer. Do they live up to the hype?
Mounting the Hyve Technologies Glock Magazine Extension
Mounting the Hyve extension is pretty straight forward. After disassembling your OEM Glock magazine, transfer the follower to the included enhanced power spring. Next, unscrew the Mag-Stop from the rear of the extension, then slide the magazine on from back to front. Finally, reattach the Mag-Stop and you're good to go.
The only tool you'll need for this is a small Allen key for the Mag-Stop. The screw holding this in place does not have any thread locker, which I suggest adding to prevent it backing out under recoil.
Dimensions
Hyve uses a unique shape with their extensions, making them some of the largest on the market. This extra size also means extra weight, coming in at 4.9 ounces mounted on a G17 magazine. Despite their girth, gamers need not fret, as this extension still makes USPSA 140mm restrictions. Hyve includes some light texturing on the extension, giving it a matte finish. The edges are nicely rounded and dehorned as well.
The unusual shaping is slightly less intuitive when grasping from a magazine pouch, though this is a minor issue. Additionally, The large front to back size can impact storage, spacing on the belt, and compatibility with flared magwells. I am able to get this extension to lock in using a Magpul GL Enhanced Magazine Well, but anything larger than that will pose a significant problem.
Function
Before being trusted on my belt all magazine extensions endure a drop test. Parameters are simple. Each magazine is fully loaded, then dropped five times onto concrete from shoulder height. Mags are dropped straight down onto the extension as though falling from a firing pistol. After five consecutive drops, the Hyve extension came away no worse for wear, save for some slight dings.
This slideshow requires JavaScript.
This magazine lived on my belt and in my range bag for all of 2020 and the first half of 2021. It was used in regular practice, USPSA, Sentinel Concepts Handgun Elements, and Citizen's Defense Research Armed Parent/Guardian.  Approximately 310 rounds have been fired using the Hyve. During testing I experienced 3 failures to feed, 2 failures to lock open on empty, and 1 very sluggish feed. This is excluding ammunition related stoppages which also occurred with other extensions. Additionally, the Mag-Stop retention screw repeatedly loosened under recoil, but never enough to fall out. Thread locker is your friend. It was because of these reliability problems that I opted to end the review process early.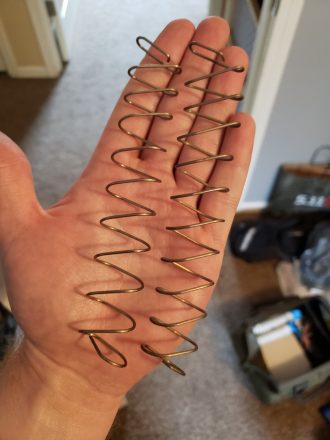 Interestingly, after disassembling the magazine, I noticed that the enhanced power spring was severely compressed. So much so that it is currently the same length as a brand new standard power G17 magazine spring. This is not the case with enhanced power springs from other companies, and I think this is likely a cause of my stoppages.
Final Thoughts on the Hyve Technologies +5 Glock Magazine Extension
Overall I'm not a fan of the Hyve magazine extension. Between the oversized footprint and reduced reliability, there are certainly better options for comparable prices. If you're looking for something focused on competition, check out options from Dawson Precision or Shield Arms. If you want extensions for Duty or CCW, I prefer Arredondo or Shield Arms. Leave the Hyve mind to the B-tier influencers, and grab something that won't leave you hanging. Or don't, the choice is yours.
Hyve Technologies +5 Glock magazine extensions retail for $36.99. You can buy your own on Hyve's website >>HERE<<