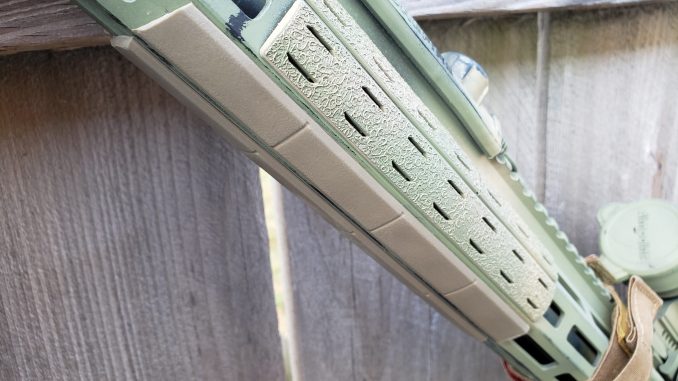 Magpul is one of the giants in this industry. Making gun parts, clothing, accessories and more, there's probably something in their catalog for everyone. Not one to be overshadowed by BCM, they're also a leader in making rail covers. After swapping out some hardware on my rifle prior to the Primary & Secondary Training Summit, I had some unused space on my rail. Not wanting to cook my hand, I headed to the store, and picked up some Magpul M-LOK rail covers.
Design and Unboxing
Magpul M-LOK Type 1 rail covers ship in a small white box, containing a baggie with two long rail covers. Each strip is about twice the length of a BCM cover while being slightly thinner. Each strip is divided into small sections via slight indentations on the front and back. This makes cutting the long strips into smaller segments easy, which is what I have done with mine. With this method, you get about the same amount of total material as you do with a five-pack of BCM covers.
Unlike BCM rail covers, the Magpul Type 1 do not feature any patterns or raised texturing. Instead of texturing, Magpul instead uses a grippy, rubberized material to add grip. Think along the lines of the Hogue grip sleeves that every gun shop has on the shelves. Some prefer this, and others do not. For me, the jury is still out on this decision, but I'm leaning away from this design element.
Why Use Rail Covers?
Some may ask why we'd need rail covers on our already smooth M-LOK rails. The answer is fairly simple; protecting our hands from heat, and providing extra control of the rail. Smooth aluminum rails can be difficult to get a solid grip on, and this is magnified by rain, sweat, blood, or other fluids. When firing, heat is generated by the barrel and gas tube, which then transfers to the rail. If enough rounds are fired in a short period of time, this heat can be uncomfortable or even painful. Once heat reaches those levels, the most common fixes I typically see are wearing gloves, or moving to a magwell grip, both of which have shortcomings.
Having rail segments help alleviate both of these problems. Texturing improves our purchase on the rail, preventing slippage, increasing our control of the rifle. By adding an additional barrier between our hand, along with raising the hand off of the rail, we help mitigate heat generated by long strings of fire.
Range Time
I used Magpul M-LOK Rail Covers, Type 1 during the Primary & Secondary Training Summit. While focusing primarily on handguns, I did take Low Light Carbine Skill Development with Matt Little of Greybeard Actual. I fired roughly 200 rounds of 55gr Hornady Frontier during class, along with 20 rounds of 55gr Blazer Brass while zeroing. Magpul rail covers were filling the positions on my rail, with BCM covers filling the remainder. Ammo is expensive right now, so no mag-dumps were performed.
That being said, we kept up a pretty high tempo during class, and my gun definitely got toasty enough to be uncomfortable. Magpul covers kept cool enough to avoid any discomfort with a gloveless hand, and there was no slippage despite sweating from heat outside. Interestingly, as heat increases from the gun, so does the tacky feeling of the rail covers. My hands never felt stuck, but it certainly wasn't something I enjoyed. Additionally, the Magpul covers seem to get hotter faster, and retain heat longer than the BCM covers sitting beside them. These issues were never enough to cause concern or consternation, they're also not my preference.
Final Thoughts on Magpul M-LOK Rail Covers, Type 1
If you're looking to add some covers to an M-LOK rail, you can certainly do worse than the Magpul Type 1. These are priced competitively with options from BCM, and are of equal quality. Ultimately it comes down to personal preference, as both are of significantly differing construction. I'll likely keep my mixed configuration on my rifle, as both are high quality, and work well enough for my purposes.
Magpul M-LOK Rail Covers, Type 1 retail for around $15 a pack. Users have their choice between black, flat dark earth, stealth gray, and olive drab green. You can pick up your own pair >>HERE<<