Magpul is starting 2021 off with a boom. With over 10 new products released in the last week, there's something available for everyone. Check out the new products below!
MBUS 3
"The MBUS 3 incorporates the best features, strengths, and value of our original MBUS and MBUS Pro Sights in a feature-packed back-up sight system. Significantly reduced in size from the MBUS, it sits at just .44" when folded and 1.15" at its widest point. Constructed of our impact-resistant polymer, it's lightweight and extremely durable and its aesthetics and features are derived from the MBUS Pro line. With the same spring-loaded technology as its predecessor, it can be deployed with an ambidextrous push-button. It sits at standard AR-height when deployed and includes a rapid-select rear aperture system for changing conditions."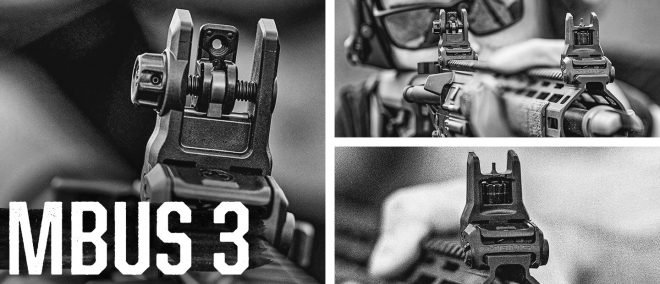 Front Sight Features
Tool-less elevation adjustment similar to the MBUS Pro and ambidextrous push-button deployment
Dual width enhanced front sight similar to MBUS Pro
0.44" high when folded and 1.15" wide at widest point
Standard AR-height when deployed

Rear Sight Features
Rapid-select rear aperture system and ambidextrous push-button deployment
0.44" high when folded  and 1.15" wide at widest point
Standard AR-height when deployed
MOE K2 XL Grip
"Designed for use with larger hands and to enhance precision shooting with an AR, the K2-XL Grip is similar to our MOE-K2® Grip – AR15/M4 but it's nearly 25% bigger. It offers a more vertical grip angle to improve comfort and control on short LOP rifles where the primary hand is closer to the shooter's body and enables proper finger placement in precision shooting to improve accuracy. Its TSP texture increases positive weapon control, the front and rear serrations provide traction. The K2-XL brings modern styling and ergonomics to the AR platform in a larger size. The XL grip cap, oil bottle grip core, and mounting hardware are included, but other Magpul grip cores will not fit with the K2-XL grip cap."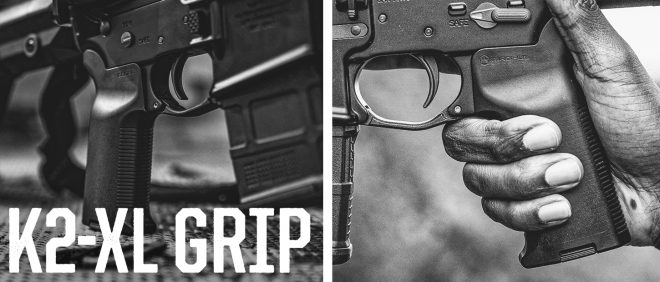 Features
Approximately 25% larger than MOE K2 Grip

More vertical angle provides optimal hand position for modern shooting techniques

Accepts proprietary XL grip cap and oil bottle grip core (not compatible with current grip cores)

TSP textured side panels and front and rear serrations provide positive traction and enhanced weapons control
PRS Lite Stock
"The PRS Lite provides similar adjustability and features of our PRS GEN3 Stock with the added benefits of reduced weight and a price that's almost half of its fully featured counterpart. At 10 ounces lighter than the PRS GEN3, it provides an optimized shooter interface with .8" of comb height and 1.4" of LOP adjustments for carbine/SR25/A5 extension tubes for .223 and .308 receiver-pattern rifles. The low-profile rubber butt-pad is adjustable for height and cant and provides a stable interface with the shooter's shoulder. There are multiple attachment options for slings, including an ambidextrous 1.25" footman's loop, a reversible QD sling swivel cup, and space for another optional QD sling swivel cup."
Features
Adjustable LOP from 13.85"-15.25" and comb height from flush to +.8"

Weight: 18.2 OZ

Sling options include a 1.25" ambidextrous footman's loop in the rear, a reversible rotation-limited QD sling swivel cup in front, and a QD sling swivel cup in the rear
QR Rail Grabber
"The Magpul QR Rail Grabber provides a compact, user-adjustable, true quick-release plate that's compatible with a wide variety of products that use the A.R.M.S ® 17S style footprint. Developed primarily for our Magpul Bipods, the Bipod QR Adapter can be used with either Picatinny or RRS/ARCA interfaces. Its user-adjustable dual clamping mechanism slims down to the rail it sits on, ensuring a compact fit. A knurled knob makes for easy manipulation and sits close to the body of the adapter and out of the way. Machined from Mil-Spec aluminum, it's extremely rugged and provides a stable platform for hard-use applications."
Features
Base and clamps machined from Mil-Spec anodized aluminum

Compatible with both Picatinny and RRS/ARCA interfaces

Dual clamping mechanism ensures the smallest footprint possible and serrated knob for easy manipulation
PMAG 10/30
"The PMAG 10/30 is a 10-round polymer magazine for AR15/M4 compatible weapons chambered in 5.56x45 NATO/.223 Remington. It was designed for users who reside in areas with magazine capacity restrictions but desire a standard 30-round magazine form for mag pouch compatibility and compliance with local restrictions. We've added a proprietary lock plate that reduces the maximum capacity to ten rounds, and it's permanently secured by an aluminum rivet. A lock plate tab that's clearly marked for capacity is also included."
Features
Proprietary lock plate reduces maximum capacity to 10-rounds while maintaining a standard 30-round size and an aluminum rivet permanently secures the lock plate
Lock plate tab is clearly marked for capacity
Not designed or intended to be modified in any way
PMAG D-50
"Our PMAG D-50 GL9 is a highly reliable, 9x19mm Parabellum, 50-round drum magazine optimized for double-stack 9mm GLOCK handguns. It boasts many of the proven features of our other 9mm drums, providing 50-round capacity in a unique drum configuration that keeps the height of the magazine manageable, allowing for easier storage. We recommended installing a new OEM magazine release on Gen 1-3 GLOCK handguns to support the extra weight of the magazine, and Gen 4 GLOCK handguns will require an aftermarket metal magazine release."
Features
50-round capacity, next-generation impact and crush-resistant polymer construction, and robust stainless internals withstand corrosion and long-term storage while loaded with no loss of function.
Ratcheting lever for ease of loading, easy disassembly for cleaning and maintenance, and high-visibility follower and rounds-remaining window.
Use of the D-50 GL9 in PCCs is not recommended, because the increased length of the feed tower will be partially unsupported in most PCC mag wells.
Installation of a new recoil spring assembly to ensure reliable feeding is strongly recommended and Individual variations between firearms may result in an extra power recoil spring being required.
PMAG D-50 MP
"Our second drum offering this year is the PMAG D-50 MP. It's another highly reliable, 9x19mm Parabellum, 50-round drum magazine for HK94/MP5 large-format pistols and pistol caliber carbines. It has many of the proven features of our other 9mm drums, providing 50-round capacity in a unique drum configuration that keeps the height of the magazine manageable and allows for easier storage."
Features
Ratcheting lever for ease of loading.
Easy disassembly for cleaning and maintenance
High-visibility follower and rounds-remaining window.
Rigger EDC Knife
"The Rigger EDC brings the same design and craftsmanship of our Limited Edition version of the Rigger, but with materials chosen to make it more accessible to a broader audience while maximizing its functionality. The Rigger is made in the USA and features a double-locking aluminum frame that's light but strong, and it includes our innovative secondary locking feature for added security and safety. The blade is a modified Wharncliffe design made of S35VN steel. The aluminum pocket clip can be removed or reversed with a slotted screwdriver for easy disassembly and cleaning. It's also an ideal size for everyday carry while maintaining the heft to handle demanding field tasks."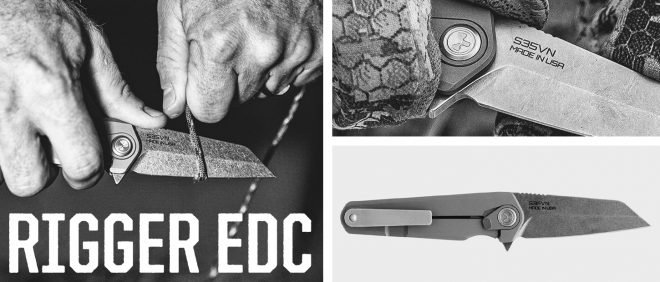 Features
Blade Design is a Modified Wharncliffe with a Tapered Dual Bevel Grind in S35VN steel
Frame and pocket clip are made from 7075 Aluminum
Open length 7.59"; closed length: 4.52"
Weight approx. 3.7oz
PMAG 20 AR 300 B M3
"The PMAG 20 for 300 BLK has the same features as our PMAG 30 AR 300 B, but its compact 20-round body allows for increased maneuverability and creates a more concealable package when used in small format firearms. Due to the wide variety of projectile weights and profiles, a dedicated 300 BLK magazine offers greater reliability and a safer way to feed your 300 BLK rifle. The PMAG 20's distinct ribbed design and smoother upper-half texture also provide the shooter a distinct visual and tactile difference from any other PMAG to mitigate dangerous cross-loading issues. Along with optimized 300 BLK performance, the PMAG 20 also incorporates all of our advanced GEN M3 features."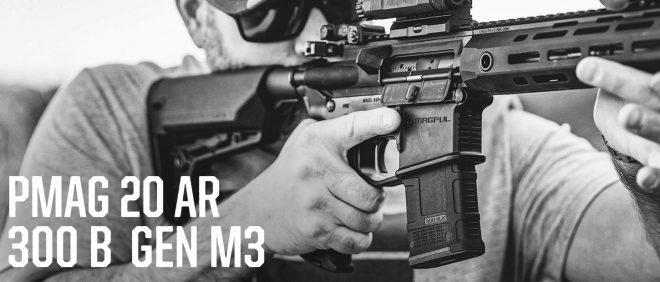 Features
Design optimized for maximum reliability using 300 Blackout® ammunition
Utilizes all PMAG Gen M3 5.56/300B compatible accessories
Unique rib design to provide instant differentiation from 5.56 mags in all condition
MP BSL MP5 Arm Brace
"The MP BSL Arm Brace is a durable, lightweight, collapsible arm brace that aids in single-handed employment of HK94/MP5-pattern pistols. Our design and engineering have provided enhanced brace functionality, providing a robust feature set for MP5-pattern pistols while maintaining the iconic aesthetic of the platform. Constructed of our proprietary polymer and featuring a tool-less adjustment system that makes it easier to deploy and collapse the brace, the MP BSL is extremely durable with enhanced ergonomics."
Features
Designed and intended for use as a stabilizing accessory for one-handed firing
Toolless, one-handed adjustment
Ambidextrous rear QD cup allows sling tension to be applied while firing with one hand to improve stability. M-LOK® compatible slot for additional sling mounting options
Not compatible with HK91/G3® pattern firearms
FDP-9 / FDC-9
"In 2008, Magpul® introduced a folding concept gun based on the Glock® operating system. It deployed single-handedly from a compact, simple form factor into a short-barreled carbine that was easier to handle and easier to employ accurately than many typical handguns. It also provided its own safe storage method by folding into itself to form a case. At the time, this concept firearm was intended to be just that…a concept."