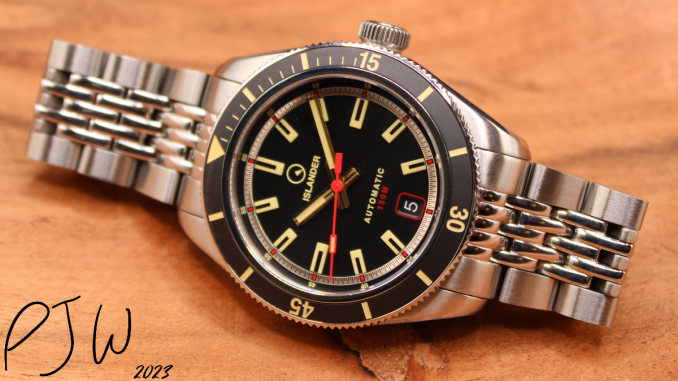 As part of gaining an interest in watches, I've been doing a ton of research. This lead me to YouTube, and to a handful of quality channels. Notably, I found The Urban Gentry, and the channel's host, TGV. I really got into his content and style, and one of his ventures is a monthly podcast with Marc Frankel of Long Island Watch. Long Island Watch is a watch store from Long Island New York, and Marc is a wealth of knowledge when it comes to watches. This lead me to his own watch brand, Islander Watches. With that, we're taking a look into the Port Jefferson, a classy skin diver watch.
What is the Islander Watches Port Jefferson?
Islander Watches was founded in 2019, and is the in-house brand of Long Island Watch. Initially founded after the Seiko SKX series was discontinued Islander started with SKX homages. Essentially, making the improved SKX, with better features. However, they quickly branched out from homages, and started making more distinct watches.
Islander Watches names most of their timepieces after villages in Long Island, and the Port Jefferson is no different. Port Jefferson, (often just called Port Jeff) is a small village in Suffolk County. However, the watch is a 150m water resistant dive watch, with great features and an extremely attractive look. This is also quite a new timepiece, as the Port Jeff was released in mid-2023.
I reached out to Islander Watches to request a watch to test and evaluate. I spoke with Ryan, the Director of Product Development for Long Island Watch. He readily offered to provide a tester watch, and I was loaned a Port Jeff within the week. In the spirit of transparency (as we always are on PrimerPeak), I was not given a freebie watch. I wanted a loaner, not a handout. As such, I'm just borrowing the Port Jeff, but (as you'll read), I think one will end up in my collection before too long.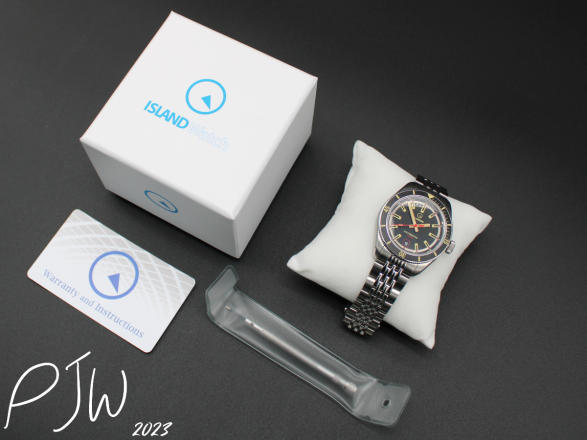 The Port Jeff retails for $415 on Long Island Watch, and I'm testing the ISL-175, which is the model with a black & gold gilt dial. The Port Jeffs use Japanese movements, and are assembled in the US, in Arizona.
While a step up in price from the previous watches I've reviewed, you get a lot more for the money. What are the features of the Port Jeff?
Features - Movement, Dial, Crystal, & Bezel
Starting off, the Port Jeff is powered by the Miyota 9015 movement. This is a pretty solid Japanese automatic (mechanical) movement, offering a slightly higher beat rate than many similar movements. As such, the sweep of the second hand is very smooth. This movement also has hacking (stops the second hand when you pull the crown), and hand winding. For the price of this watch, this movement is a steal. Accuracy is quoted at -10 seconds to +30 seconds a day.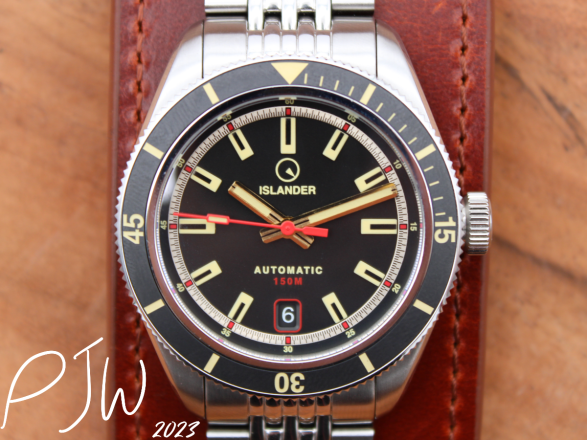 On the ISL-175, we've got a black dial, with white, yellow, and red coloring on indices and markers. All of the hour indices are applied to the dial, rather than painted, as is the ring around the edge of the dial. At the 6 o'clock position, we've got a simple date wheel, with colors that match the rest of the dial. Luminescent paint is put on the hands and hour indices, something that I'll highlight in a later section. While it goes without saying, the dial is classic looking, and very practical.
Something new for me is the crystal. We've got a domed sapphire crystal, that has had anti-reflective coating put on the underside of it. As such, we've got a slightly raised crystal, that gives a classic look. It also slightly magnifies the dial, making it very easy to read at a glance.
Capping off the top of the watch is a stainless steel, 120 click uni-directional bezel. It has a tight, positive movement, with a nice coin edge on the sides. Again, the colors match the dial, and the bezel insert is made from ceramic. Uniquely, the Port Jeff has luminous paint on the markers on the bezel, which aids in low-light use.
How about the rest of the watch?
Features - Dimensions & Case Details
Generally, I like slightly larger watches. 42mm-44mm tends to be my preferred, however, I have enjoyed small watches too. The Port Jefferson has a case width of 40mm, with a lug-to-lug measurement of 48mm. As such, this watch wears fairly small on the wrist. Thickness is also impressive, coming in at 11mm, (11.5mm at the tippy top of the crystal). With those measurements, this watch wears comfortably under the cuff of a dress shirt or coat. Weight is an advertised 150g, but it will get lighter if you remove some bracelet links.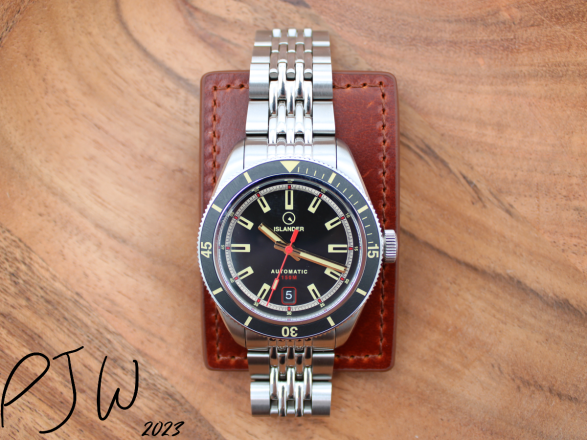 The case is made from stainless steel, and features a combination of brushed and polished finish. While the dial is already beautiful, this really ties it together. This is a striking case, something that I find myself looking at while the watch is on the wrist. At 3 o'clock, we've got a screw down crown, with no guards. While the watch is small, the crown is medium sized. As such, unscrewing it and setting the date and time is simple.
Now, this watch is a skin diver, a term from the 1950s. Skin divers are dive watches not intended for very deep uses, generally 50-150m tops. While this isn't a "deeper" dive watch, we've still got a screw down caseback, which helps to get the Port Jeff to 150m water resistance. A wonderful engraving of a lighthouse and the Islander logo adorn the caseback.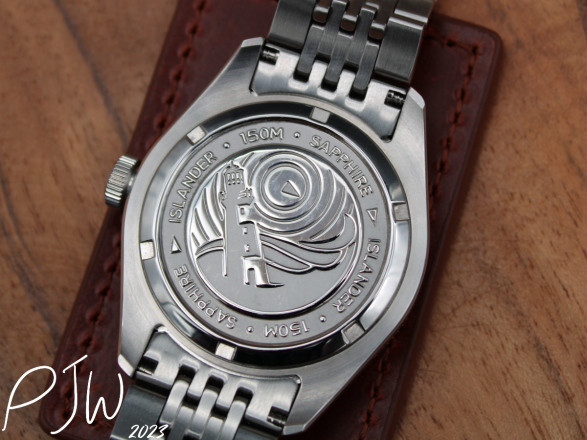 While the watch itself has great features, how well does the bracelet stack up?
Features - The Bracelet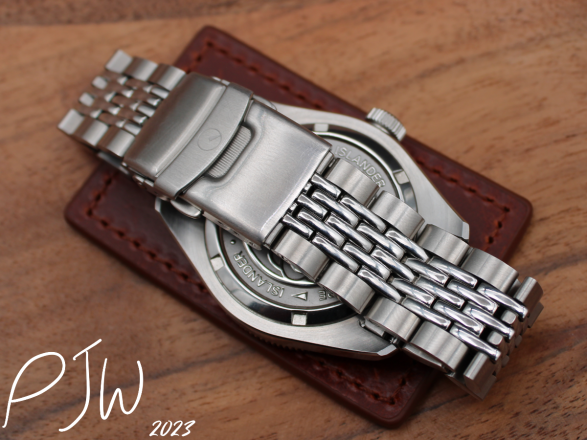 While I generally prefer nylon for my watches, I wanted to test a bracelet. The Port Jeff ships with a 20mm "Beads of Rice" bracelet. With a unique center link design, this bracelet is very aesthetically pleasing. The outer link is brushed, with the center links being polished. They attach using screws, which is great for sizing the watch. Due to the negative endlinks connecting the bracelet to the case, the bracelet can articulate for comfort, something that I've never experienced before. We've got solid endlinks here, leading to even better feel and build quality.
This slideshow requires JavaScript.
Connecting the two halves of the bracelet are a milled steel clasp. This clasp is quite well made, and has three micro adjustments for the perfect fit. While the I've had build quality problems with previous bracelets, this one is top notch. The clasp has two parts to adjust to remove the watch, a folding keeper, and a pinch button to open the clasp. While I've never just had my watch come off my wrist, this bracelet really inspires more confidence.
While I generally prefer a nylon strap, this bracelet was so great that I never wanted to swap it.
How well does the luminescent paint work on the Port Jeff?
The Extra Bright Port Jefferson
Well, I've been spoiled. I've only recently gotten into dive watches, running from the lower end of the price range, up to the mid-price range. Some have had good lume paint, and some are less than stellar. The Port Jeff just blows all of my other watches out of the water.
As mentioned above, we've got a lot of lume paint on the dial, indices, and on the ceramic bezel markers. It is bright, and allows for easy reading in dark conditions. It doesn't take much light to charge it, which is great too. Just running outside to the mailbox will often be enough to get it glowing for 15 minutes. In the evenings, I've been charging it before bed, and it'll still be glowing after 5-8 hours. Now, it does dull down after about 15 minutes, but it lasts a nice, long time.
With Marc and the Long Island Watch crew being Seiko fans, I'm not surprised that he wanted great lume on his own watches. This is an extremely standout part of the Port Jeff, and that's really saying something.
While I've covered the features, I really haven't talked much about wear. How well does the Port Jeff wear?
Wearing the Port Jeff
Before I donned the Port Jefferson, I needed to size the bracelet. The watch shipped in a modest box, which included a warranty card, and a small screwdriver. Islander shipping a tiny screwdriver shows that they really care about their watch, as they don't want the end user to struggle with sizing it. After about 10 minutes of removing links and testing fit, I found that removing 4 links led to a perfect fit. I've got the micro-adjustments in the clasp at the furthest position, which may need to come in as the season gets colder.
On the wrist, the Port Jeff wears sublimely. The bracelet is fairly tight (my preferred wear), and as such, the watch hugs my arm well. Between the bracelet, the size of the watch, and the polished caseback, I don't get much agitation from the watch on my wrist. I've also not had any issues of arm hairs being yanked by the bracelet, and I've got fairly hairy arms.
What I really like about the Port Jeff is that it is a combination of classy and sporty. This is a watch that can be worn in gym clothes, casual clothes, or a suit and tie. It easily slides under a shirt cuff, but can also be worn prominently exposed too. Due to the smaller overall size, I haven't had issues of catching the watch on doors or walls, which is nice.
I received the Port Jeff on September 15th of 2023. From there, I've pretty much exclusively worn the watch. Aside from donning a classic G-Shock while doing some specific lifts in the gym, the Port Jeff has been my only watch I've worn. As such, I've had a lot of time with it. How did it do in my EDC role?
EDC With the Port Jefferson
I've generally got my watch on me 24/7. It only comes off when I'm in the shower, or doing some combative sport, like BJJ. As such, it's getting constant wrist time.
The Port Jeff is extremely comfortable on the wrist, even with extended durations. With how I have it sized, it's not constricting movement of my hand or wrist movements. I've had metal bracelet watches cause issues in the past, but with how well designed and made the Port Jeff is, that didn't happen here.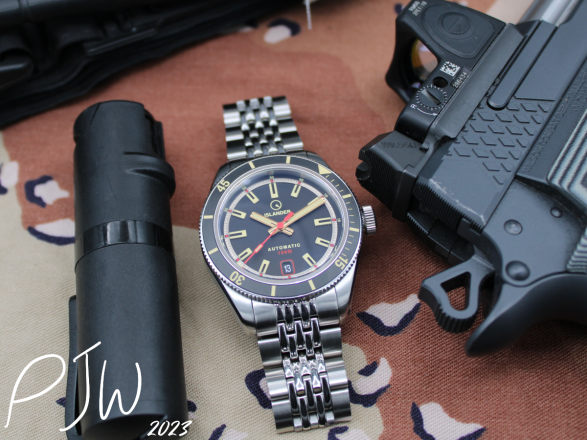 A bit more specific, but I never had the watch impede my ability to shoot. I do a lot of dryfire (as we all should), and I've actually had some larger watches get in the way of my drawstroke. Generally, my cover garment would get caught on the watch, which would throw me off. With the Port Jefferson, I've not run into that.  With forming my two handed grip, I also found no hotspots from the watch, which I've had with large watches. Generally, the watch would hit my primary hand, causing an issue, but that wasn't the case here.
While this is personal preference, I find the dial both attractive, and easy to read. I've had some complicated dials, which makes checking the time quickly something of a pain. On the Port Jeff, I've not had that issue.
Talking features, I use the bezel daily. I like to time my workouts, my sleep, and shooting sessions, and the bezel is a fun way to do that. With the positive ratchet of it, it's accurate, and enjoyable to use.
While I didn't abuse the Port Jeff, I did wear it while doing a lot of physical activities. How well has it held up?
Getting Sweaty With Jeff
I'm at the gym 4 to 5 days per week. Weightlifting is the primary action, however, I've been adding in a ton of cardio after my lifting sessions. As such, I'm getting pretty sweaty. Generally, my workout watch is an OG G-Shock, or a diver on a nylon NATO strap. These are comfy on the wrist, and don't tend to get too stinky. When they do, they wash easily. However, the Port Jeff did very well as my cardio/leg day watch. For doing upper body, I didn't want to destroy it with dumbbells, so it really only gets worn to the gym on lower body, or strictly cardio days. The bracelet did wonderfully with sweat, and is easy to clean when it starts to get grody.
With the easily legible hands, the Port Jeff makes a great gym watch. A quick glance at the wrist makes it easy to check the time. Now, what if we leave the gym, and hit the trails?
When I reached out to Islander to get a watch to test, I told them that it would accompany me on hikes and camping trips. Well, it has, and it did quite well! The bezel was great for keeping track of breaks on the trail, and the sapphire crystal held up great while going through more wooded areas. As part of living in Utah, we've got a fairly cold Fall. As such, the metal bracelet is a little cold when being outside, but it's not a deal breaker for me. Is the Port Jeff the ideal hiking watch? Well, not really. However, It did quite well for me.
I've been wearing the Port Jeff constantly since getting it in to test. Have I run into any ergonomic issues with it?
A Single Gripe
Despite showering the watch with a ton of praise, I've had one ergonomic issue with the Port Jeff.
The Port Jeff has a solid, good sized crown. It's got great texturing, and is easy to use for setting the time and date. It's also got no guards around it, as this is a more classic look. However, the crown can really dig into the back of your hand when doing certain motions.
I noticed this while doing a handgun reload in dryfire. With doing my standard "index" reload on the magazine, the inertia of the upward movement caused the Port Jeff to slide up my wrist a teeny bit. This, combined with the movement of my hand to form the grip on the pistol, slightly dug the crown into the back of my hand. In live fire, I had the same thing occur.
This slideshow requires JavaScript.
I mention the lack of crown guards, as I've been able to replicate this with my other watches. My other two divers in standard rotation, (Orient Kamasu & Glycine Combat Sub) have guards, and I think this plays a part. While they still impact the back of my hand, the guard helps to distribute the impact, so I don't get a hotspot.
Now, this is an extremely small gripe. As the temperature changes, our wrists will swell up, or shrink a little. This happened to me as the season changed from Summer to Fall, and the watch became a teeny looser on my wrist. As such, I need to use one of the micro adjustments on the clasp to prevent this from happening again. Since doing so, it's been 100% good to go.
Have I accrued any damage or wear on the timepiece?
Ring-A-Ding Ding, Baby
So far, the only wear I've accrued on the Port Jeff has been scratches on the bracelet. The crystal is holding up wonderfully, as are the bezel and ceramic insert. With how the case hugs the wrist, I've not really had the risk of hitting it on things, so it's holding up totally fine.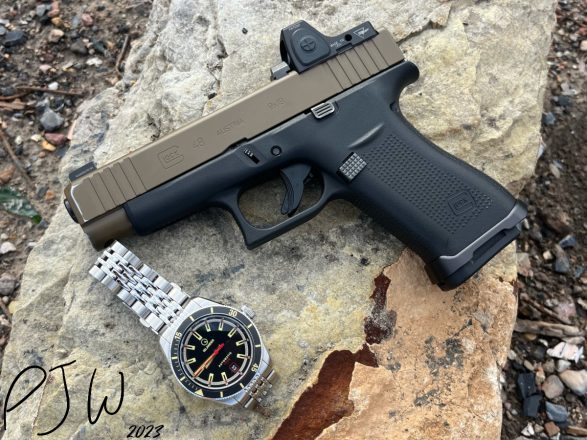 With the bracelet being the thing that hits tables, desks, and armrests, it's gotten some scratches. The clasp is the part that's getting the brunt of them, as the beads of rice bracelet does a good job at articulating and hiding them. The combination of brushed and polished finish works great at hiding the scratches too. I'd trust this bracelet to look good for years to come.
Despite being rated to 150m of water resistance, I never got it anywhere near that depth. Aside from some time in the shower, getting wet in the rain, sweat, and a dunk in my water jar, the Jeff stayed dry. That being said, I never had any water ingress issues, as I keep the crown nice and tight at all times.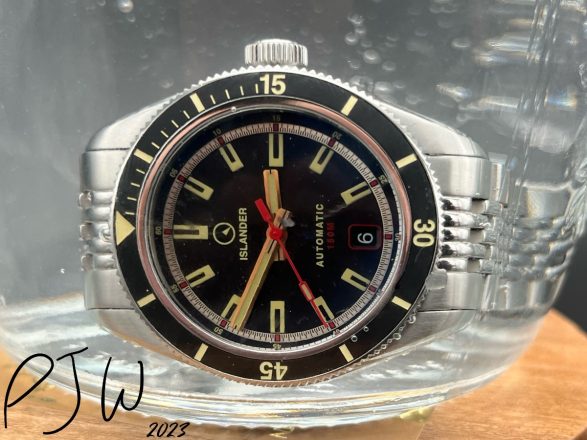 While not a wear element, the sapphire and bezel are fingerprint magnets. Photographing this watch in my lightbox was a slight nightmare due to this. However, a quick rub with some cloth (usually a shirttail) will correct that.
With a shorter term testing period (a month and a half), it's hard to see how much wear I can put on the watch. I'm not going to go out of my way to abuse it, as that'll not really prove much. That being said, the Port Jeff has been on my wrists in situations where I'd generally wear a different type of watch. It's held up great, and looks fantastic while doing so.
The Verdict
Islander Watch really hit the ball out of the park on the Port Jefferson. It's a classic, attractive watch, and has features that make it an extreme value. The price might be sticker-shock for those who aren't familiar with automatic watches, but compared to similarly priced watches, I don't think you'll find a better value. All of the features make this a watch that lives on my wrist, and seldom spends time in the watchbox. It's an easy recommendation from me.
The Port Jefferson was my first entry into the Islander Watch lineup, and by god, is it wonderful. Marc, Ryan, and the rest of the Islander Watch crew are true watch nerds, and the attention to detail and quality here really excite me. I'm looking forward to their ongoing success going forward, because if they keep making watches as good as the Port Jefferson, they'll be around for a long while.
As an experimental piece, I've got a short video review meant to accompany this written review.
Thanks to Ryan at Long Island Watch/Islander Watch for providing the Port Jefferson for test and evaluation purposes. 
Additional Reading & Patreon Link
If you liked this review, check out some more of my watch reviews:
If you'd like to support me on Patreon, I've got the link for that here. Nearly everything that I do on Primer Peak is paid for out of my own pocket, and my content is not shilled or driven by manufacturers or companies. If you decide to donate, I'd really appreciate it, as it would allow for me to continue to bring you quality work.