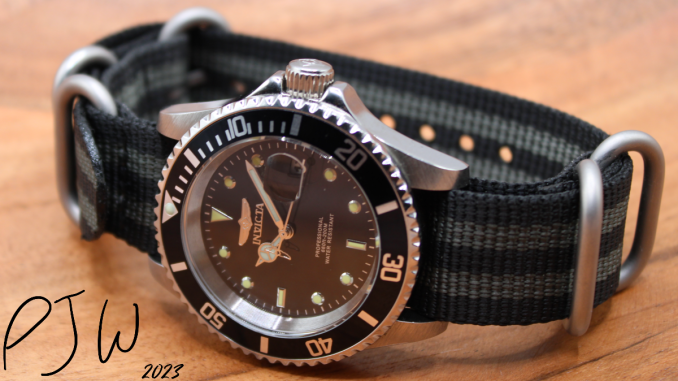 Invicta was a Swiss watch company, initially founded in 1837. During the "quartz crisis" of the 1970s and 80s, Invicta went bankrupt, and in 1991, was purchased by new American owners. Since then, they've been known to produce some of the ugliest, biggest watches that you can buy. Their watches are sold online, in department stores, and via outlets like QVC. Despite the last 30 years of mediocrity, I've heard good things about one line of their watches. In this article, I've be covering the Pro Diver Quartz 26970, a Rolex homage watch. What are it's features, and is it worth your money?
What is the Invicta Pro Diver?
The Pro Diver is Invicta's Rolex Submariner homage watch. They come in both automatic movements (mechanical), and quartz (battery powered). A wide range of colors and sizes are available, but in this review, I'll be covering reference #26970.
The 26970 is a quartz dive watch, rated to 200 meters of water resistance. Based on the classic Submariner, it has three hands (hour, minute, & second), and has the date on the dial. While not surprising given the price, the Pro Diver has a mineral crystal, with cyclops to see the date window. Being a diver, we've got an aluminum uni-directional rotating bezel, with 120 clicks for marking time. Construction is stainless steel, with a screw down crown and caseback to make the watch water resistant.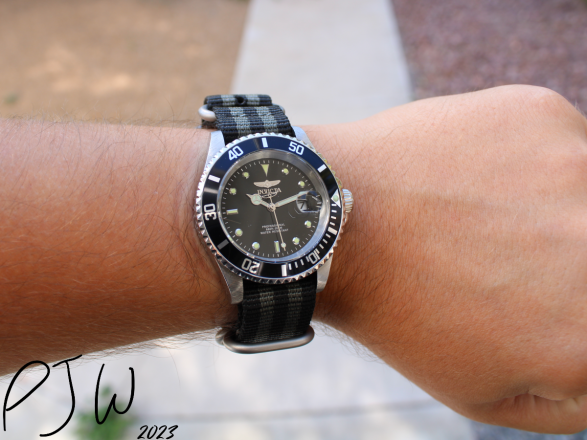 Dimensionally, this isn't a massive watch. The watch has a 40mm case width, uses 20mm bands and straps, and has a lug to lug length of 47.5mm. Thickness is 12.5mm on the included stainless steel bracelet, and will get thicker if you use a NATO style strap. Shipping with a steel bracelet, the Pro Diver comes in at 140 grams on the bracelet, and 90g on a NATO strap. These are made in China, using a Japanese made quartz movement.
MSRP is $495.00. Now, Invicta does not sell watches at MSRP. People bemoan them (rightfully so), as they inflate MSRP, so that it looks like the buyer is getting a good deal. Actual retail price on the Pro Diver Quartz is closer to $50-$80, and I scored mine on Amazon during a Prime sale for about $35.
Lets take a deep dive into the features on this watch.
Features - Movement, Dial, & Crystal
First and foremost, let's talk about the movement. The Pro Diver is powered by the Seiko PC32 quartz movement. This movement is powered by a 377/376 battery, however, battery life on the Pro Diver is not listed. While a fairly basic movement, the PC32 is rated to maintain about accuracy within 30 seconds a month. For an entry level watch, that's more than acceptable.
The dial is directly ripped from the Rolex Submariner. Most of the watch is, but the dial especially is. The hands, the markers on the dial, and the water resistance markings are all copycat. Now, the Pro Diver does say Invicta, and have the logo both on the dial and tail end of the seconds hand, so you don't feel like you're wearing a fugazi. Well, you mostly feel like you aren't. The dial has painted on ticks to mark seconds, applied dots and bars with "Tritnite" luminescent paint for the hour markers.
The luminescent paint is, well, ok. It's applied in small amounts, and the glow from it doesn't last that long.
The crystal is "flame fusion", which is marketing speak for a mineral crystal. Marketed to be more scratch resistant, this is just mineral. We've got a cyclops to magnify the date on the dial, which is a feature that some people like, and some hate. I'm indifferent, however, I've got a specific gripe with the cyclops here. I'll cover that in a bit.
So, the main features are middling, but this is a budget watch. How are the bezel, case, and bracelet?
Features - Bezel, Case, & Bracelet
The uni-directonal rotating bezel is made from steel, with an aluminum black insert. There's markers for 1-15 minutes, and 20/30/40/50 too. Again, very Rolex. It isn't the easiest to rotate, but it isn't difficult either. There's some side to side, and top to bottom play with the bezel, which isn't great.
While seeming like a direct Rolex copy, Invicta does toss their logo on the watch a bit. On the crown, we've got their cross logo, and the name on the other side of the case. The caseback features the Invicta "Master of the Seas" logo too.
This slideshow requires JavaScript.
I'm not really a fan of steel bracelets. The 26970 comes on one, and I pretty quickly swapped it for a 20mm NATO strap. The bracelet has a stamped clasp, but is actually fairly comfortable. There's no noticeable sharp edges to dig into your arm, and the brushed end links with polished center links is aesthetically pleasing. We've got screws holding the links together, which is good, and 4 micro adjustments in the clasp.
This slideshow requires JavaScript.
I've discussed the features, but how's the overall build quality?
Pro Diver Build Quality
It's messy.
On my specific watch, the cyclops is not totally inline with the date window. Also, the minute and second hands don't mate up with the markers on the dial each tick. Additionally, the bezel is a little loose, and the crown has some play in it when setting the time. Oh, and can't forget, the luminescent paint is nearly useless, as it is quite dull.
While this sounds horrible, we've gotta keep in mind the price. The Pro Diver Quartz is a watch that sells for $50. I'm fine with the hands not mating perfectly, as matching a dial to a movement is hard. On top of that, the bezel having some wiggle is to be expected, same with the crown play. However, there's more than I would have expected, but I'll tolerate it. Despite some medium gripes, the cyclops being off kilter is something that I'm really not happy about. It's one of those things that you notice, and cannot help but notice every time you look at the watch. The lume being poor hurts my enjoyment too, as this watch is unreadable in dark conditions.
While I've got those QC issues, the watch is otherwise decently made. The case and bracelet have no harsh edges, so this is a comfortable watch on the wrist. With the 40mm size, and lug to lug of 47.5mm, this watch wears a little smaller than that. I've got 7.25" wrists, and it wears well on me.
So, the build quality is decent, and the wear is fairly comfortable. I've worn this watch a fair bit, both in daily life, and while traveling. How well did it fit into my EDC?
Invicta EDC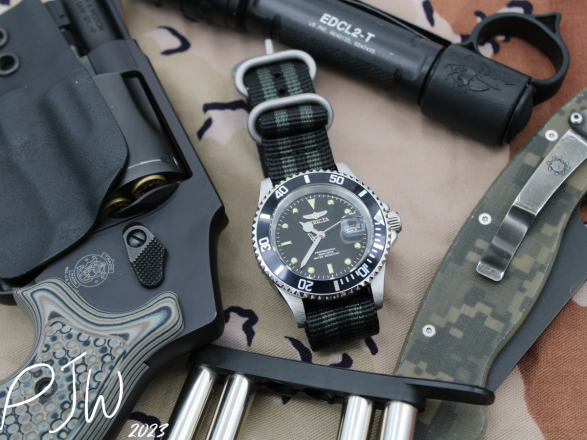 The Pro Diver had (mostly) been in my watch rotation since July of 2023. For the majority of that time, I had it on a "Bond" 20mm NATO strap. NATO's are comfy, and I dig the look and feel on the arm. If Bond can do it, why can't I?
With wearing the watch, that means setting the date and time.
While the Pro Diver has a classic look, the quartz movement inside means that the watch will be quite accurate. As such, I did not find myself needing to adjust the time due to the movement variance during my time with it. Now, the bezel is kind of hard to use. It has a "coin edge" pattern, which with my larger hands, is hard to twist.
Water resistance is rated to 200m, however, the Pro Diver only ever got rained on, and some time in the shower. With this watch, you need to make sure that you have the crown screwed down completely, otherwise the design can be water compromised. I had no issues with water during my wear.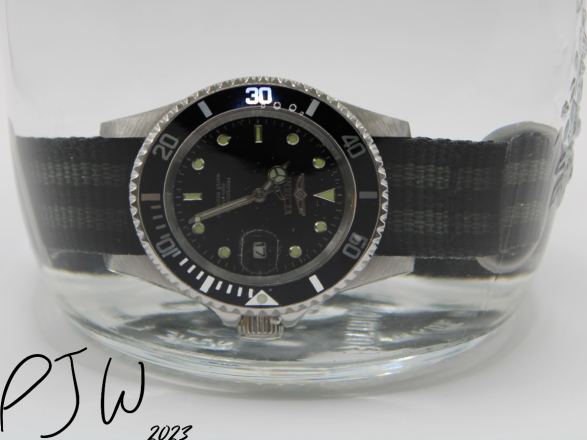 Now, I do think that the Pro Diver looks good. However, that's because the Rolex Sub looks good. This is what some might call a "clomage", as it is more of a clone of the Submariner. While Invicta slaps their name on the watch, it's very much trying to look like the Submariner. While I enjoyed wearing the watch, I had that nagging feeling that I'd rather be wearing a more original watch. Well, when that feeling got to be too much, I stopped wearing the Pro Diver. I ended up moving to a watch with a much more original design.
The Verdict
Full disclosure, I bought the Pro Diver Quartz expressly to review for Primer Peak. As I got deeper into watch nerdery, I wanted to try out the "boogeyman" of the watch industry. For the price of $35 and $10 for a NATO strap, I enjoyed the Pro Diver. While I had quite a few QC issues with my Pro Diver, the watch was overall fairly decent. For a watch in this price range, some QC issues are prone to happen, which I understand. Even for more normal retail of $50-$60, I think this is a good watch for the money. However, that doesn't mean I recommend this watch.
I just cannot get behind such a blatant copycat design. While Invicta slapped their name and logo in a few places, Rolex did all of the legwork for the design. With that, I cannot recommend the Pro Diver Quartz. I'm glad that it got me into the dive watch as a style, but as for the Pro Diver, it'll be gone by the time that this review is uploaded.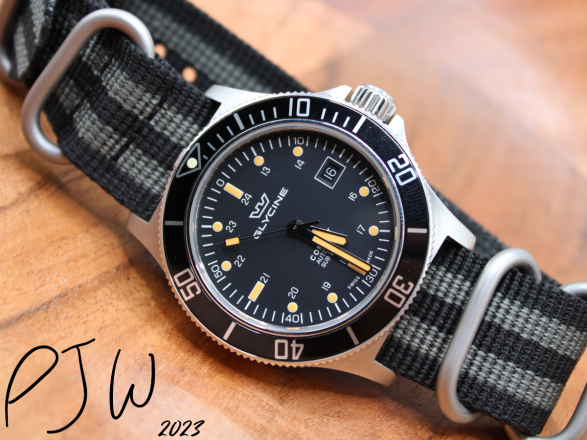 While I'm done with Invicta with this review, I'm not totally done with their subsidiaries...
Additional Reading & Patreon Link
If you liked this review, check out some more of my watch reviews:
If you'd like to support me on Patreon, I've got the link for that here. Nearly everything that I do on Primer Peak is paid for out of my own pocket, and my content is not shilled or driven by manufacturers or companies. If you decide to donate, I'd really appreciate it, as it would allow for me to continue to bring you quality work.