Over 2023, I've kind of become a bit of a watch nerd. As such, I've experimented with the different types of quartz (battery powered) watches. From digital watches, to diver style, to the field watch, I've been playing around. The topic for today is the Timex Expedition Scout 40, a simple field watch. What features does the Scout 40 provide, and is it worth the budget price that it demands?
What Is The Expedition Scout 40?
The Scout 40 (S40) is a wristwatch, made under Timex's Expedition line. The Expedition line is comprised of harder use, outdoor oriented watches. Diver watches, digital watches, and field watches make up the line, with the S40 being a field watch. So what is a field watch? "Field watch" is a term that dates back to the 1940s, to watches made for soldiers. Field watches are generally not super water resistant, and have simple watch faces to tell the time, and sometimes tell the date. The S40 is no different.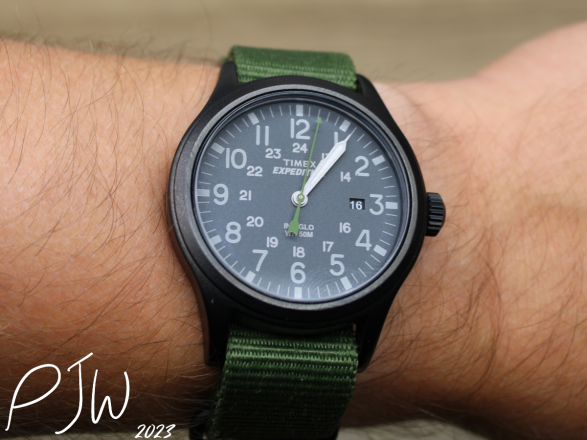 While it is basic, we do have some neat features with the Scout 40. The watch tells the time, in seconds/minutes/hours, and tells the date. It also has luminous paint on the minute and hour hand, and has a backlight for ease of use in dark conditions. Water rating is 50 meters, so this watch is fine for rain, washing dishes, or splashes, but you shouldn't swim or dive with it. Dimensions are a little surprising, as this watch wears a little big for how small it looks. Case width is 40mm (hence the name), while height is 11mm, and lug to lug width is 48mm. With those dimensions, this watch takes up some space on the wrist.
This slideshow requires JavaScript.
The S40 ships with a 20mm OD green NATO strap, something that I find to be great in general. Weight is 2.2 ounces/64 grams, mostly due to the brass case. The caseback is steel however, which is something that we want. Powered by a single 2016 battery, battery life isn't listed. The watch is made in the Philippines, which helps it reach that budget price. MSRP is an even $60, however, they retail for $30-$45 online. I got mine for about $32 during an Amazon sale during Summer 2023. Let's dive into the features of the S40.
Expedition Scout 40 Features
Compared to the Casio digital watches that I've reviewed, the Timex Scout 40 has far less features. Now, I'm fine with this, as a lot of the extra features went unused for me.
The Scout 40 tells the time, in seconds, minutes and hours. We've got tick marks for 60 seconds, and larger blocks for the hour intervals. A set of extra numerals for 24 hour use is on the watch face too. A tiny date window is on the dial too, something that is nice to have for a daily wear watch. For the specific model I wore (reference number TW4BO4700), the grey/white/green colors are really striking, and provide great contrast. This is an extremely easy watch to read, especially at just a quick glance. The hands also mate up perfectly with each tick mark, something that a lot of budget analog watches don't always do.
Aside from the old motto, "takes a licking and keeps on ticking", modern Timex is known for their Indiglo backlight. This is a really cool looking, and very usable backlight. Pressing the crown inward will activate the light, but only for the duration of holding it in place. The S40 also has luminescent paint on the hour and minute hands, which is nice, but the backlight is much more useful.
Setting the time and date is very simple too. Since this is a 50m water resistant watch, we don't need to fumble with a screw-down crown to set the time.
Now, I'm not an absolutist about watchbands. If I dislike a band or strap, I swap it. I've done it to about half of the watches that I use, however, I usually swap to a NATO strap. If you aren't familiar with NATO straps, it's a nylon band that keeps the case back off of your wrist, and is generally pretty durable. The S40 ships with a 20mm width one, and I really enjoy it.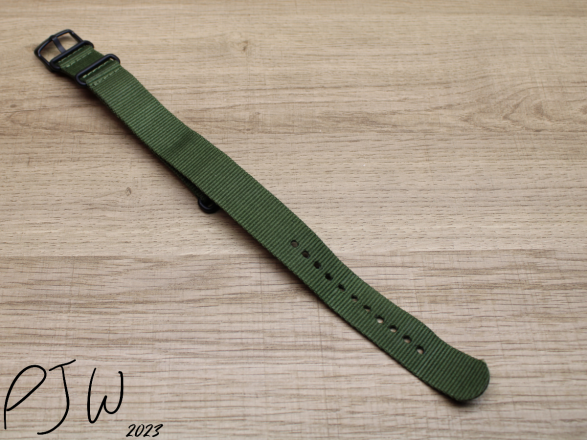 You've got lots of adjustment, and the strap is very comfortable. Yeah, it absorbs some sweat, but a rinse or wearing in the shower makes that better. I would not replace this strap, as it works so great.
While not a feature, I find this watch pretty attractive. It is a basic field watch, but has nice color coordination, with an admirable simplicity. How's my wear experience been with the S40?
Everyday Wear
During my 3 months of wearing the Timex Expedition S40, I had no issues with it. As a time telling piece, it worked as advertised. There was not a noticeable loss or gain in time each day, which is nice. At the end of a week, the watch was not more than maybe 5 seconds off from the time set 7 days prior. Speaking of setting the watch, if you have a month with less than 31 days, you'll have to manually change that at the shift of a month.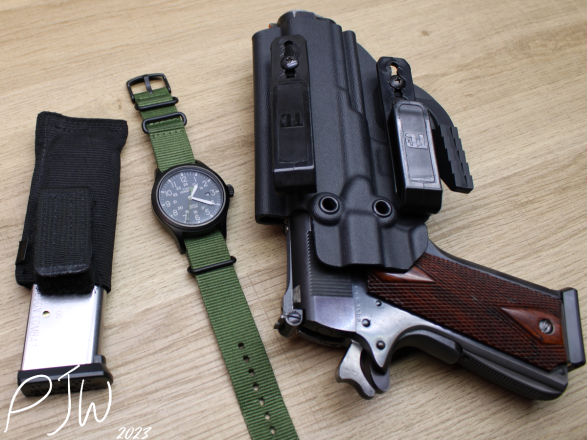 In regards to wear, the watch wore well. Between the light weight of the watch itself, and the comfy NATO strap, this was a watch that was easy to forget that you were wearing. I've come to enjoy larger, heavier watches, but this one wears fairly svelte on the wrist, despite the big lug-to-lug size. I accrued no scratches on the mineral crystal during my wear, however, they will certainly come with more wear while out in the field.
The S40 was on me for quite a bit of time outside, mostly without rain though. I did shower with the watch on a handful of times, and did get caught in the rain with it, but to no damage to the watch. Swimming would not be recommended with this watch, but normal water conditions should be fine. I did sweat a fair bit on the NATO strap and case back, but that lead to no issues either.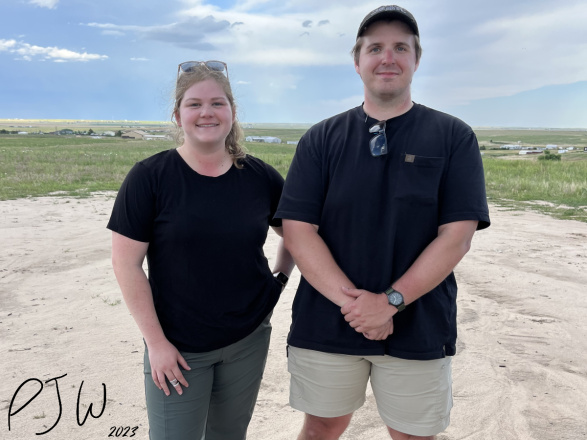 I've worn the S40 to a handful of classes, such as CDR's Technical Handgun, and a few local medical classes. I've found that some watches do get in the way of the processes involved with shooting, but the S40 did not.
Now, I generally have positives for the S40, but there are a few things I'm not such a big fan of.
Not All Sunshine & Rainbows
Well, there's two things I don't dig so much about the S40.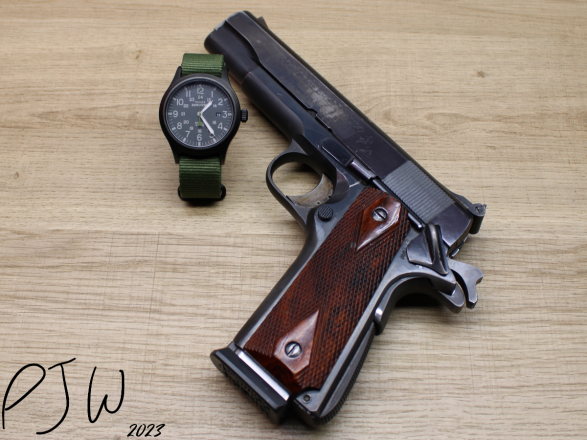 Firstly, this is a loud watch. You can hear every single "tick" of the second hand moving. If you are out and about, with ambient noises around, you won't notice it. But when in quiet rooms, (or while typing this review), the watch is loud as hell. It's not a massive issue, but it's annoying, especially when trying to sleep.
Secondly, I'm not a big fan of the case material. Timex used brass because it is cheaper than steel. Now, it is a hair lighter, but it will wear worse in time. However, this is a budget watch, so I understand this decision. Timex makes more expensive Expedition watches, that use better quality case materials, but I'd be remiss if I didn't mention my small gripe here.
The Verdict
Despite a few negatives, I've really enjoyed wearing the Timex Expedition Scout 40. It's a simple but extremely usable watch, that was comfortable to wear. I really enjoyed the color coordination between the dial, hands, and strap too. Part of why we wear watches is to enjoy looking at them, and even for how simple the S40 is, I enjoy looking at it.
If you want a budget analog watch for use out in the field, I'd pretty easily recommend the S40. If you need more water resistance, there are other watches out there, but if you want a solid watches for normal wear, hiking, or more field activities, you won't go wrong here.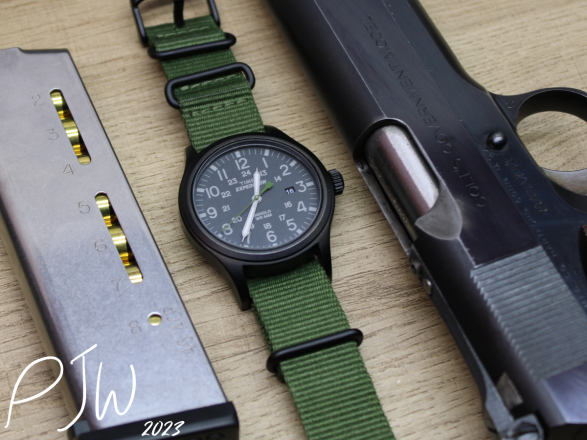 Additional Reading & Patreon Link
If you liked this review, check out some more of my watch reviews:
If you'd like to support me on Patreon, I've got the link for that here. Nearly everything that I do on Primer Peak is paid for out of my own pocket, and my content is not shilled or driven by manufacturers or companies. If you decide to donate, I'd really appreciate it, as it would allow for me to continue to bring you quality work.