I returned to wearing a watch last year, with the Casio F91W-1. While that watch is a classic that packs immense value, I've realized that my "watch wants" had shifted. I realized that I preferred a watch with a larger case, and one with a stronger backlight. After doing some looking, I found the Casio AE-1200WH, often referred to as the "World Time", or "Casio Royale". This timepiece offers a ton of features and an attractive aesthetic. How has it held up in my use?
What is the Casio AE-1200WH?
The AE-1200WH is a quartz (battery powered) wristwatch, made by Japanese company Casio. While Casio is Japanese, the "Casio Royale" is produced in China. The previous reviewed F91W-1 was purely a digital watch, however, the AE-1200WH displays a lot more on the watch face.
At a first glance at the AE-1200WH, it might look a bit confusing. We've got a digital readout of the time, along with an analog clock too. We've also got the date and day of the week on display, with a tiny globe being shown too. There's also a little readout for alarms at the top of the watch. There's a lot to take in, but that's part of the point of this watch.
Designed to be a great travel watch, the AE-1200WH allows the wearer to track multiple time zones, including a readout on a map. As part of that design, we've also got 5 different alarms, on top of the normal Casio watch features. Much like other budget Casios, the body, band, and watch crystal are made from resin. As such, the "full" resin models are about 1.4 ounces in weight. The case runs 42mm in width, 45mm from lug to lug, and is 12.5mm thick. While the case itself seems wide, the light weight and profile make this watch seem more medium rather than large.
This slideshow requires JavaScript.
MSRP on the AE-1200WH is $29.95, however they tend to run about $20 retail. Runtime is advertised at 10 years on a single 2032 battery. What are the pile of features of this timepiece?
Features
Starting off, this watch tells the time. Well, that's a given, but it tells the time for multiple time zones. We can program a select set of 4 time zones, along with a "home" time zone, and one for UTC.
This slideshow requires JavaScript.
The big draw of the AE-1200WH is this feature. On the watch, we select the time zone by selecting cities within the time zone, named using three digit airport codes. The time zone that we have actively selected is darkened on the map, which makes it easy to see which one you're in. While I haven't traveled out of my current time zone since getting this watch, I dig the feature.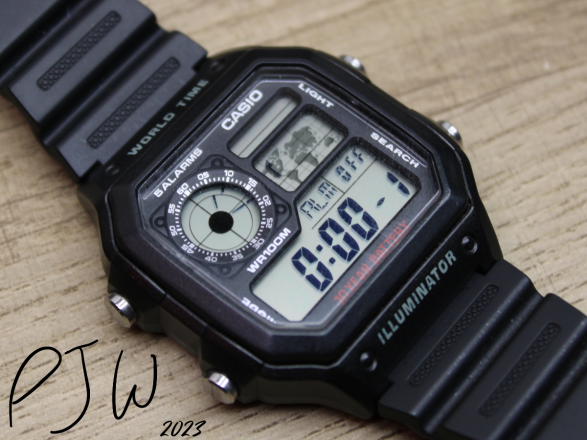 Most Casio's have an alarm, but as proudly displayed on the AE-1200WH, we've got 5 of them. Now, a single alarm is good enough, but 5 means that you've got no excuse to wake up late.
This slideshow requires JavaScript.
There's also a stopwatch feature, and a 24-hour timer. Good features to have while traveling, or just doing generally sporty things.
Water resistance is rated to 100 meters, so this watch is fine for swimming, wearing in the shower, or while washing dishes. I've worn this watch in both heavy rain and in the shower, with no issues. If you press the buttons on the case while the watch is submerged, that may let water in, so don't do that. Speaking of buttons, we've got a much improved backlight (compared to the F91W-1).
The "Illuminator" badge on the AE-1200WH is well earned.
Now, part of the fun of the AE-1200WH is that it is a great base to modify. I have two watches, one that I kept stock, and one that I modified. What can you do to one of these?
Modifying The AE-1200WH
Casio has a whole mess of version of the AE-1200WH. The base black model, models with different colored bands and cases, and some models with metal bracelets. During a sale in Summer 2023, I snatched up a silver case-silver metal bracelet model, with the intention to modify it.
Firstly, I swapped the metal bracelet. While some people dig them, I prefer nylon or resin. The metal bracelet on mine also immediately broke, so I couldn't wear it if I wanted to. I swapped to an 18mm NATO strap, with a tri-color theme. I dig it, and it pairs well with the watch.
The AR-1200WH has massive text on the outer parts of the case. I wasn't a fan, and found a way to get rid of it. Doing some looking online, it turns out that a simple pencil eraser will remove that text, so I did it. Overall, I love the cleaner look on this specimen. This has become my "special" of my two watches, which I generally wear when I want to be a teeny bit more flashy.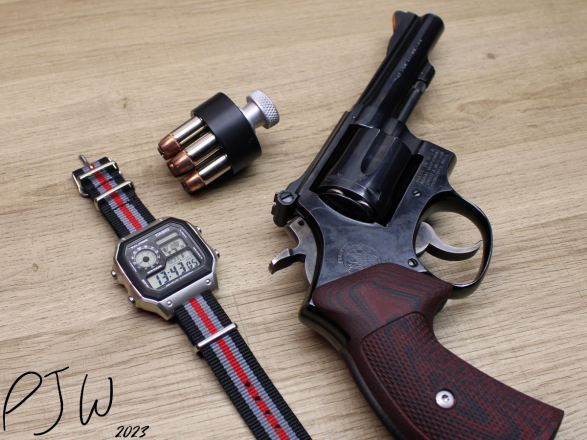 There's a whole sub-culture of people that modify Casio watches, and for me, I'm just scratching the surface. The Casio Royale is a favorite for modders, and I dig that.
I've used the AE-1200WH a lot over the last half year. How has it held up in my daily use?
Every Day Carry
While I really enjoyed the F91W-1 in my use, the AE-1200WH performed better. Just talking size, I found that I actually enjoyed the larger and thicker size. I found it to just feel better. My AE-1200WH accompanied me all over Utah during the Spring and Summer of 2023, so I had it strapped on for quite a bit of varied weather.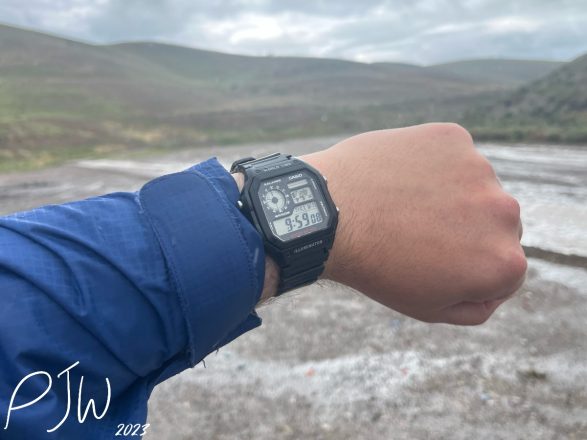 The resin construction of the AE-1200WH held up quite well during my use. This is no surprise, as it is generally pretty durable. Water never made ingress into my watch, despite plenty of showers and rain getting all over it. I had it on me from 35 degrees Fahrenheit, up to 115f, with no cracking or issues caused by the change in temperature.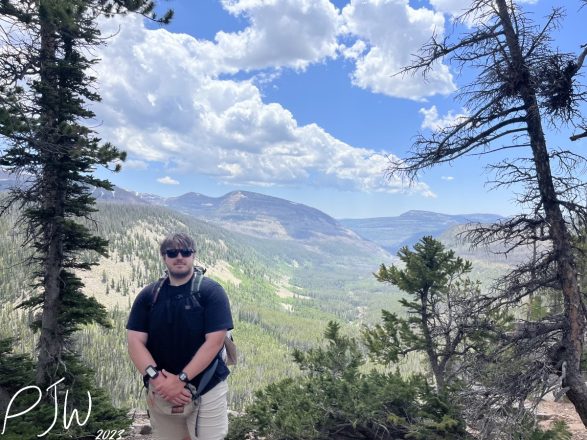 The much improved backlight was great to have, especially on overnight hiking trips. On a very cold night in July of this year, the orange glow of the backlight was a great comfort while I was freezing my buns off.
Now, it's not perfect. On my modified watch, I did manage to scratch the crystal very quickly into wearing it. I somehow gouged it during my daily activities, which sucks, but is fine. Stuff happens, and the watch itself was not compromised. For a $22 watch, I can't complain about the build quality or durability. Compared to the venerable F91W, I prefer this watch.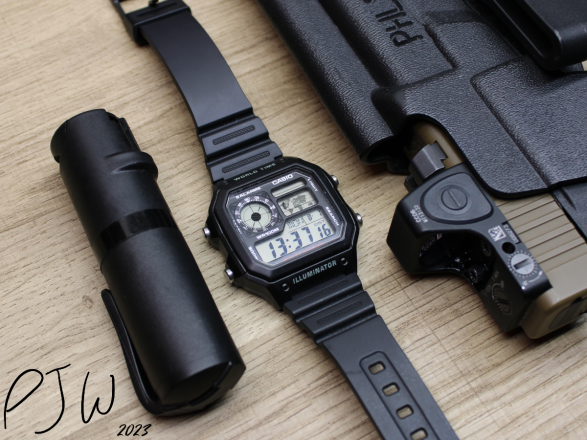 Comparing the F91W & AE-1200WH
It was inevitable, I'm comparing the F91W & AE-1200WH. I think this is valid, as there's generally only a $10-$12 price gap between the watches. I often see them for sale in big box stores like Wal-Mart, and certainly on Amazon. So, how much better is the AE-1200WH?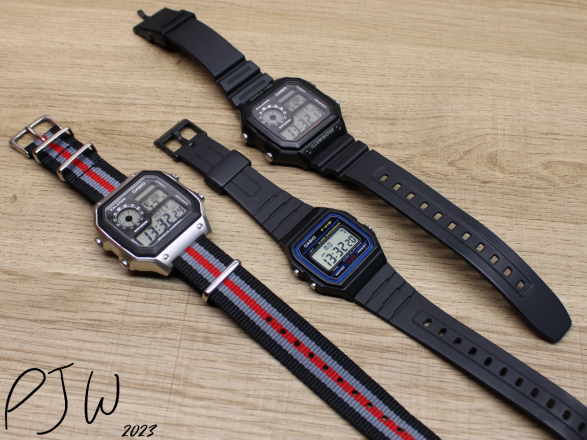 The World Time has more features, a better backlight, the ability to swap time zones quickly, and a larger, easier to read face. The factory resin band on the AE-1200WH is also a little wider, making it a bit more comfortable when attached tightly on the wrist. The water resistance rating is significantly better on the AE-1200WH, while the F91W is strictly water resistant, not rated to a depth.
For travel, the AE-1200WH is also going to cause you less hassle, as the terrorist/IED association to the F91W does cause issue. Wonders of Watchdom covers this in his AE-1200WH video, which is something that I had never thought of until seeing his video.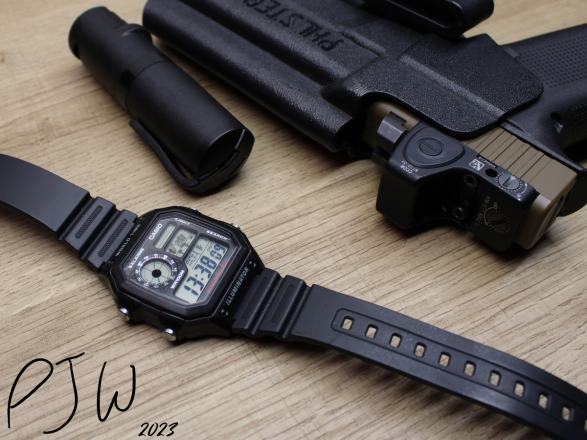 Now, I'm not trying to sound like I'm dissing the F91W. I love that watch. It's a certified classic. However, I've found that spending a little more money has lead to a watch that I like a whole lot more. While I would still recommend the F91W to a lot of people, the AE-1200WH has become my go-to when I'm wearing a digital watch.
The Verdict
I love the Casio Royale. It's an extremely useful, versatile watch. It is rugged while being light, and is comfortable for daily use. It can be modified easily, and has a cool look, beckoning to the classic Seiko watches of the 1980s. If you're a Metal Gear Solid fan, this watch will likely remind you of Venom Snake's watch too.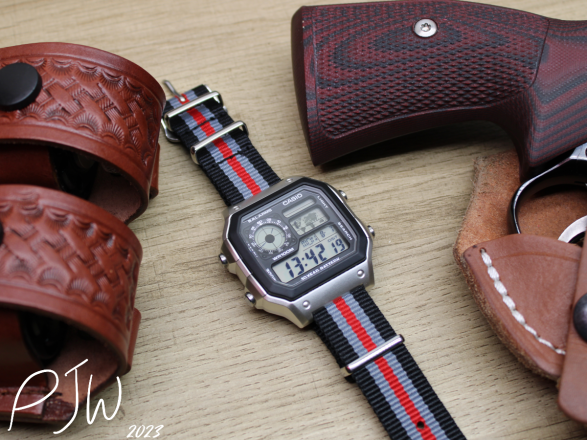 I've owned a lot of watches over the years. Before my hiatus, I experimented with Casio G-Shocks throughout high school and college. I thought they were so cool, but they were massive watches, and usually pretty overt looking. Well, the AE-1200WH is something that I've enjoyed more than the big G-Shocks, and more than the tiny F91W. This is the Goldilocks Casio for me.
Additional Reading & Patreon Link
If you liked this review, check out some more of our other recent EDC articles:
If you'd like to support me on Patreon, I've got the link for that here. Nearly everything that I do on Primer Peak is paid for out of my own pocket, and my content is not shilled or driven by manufacturers or companies. If you decide to donate, I'd really appreciate it, as it would allow for me to continue to bring you quality work.