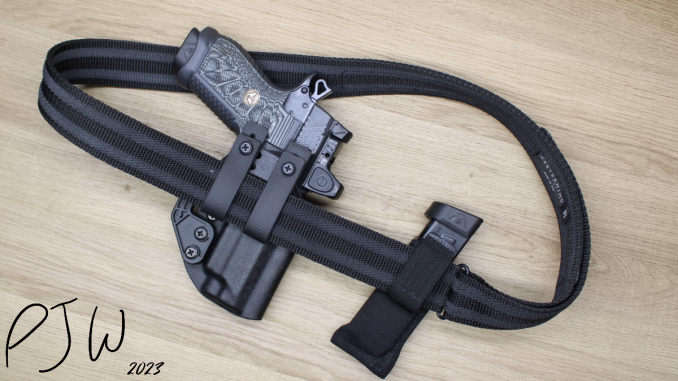 If I've got clothing on, I'm carrying a gun. This is easy to do when I've got pants with belt loops, but what about when I've got gym clothing on? Well, there are a handful of options out there, but after the recommendation of a friend, I settled on the Mastermind Tactics Covert Belt. How well does this belt work for carrying our gun in clothing that doesn't normally facilitate doing so?
What Is the Mastermind Tactics Covert Belt?
The Covert Belt is an undergarment concealment belt, made to assist in discretely carrying a handgun. Made by Mastermind Tactics of Vermont, this belt is entirely US made. It is incredibly simple in design, which makes it quite intuitive to use.
While a belt is generally a simple thing, a lot of belts purpose made for carrying guns are not. However, the Covert is extremely simple. The belt is made from standard webbing, but has strips of rubber lining it. With this, the belt will not move up or down while attached to your body. A nice US made metal D-ring acts as the tensioning ring, and with special hook-and-loop acts as the fastener. The hook-and-loop has both the hooks and loops in the same sections, so you can attach the belt to itself in a lot more positions.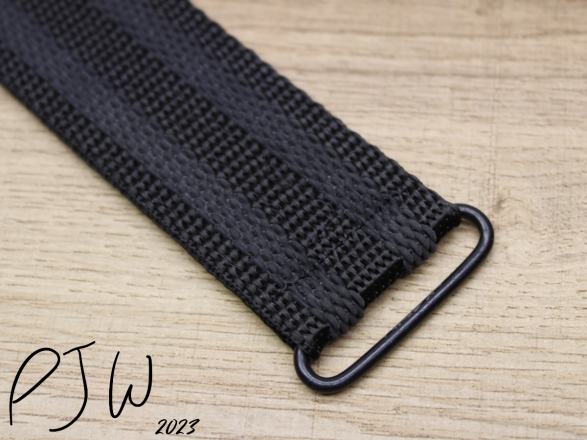 Since the Covert is essentially a standard belt, it is very easy to attach holsters to. Unlike something like the PHLster Enigma, you don't have to semi-permanently attach a holster to a rig, and rather, you just toss the holster onto the belt, using your normal belt clip or loop method. This makes donning the belt easy, and adjusting it even easier.
As a note, this belt uses latex for the rubber, so Mastermind recommends avoiding the Covert if you have allergies. They also recommend the use of an undergarment beneath the belt, as to not abrade the skin. The belt retails for $38.99 on their website.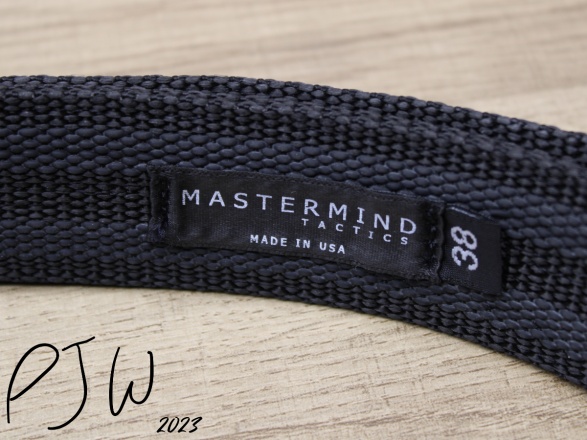 I've been EDC'ing with the Covert for about 4 months, so how has the belt worked for me?
Using the Covert Belt
The first part of using the Covert was figuring out where I wanted to wear it on my body. Since I have this belt for wearing while in gym clothing, the spot that made the most sense (for me), was a little above my actual waist. With this method, the gun and spare mag conceal quite well.
As part of my Gym EDC, I carry a fanny pack in front of the gun. While the Covert does a great job at actually tightening and conforming to my body, the fanny pack adds another layer on top of the gun, helping to conceal it even further. Obviously, the gun that you choose will play a part in how well it conceals, regardless of belt.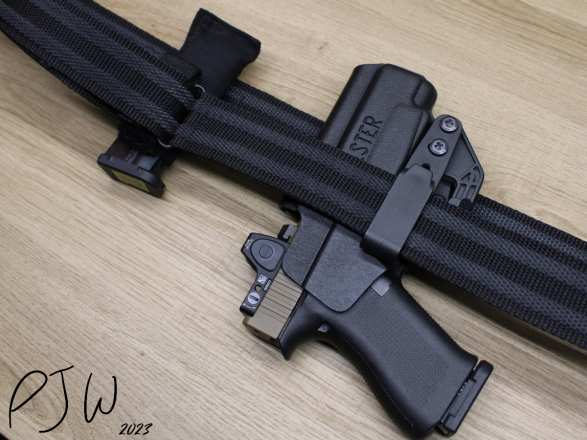 I've primarily tested the Covert using my Glock 48 in a PHLster Skeleton. My spare mag carrier is the previously reviewed and liked Mastermind Low-Pro, which has worked well here. I've had the belt on for full 10-14 hour days on end, and I've found it to be exceedingly comfortable. With the freedom of adjustment, I've been able to tighten or loosen the belt as necessary, without hurting my access to the firearm. I've also not had the belt move up or down on my body, as the rubber is working there. Sizing is true, which is a pleasant surprise.
With the build quality, the belt is holding up great. The stitching is quite good, and the D-ring hasn't bent or rusted. The special hook-and-loop has worked very well, with that being one of my favorite features. The rubber strips in the belt are comfortable, and haven't deteriorated in my 4 months of use yet.
This slideshow requires JavaScript.
Construction wise, the belt is solid. It's comfy, and is easy to don. How is it when you actually need to shoot with it?
Shooting With the Covert Belt
In dryfire, the Covert worked well. The belt would not move, the holster would stay put, and the gun would come out, as long as I did my part. Dryfire felt solid, but we've got to verify with live fire. The weather in Utah had been very cold, even getting into mid-May, but that didn't stop me from going out to shoot in gym clothes.
I'm a firm proponent in training and practicing with the gear you actually use, and that includes your clothes. While I have the artificialities of a shot timer, ear protection, and a camera on my head, I can still practice using my gym carry gear. When shooting drills with the Covert, the process to get the gun out is a longer, harder process. Clearing the cover garment is now bit harder, as I grab the fanny pack and hoody, yank both up, get my grip on the handgun, and begin the presentation.
On the first range session with the Covert, I shot a Vicker's Test, and a Rangemaster Baseline Assessment Drill as part of my shooting. I wanted to do drills that involve drawing the gun, and incorporate in one that featured a reload. Overall, the belt worked quite well in live fire. There's more brainpower that goes into drawing a pistol that's beneath a bunch of cover layers, but once you get the gun out, shooting is shooting. For the playlist of drills on this day, you can find it linked here.
The belt isn't totally perfect, as I ran into two issues. One is clothing related, one is with the belt.
Clothing Related Issues
The first issue I ran into was actually with my gym shorts themselves. With the shorts I wear, I cinch the drawstring tight around the belt, which aids in concealment. When I would draw the gun out, it's a fairly harsh motion. As such, my pants were wanting to slide down a little as I got the gun out. After a few draws, the holster would be above the pants. This is easily rectified by just pulling my shorts back up. This is a super minor issue, and is shorts specific, but I wanted to mention it. I don't cinch my shorts extremely tightly, as that would be quite uncomfortable, so I'll live with the minor issue.
This may not be a problem with different shorts, but since I live life like a cartoon character with a uniform, all of my gym shorts are exactly the same. Hey, don't hate, it makes getting dressed each day quite easy.
The only belt specific gripe I have is in regards to sweat. Now, I got this belt so I could carry at the gym. It is working excellently for that. I can do all of my lifts without any real modification, without the gun bumping me. However, with this belt having the rubber liners, it will retain sweat in your undershirt. This is a minor issue, but I wanted to point it out. If you've ever worn a lifting belt, it's kind of like that, where you get a band of sweat around where the belt is.
Overall, this has been an excellent belt, and has suited my needs well.
The Recommendation
I can whole heartedly recommend the Covert Belt. Obviously, a belt is going to be a very personal item to choose, but this one is well made, inexpensive, and performed to my liking. If you want to carry a large gun, it might be a little less comfortable, but I've really had great luck with my Glock 48, and to a lesser extent, my Glock 17's and the EDC X9. Until I find a better solution, this one is my preferred belt for carry in clothing without proper belt loops.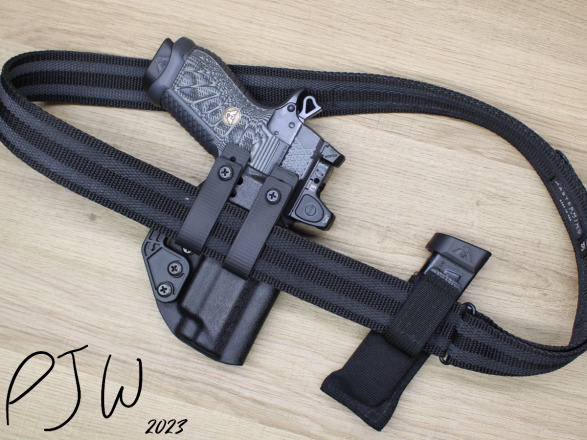 Further Reading
If you are in the EDC mood, check out our other recent EDC articles: