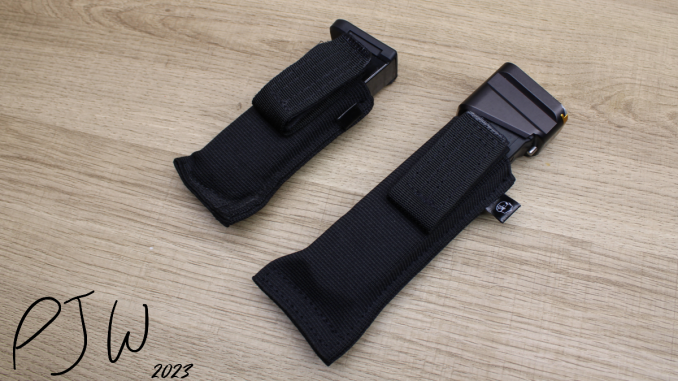 Over the last year, I've moved from OWB carry for my spare magazine, to IWB. Like many parts of concealed carry, good gear can make or break a carriage method. For me, I had to find a good IWB mag pouch to use, as that would be a breaking point otherwise. After some trial and error, I've landed on the Mastermind Tactics Low-Pro Mag Pouch. It's a US made, very concealable pouch. How well does it work?
What Is The Mastermind Tactics Low-Pro Mag Pouch?
Mastermind Tactics is a soft good gear manufacturer, based out of Vermont. I heard about them through a good friend of mine, as he had been using one of their belts. I decided to order a belt, and buy both the Low-Pro Mag Pouch, and the larger Extendo Mag Pouch.
Well, the Low-Pro is a mag pouch. It is what it says on the tin. Made from elastic nylon, and some hook and loop, this mag pouch is made to sit deeper below your belt for better concealment. Much like the Model T, this is available in any color you want, as long as it is black. A thing to note is that the elastic in the pouches uses latex, so if you have latex allergies, avoid this. All of the Mastermind Tactics gear is made in the USA. MSRP on the Low-Pro and the Extendo is $16.99. Pretty inexpensive for a US made product.
This slideshow requires JavaScript.
Advertised as working with a range of single, double, and 1.5 stack mags, I've used the Low-Pro with Glock 17, Shield S15,  Wilson EDC X9, and standard 1911 mags. This is an incredibly basic product, so lets jump right into my experiences with it. I'll be covering both of the pouches, as they are extremely similar.
Using the Mastermind Tactics Mag Pouches
Setting up the Low-Pro or Extendo for carry is very easy. The loop on the pouch goes onto your belt, and the pouch goes IWB. I carried at both the point of the hip (9 o'clock), and AIWB (11 o'clock) with the Mastermind pouches, and both were comfy. With getting into the warmer season, I've primarily had the pouch at AIWB, at it is lower profile.
The first thing I noticed with the Low-Pro and Extendo is that they are very comfortable. My mags were not poking me in the side or the gut, and the mag did not move around while concealed. The magazines carry deeper than in previous pouches I've used, which both helps in concealment, and in comfort. However, we do have some trade offs here.
Compared to other pouches I've used, these are a little slower to retrieve magazines from. It's not glacial or really that slow, but it is a little slower than mag carriers that sit higher in the belt line. Above, I linked a Baseline Assessment Drill where I used the Low-Pro.
With the soft nylon style of carrier, it's also somewhat difficult to index mags into the pouch while it is in our waistband. This is an issue, but not a major one. Thinner mags, such as single stack or 1.5 stack mags are a lot easier to index than the traditional double stack. At the NPE Counter Robbery class, I used my Low-Pro, and found that re-indexing a mag wasn't that hard. Fatter mags were hard to index, such as Glock 17 mags, but thinner double stack mags like the EDC X9 weren't that bad.
This carrier is trying to be discrete, and it excels at that. Sure, it's a little slower, but that's the tradeoff for a truly concealed mag carrier.
The Recommendation
Good gear may be the thing that will actually allow you to do something you might not have done before. A good mag pouch can be the deciding factor in whether or not you actually carry a spare mag. I think that this piece of gear is very, very good.
This is a discrete, inexpensive, American made mag pouch, and it works well. It has some drawbacks, but those drawbacks also provide the features that make this an extremely concealable device. I've been EDC'ing using these pouches for the last few months, and I really, really like them. I'd easily recommend both the Low-Pro, and the Extendo. The Extendo is good if you are carrying larger mags, basically anything above 17 rounds. The Low-Pro will cover your bases for all of the smaller capacity mags.
These aren't flashy, but that's the point. For $17 bucks, this is a hard product to beat.