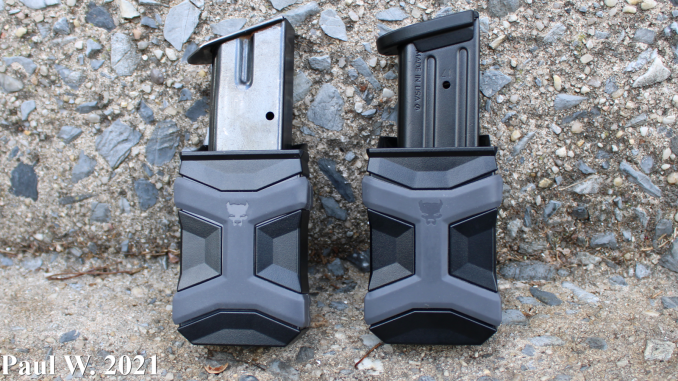 Back in the Fall of 2020, I was taking a trip to New Hampshire to attend a wedding of a close friend. While there, I met with some other friends, and we hit a few gun shops to kill time. While at one of these shops, my buddy Rod pointed out the Pitbull Tactical Universal Mag Carrier, and mentioned that he used them and really liked them. I ended up buying one on his recommendation, and have since gotten two more. What are my opinions on them?
What is the Pitbull Tactical Universal Mag Carrier?
Pitbull Tactical Universal Mag Carrier (UMC) is an expanding magazine pouch, that allows for use of different magazines. While this is not a new concept, the UMC uses a different method to actually provide retention on the magazines.
Rather than using a single piece of plastic and then a retentive arm or catch inside of the carrier, the UMC uses elastic bands, and a two piece clamshell design. This design sits fairly thin when there is no magazine inserted, and when a mag is inserted, it splays out, providing retention to the mag. It's a really simple concept, and I'm honestly surprised that I did not see it any sooner.
The back clamshell piece has a molded-in clip, that allows for either IWB or OWB carriage. I like that design, as it provides a lot of strength to the clip, so that you don't yank the entire UMC out of your pants when you retrieve a mag.
The Pitbull Tactical UMC runs $24.99 direct from Pitbull, but I've seen them in brick-and-mortar stores for as low as $20. That price isn't steep at all, but anything is only worth a purchase if they work. How well do they work?
Using the Pitbull Tactical Universal Mag Carrier
One of the things that the UMC is marketed at doing is being well, universally usable. So I tried out a lot of magazines in mine.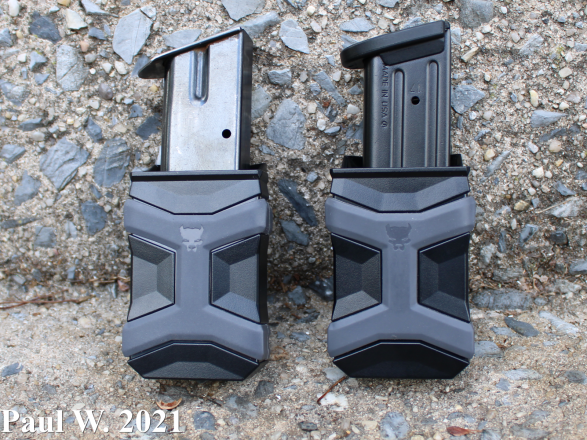 Larger magazines, such as doublestack 9mm fit fine, with no issues. This should be no surprise, as these are (probably) the most common magazines to end up in the carriers.
Single stack magazines fit pretty well too! Both the 1911 and Shield magazines were retained, despite being thinner than the aforementioned double stack mags. However, not all singlestack mags would fit...
My smallest magazines did not have retention with the Pitbull UMCs. This is understandable, as my Kel-Tec P17, Walther PP, and S&W SW22 mags are all very thin. I'm not bummed out or surprised by this, but want to show that the UMC can only collapse on itself so far to retain mags.
Now, for actually using the UMCs, well, they work well. I primarily have been using and carrying them OWB, but have used them IWB too. Retention on magazines is pretty good, but not custom kydex tight. That is fine, as there are some concessions to making a "universal" anything. I never had a magazine fall out when bending over, however I know that they would drop when the UMC is flipped over and shaken. Reinserting mags is also fairly easy, as the UMC is beveled at the top to make the process smooth. All and all, a fairly good carrier.
The Verdict
I like the Pitbull Tactical UMC. I think that it does its advertised job fairly well, and does so at a reasonable price. For gun review purposes, I like these carriers a lot, as they let me use a range of magazines and keep them retained well. These also fit into a different niche than something like the Esstac Kywis, as these have a more EDC use for them. While these UMCs may not excel at any one role, the are good at being universal, which is the intended task. These aren't replacing my Kywis for "duty gear" use, and probably won't replace my custom kydex carriers for EDC, but I'm glad that they exist to be able to flex into both roles, if needed.
The UMCs are my range bag mag carriers. They always travel with me on shooting trips, and are what I loan to people that forget their carriers. I can rely that these will work well enough for most uses for most people. That might sound lukewarm, but it's not. I can heartily recommend the Pitbull Tactical UMCs.