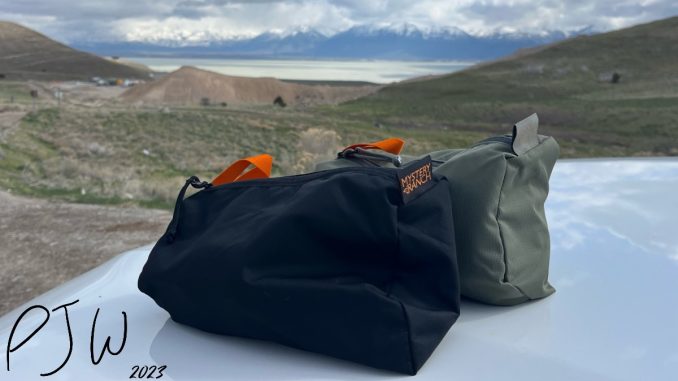 Over the last few years, I've realized that I like my gear organized. Not just "organized", but organized. When I reach into my EDC bag or range bag, I want to be able to quickly grab a pouch that holds specific tools. Medical supplies, batteries, and ammo are all things that like to go all over the place, so keeping them contained is a must (to me). As such, I've experimented with a lot of organizer bags over the years. My favorite by far has been the Mystery Ranch Zoid Bags. How well do they work?
The Mystery Ranch Zoid Bag
The Zoid Bag is an extremely lightweight organized bag made by Mystery Ranch. I reviewed the Full Moon Pack last year, and I've generally enjoyed their build quality and design. The trapezoidal shaped Zoid (hence the name) is extremely basic, but that's the point.
MR's Zoid comes in 4 sizes, from small to the pretty large "Full Kit" size. I've used the medium during my testing period, which holds 215 cubic inches of stuff. When the medium totally full, the dimensions are 6.5"x11.5"x3.5". All of the Zoids are made from lightweight nylon, with most of the bag being 160D, and some reinforced parts being 320D. As such, the medium Zoid only weighs in at 1.7 ounces. Each Zoid has a YKK zipper, and a large loop to use for grabbing the bag. Some may not like it, but the Zoids are made overseas in Vietnam. Price for the medium size is $18 per bag, and you can get them in blue, black, green, and orange.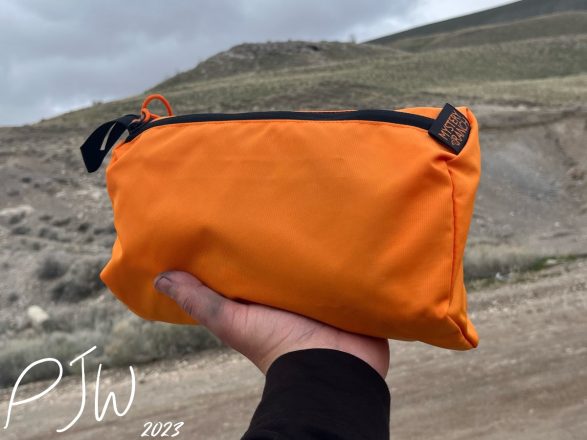 I purchased my medium Zoids around the same time that I got the Full Moon last year, so I've got about a year of time with them. What do I use my Zoids for?
How I Use the Zoid Bags
I've been using 5 Zoids over the last year. Three are the high visibility orange color, with a black one and a green one as my last two. I've used two Zoids to organize my EDC backpack, two as storage bags in my range gear, and the fifth is a floater.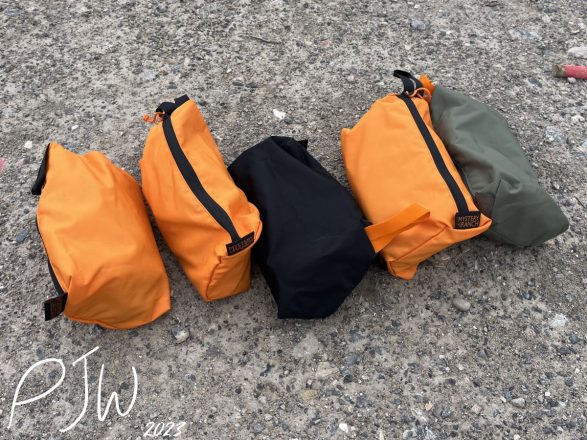 In my EDC bag, an orange Zoid holds my "boo-boo" kit. While not a trauma first aid kit, this small FAK holds band-aids, medications, tape, and more of the stuff you'd expect to see in a bumps and scratches FAK. I chose orange for this, as it is easy to see, even in dark conditions. The second Zoid is the green one, and it holds my EDC "tool kit". In this, I keep my spare batteries, Leatherman Wave, electrical tape, cables for charging devices, small fire starting kit, and more. I've got a ton of things in here, but the Zoid holds them well.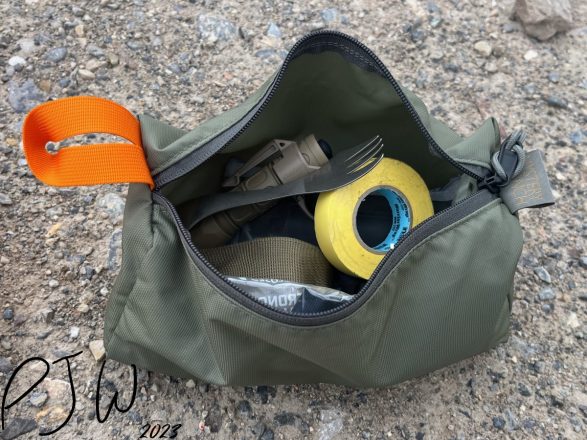 For my range bag, I've got an orange and a black Zoid. The black one holds my toolkit for the range, with cleaning supplies and a small driver kit inside. The orange bag is the "loose ammo" bag, and generally has loose 9mm, and a few boxes of 22LR in it. Again, both bags work well here, and can carry everything I want.
The final Zoid hangs out as an extra, floating compartmenting bag. It sometimes rides in my EDC bag, or in the center console of my vehicle. Sometimes you just need a durable bag to toss stuff in when you move to and fro. For the trip in the below photos, this Zoid carried my Model 15.
This slideshow requires JavaScript.
How have they held up?
Zoid Use & Durability
I've not let my Zoids lead easy lives. They've traveled a lot, been yanked on a lot, and are always full. To date, I've yet to break one.
I've found that the Zoids pack well, as they can be crammed into any spot. Since the material is lightweight, they "smush" really well. The included pull handle is very nice too, as you can stack the Zoids upright in a bag, and use the handle to yank them out as necessary.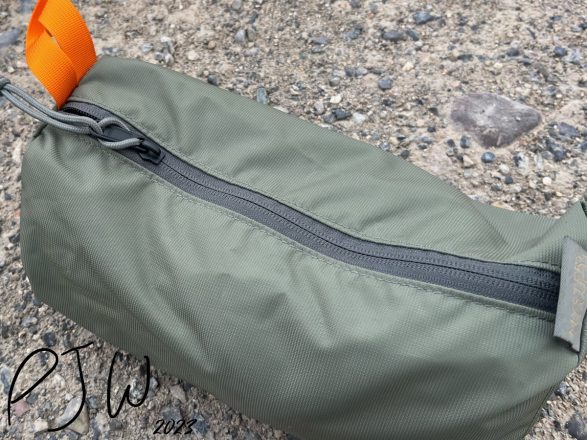 The stitching and zippers are on point. The stitching is extremely well done, with all of the seams being hidden on the interior of the bag. I've not had any get caught when being transported, or even frayed at all. The pull handle is quite beefy for how light the bag is, and hasn't gotten worn out yet.
The YKK zipper is a tried and trued design, and works well here. The zipper pull came with a cordage pull, and none have unraveled in my use. With the nylon and zipper design, the bags are also water resistant. I've left mine out on the hood of my 4Runner while sleet and rain came down, and my interior contents were fine. I wouldn't say that you should leave them out in the elements, but they'll generally do well at keeping the inside contents dry for a while.
Speaking of the nylon, I've yet to tear a Zoid yet. Short of taking a knife to one, I've not had any objects poke a hole through my bags.
Overall, I really like the Zoid bags.
The Recommendation
I'd very much recommend the Zoid bags. They are lightweight and durable, and do wonders for helping to compartmentalize your gear. I think that the medium size is the best "catch-all" size, but I'm sure that the larger ones would work well too. Mystery Ranch just seems to make stuff that I'm happy to use, since it works so damn well.
I did a short video review on my YouTube channel too, linked below.