A while back my editor posted a review of the Strike Industries Mega Fins XL Keymod rail. I admittedly am a huge fan of many of Strike's offerings, when I was told that I would be sent the  15″ version of the new Mega Fins XL I jumped at the opportunity.
Taking a look at the specs from Strike Industries website you see that the rail is an excellent value for the money.
The Mega Fins-XL Handguard Line is the latest and greatest rail from Strike Industries. SI is finally offering a wider handguard rail system available in both M-Lok and Key-Mod versions ranging in lengths 7", 10", 11", 12", 15", 16.25" and 17"! All lengths except the 7" model feature an integrated, adjustable; flip up front sight, which folds down flush to the rail for the ability to still mount over if desired. With an internal diameter of 1.51" you can run recessed suppressed or have room for larger diameter muzzle devices if needed. The Strike Industries Mega Fins XL is the ultimate addition to the AR product line!

Package include

1x 7″ Mega Fins XL M-Lok Handguard Rail
1x Mounting Hardware Kit
1x Barrel Nut
1x Barrel Nut Wrench

Features

-Integrated, adjustable; flip up front sight (7″ does not)
-1.51" internal Diameter
-Available in M-Lok and Key-Mod Versions
-7 different lengths available
With 7 different lengths available finding the right length rail for your needs is easy. I also really liked the addition of folding front sight. I like having back up iron sights, but realistically I never have a need for them. In a combat environment breaking optics happens and back up iron sights are necessary, but if I break my optic at the range I am just going to pack that particular rifle up and pull out another.  Still, I love the fact that Strike included it for those that want it or need it.
Install is really easy using the provided barrel nut and wrench. It is a two-piece design, the smaller castle style nut allows you to adjust the final position of the barrel nut so the rail lines up properly. The included wrench has provisions for both the interior castle style nut and the exterior portion.
Strike recommends torquing the barrel nut to somewhere between 40 pound-feet and 80 pound-feet.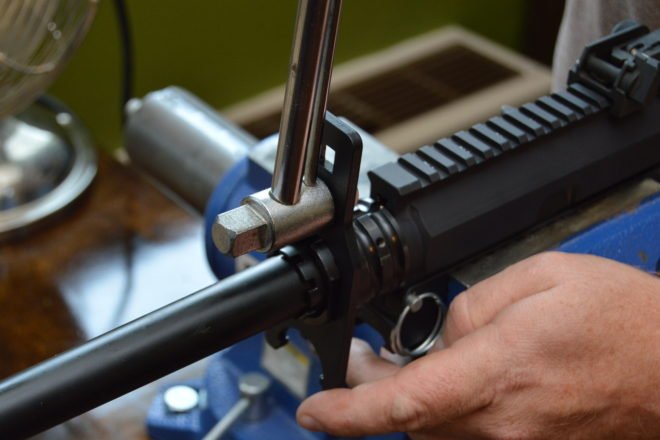 After the barrel nut is installed properly, the only thing left is to slide the rail over the barrel nut and secure it with 8 hex head screws.
I am going to steal one of Phil's photos here as mine didn't turn out too well. Here is a shot of the mounting screws. You can also see the small set screws at the rear of the rail that makes sure it is held secure. The Mega Fins XL also has several options on where to put a quick detach sling mount.
Here is the folding front sight. It is a bit thin and fragile, but in a pinch, it should work out OK.
You can see the small adjustment screw that allows for height adjustment. The front wight is recessed pretty well and requires a fingernail or something to grab a hold of it.
All and all it is a rather handsome rail.
I won't be hitting the range with the rifle till I pick up a scope so stay tuned for a range update in the coming months, but after playing with the rifle for a but I have found my new go-to rail.
I am pretty pleased with the all-new Mega Fins XL rail from Strike industries. I liked it so much that I am going to order a 10″ length rail for my 300 blackout hog rifle. The Mega Fins XL has a lot of great features for a pretty reasonable price. The rail as tested carried an MSRP of $199, other lengths of the rail have an MSRP ranging between $139 to $219 depending on length.
If you would like to learn more about the Mega Fins XL rail from Strike Industries head on over to the product page at Strike Industries website by clicking here.
This post originally was run on The Firearm Blog - http://www.thefirearmblog.com/blog/2015/08/25/review-strike-industries-mega-fins-xl-keymod-rail/