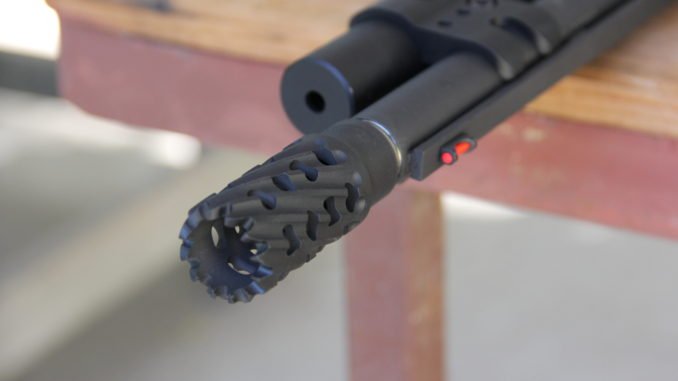 Carlson's is one of the top dogs when it comes to shotgun chokes and they have released a new tactical style breecher/muzzle brake with, well, Carlson's Tactical Breecher Muzzle Brake.
Taking a look at the description from Carlson's website they cover some of the features nicely.
The New Carlson's Tactical Muzzle Brake choke tube features a porting designed to reduce recoil significantly.  This new choke tube is manufactured from 17-4 Heat Treated Stainless Steel in your choice of either Cylinder or Extra Full constriction.  The Cylinder Choke Tube may be used with ALL shot shells including Lead, Steel, Hevi-Shot, and even slugs!  The Extra Full choke tube can be used with all Hevi-Shot and lead loads (but is not to be used with slugs and cannot be used with any Steel shot larger than #2 or with any Steel shot faster than 1550FPS).  The Extra Full constriction is also an excellent choice for hunters using larger shot sizes for coyotes, wild hogs and deer.  The NEW Tactical Choke Tube has a head that extends approximately 2.75" beyond the end of the barrel and features a matte black finish.  The addition of this new choke will not only make any ordinary shotgun look extraordinary, but also significantly reduce recoil allowing for better control of your firearm and quicker follow-up shots.  Perfect for Law Enforcement or Home Defense.  These chokes are proudly made in the USA and feature Carlson's lifetime warranty!
Taking a closer look at the choke, I have to admit that it looks pretty darned cool.
The choke is a nice two piece design, handy for cleaning but makes removal a bit tough if you over tighten the choke. The bottom part of the choke is made from 17-4 heat treated stainless steel and is available in either cylinder or extra full.
I screwed it into the shotgun, it went in rather nicely. Again, I have to admit, it does look really cool.
I loaded the Mossberg 930 JM Pro up and slung some lead downrange. The breecher look pretty darned mean. The brake worked pretty well too.
I handed the shotgun over to Alex C. to see what he thought. He agreed with me that the brake did its job.
Instead of building a door to "tactically breach" I decided to take out the worn out 2-by-4 that held up one of our new Grizzly Targets. The teeth bit into the wood and held the muzzle in place, after pulling the trigger the wood exploded. It took me two shots, but the 2-by-4 never stood a chance.
The Carlson's Tactical Breecher Muzzle Brake made a fun day at the range even more fun. I really enjoy the ability of a shotgun to tear apart a target, having an excuse to take out 2-by-4 after 2-by-4 was the cherry on top.
If you are looking for a tactical style breecher you can't go wrong with the Carlson's Tactical Breecher Muzzle Brake. It is a bit on the expensive side with an MSRP of $119.95, but you do get what you pay for. You can learn more about the choke at their website, just click here and select the make of your shotgun.
This post originally was run on The Firearm Blog - http://www.thefirearmblog.com/blog/2015/08/20/review-carlsons-tactical-breecher-muzzle-brake/