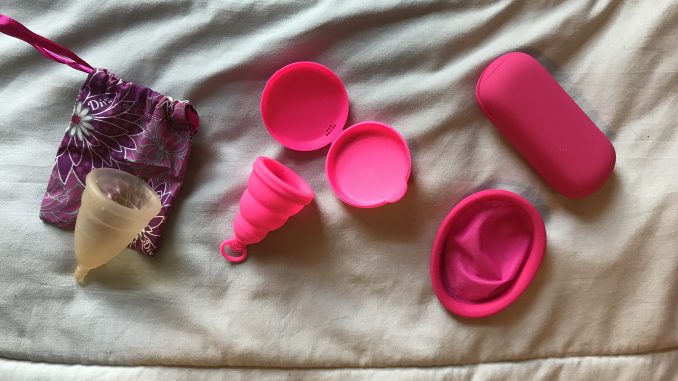 As you are stocking up on non-perishables, batteries, and toilet paper, the last thing you want to account for are pads and tampons. No matter the civil unrest or pandemic, Aunt Flo is coming to visit! For the past few months I've tried three different styles of menstrual cup as an alternative to tampons. Here is a quick review of three different styles to help you decide what you might like to try.
What are Menstrual Cups and Why Should We Use Them
Menstrual cups are cup shaped and placed inside the vagina where they collect the menses. Typically they are made out of silicone and can be safely worn for 8-12 hours at a time. In contrast to tampons which soak up menses and need to be changed every few hours, menstrual cups have no risk of Toxic Shock Syndrome (TSS). Menstrual cups are safer, and can be used for several years before a replacement is needed. People typically use at least 3 tampons a day for 7 days. That's at least 21 tampons a month! Menstrual cups will be the superior choice when planning to bug-in or bug-out for both logistics and sanitation.
This was my first menstrual cup, I've been using it for years and have had great success with it. It can hold 30 mL of menses and most days I only change it twice. The Diva Cup's silicone is soft which makes it easy to fold and insert. It is generally very easy to remove, and there is a grip on the end. I initially had difficulty forming an adequate seal which led to a lot of leaks early on, and the occasional leak now, especially while sleeping. The first time I removed the Diva Cup it hurt fairly badly, but I haven't had any pain since then. The Diva Cup comes in two sizes, Model 1 for those who haven't had children, and Model 2 for those who have. The Diva Cup comes with a small, discrete looking bag for storage.
I've been using mine since 2015 and I probably won't replace it until after I have children. I would be quick to recommend it to any lady.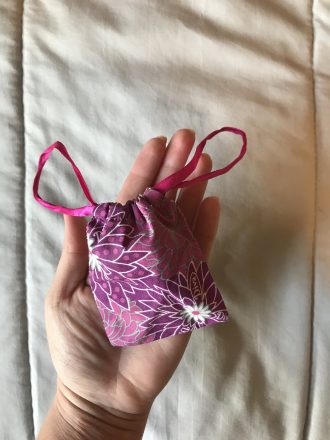 The Diva Cup fits into the small travel bag
This was the second cup style menstrual cup that I've used. The silicone is less malleable, so it's harder to insert. This style also advertises as being very compact, but it was difficult to keep the Lily Cup closed in it's container. The cup didn't want to fold down enough to allow the box to close. On the plus side, I was able to get a seal a lot quicker and easier. There was quite a bit of leaking overnight, which was very frustrating. While the Lily Cup also comes in two sizes (A and B), the size A for those who haven't had children is significantly smaller than the Diva Cup. It only holds 28 mL of menses, and I found myself dumping it more frequently. Removal is only slightly easier as it has a pull tab.
I would recommend the Intimina Lily Cup One for someone who is younger and newer to the world of menstrual cups.
I was drawn to the Ziggy Cup because it is styled completely differently than the other menstrual cups, and it's big claim to fame is that it is the only menstrual cup that can be used during sex. Unfortunately I've had more struggles with the Ziggy Cup than the other menstrual cups I've tried. The Ziggy Cup's silicone rim is hard to bend and difficult to maneuver. This makes correct insertion very difficult, and I have yet to be comfortable with it alone. The Ziggy Cup is also very hard to remove as there is no attached part to pull out. In order to remove it you need to squat and push to work it down enough to reach with your fingers (beautiful image, you're welcome). To answer the question, can you really have sex with it in? Yes, but I'm not fully convinced and neither is my partner.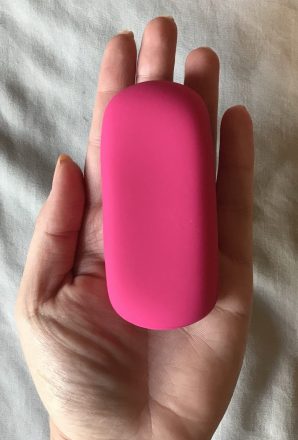 I would not recommend the Intimina Ziggy Cup for everyday use, but if you and your partner would like to have (relatively) mess free period sex this wouldn't be a bad choice.
Comparison Chart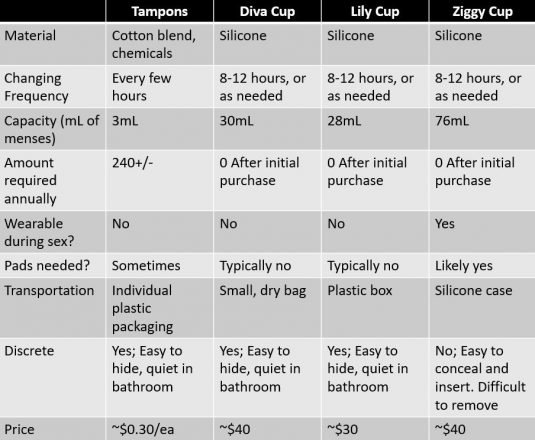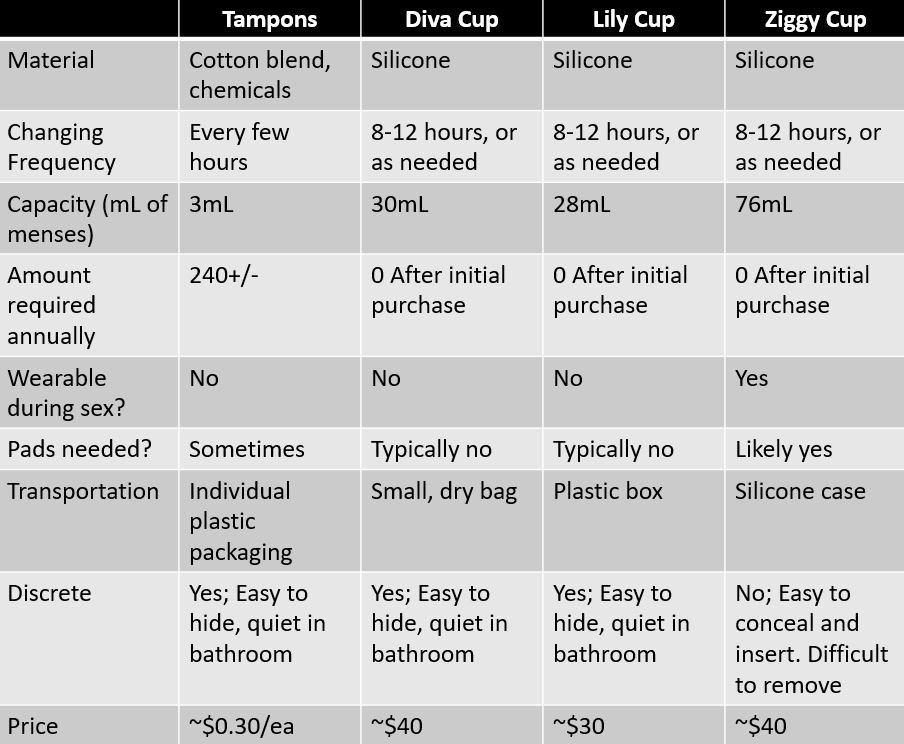 Final Thoughts
I would recommend the Intimina Lily Cup to younger girls who might feel more comfortable with it's smaller size. However I would more quickly recommend the Diva Cup; it is by far my favorite, and after the learning curve it has been very reliable. I would not recommend the Intimina Ziggy Cup unless you were interested in having period sex. It is too difficult to remove for regular use.
Menstrual cups are the superior option when prepping, and while these are not disposable products, you will need to repurchase every so often, especially after pregnancy. Only you can determine which menstrual up is the best fit for you. There are many products on the market now, all of them have their advantages and disadvantages. You shouldn't hesitate to try different brands and styles for yourself.