For years I've been wanting to put an optic on a revolver. Unfortunately this proposition has been costly, and many solutions have mixed reputations at best, requiring either questionable yet expensive guns, or a half-baked mounting solution. Just before SHOT Show 2023, it appeared as though things were about to change. The Taurus 856 TORO was leaked; a revolver configured directly from the factory to be fully compatible with optics. I got to put hands on one in January, and it instantly became my "must have" of the entire show.
Like a teenage boy getting his first girl's phone number and not wanting to seem overly eager, I impatiently waited a week to reach out to Taurus. By early February I had an 856 TORO in my hands, ready for review. How did the gun fare over the past several months?
Design of the Taurus 856 TORO
The 856 is the flagship of Taurus' small frame revolver line. To get an idea of size, it sits somewhere between J and K-Frame revolvers from Smith & Wesson. Coming in black and stainless, both models feature a six round cylinder, and are rated for 38 Special +P. Guns come in right at 23.5 ounces empty, making even the most stout 38 loads feel reasonable. As part of the Defender line, guns come standard with a 3-inch barrel, full underlug, and a full length ejector rod. While I prefer a bobbed hammer on a carry gun, the wide spur on the 856 lacks any sharp edges, avoiding any unpleasantness on my tummy.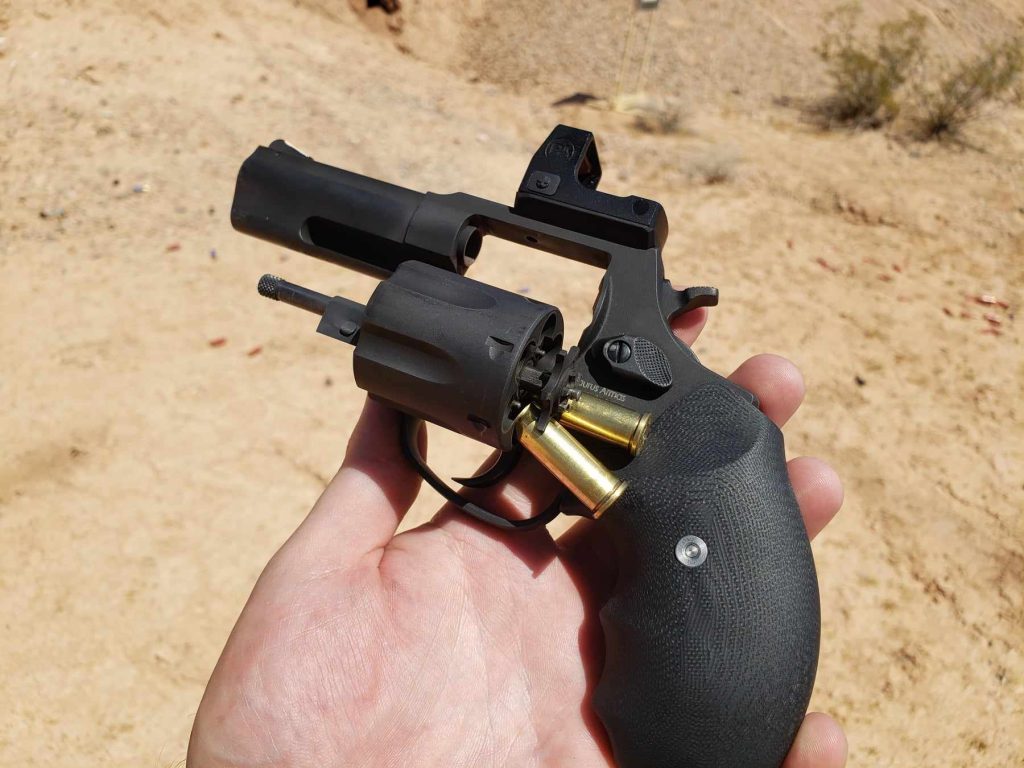 Taurus ships the 856 TORO with small rubber boot grips. These features solid texturing on both the front and back straps, along with the side panels, which is a nice touch. The grips are good for concealment thanks to their size, and absorb far more recoil than those found on S&W's J-Frames. For my hands, these boot grips are a little small, but I can achieve a full grip with my dominant hand. A small thumb ledge interferes with some speedloaders, with the SL Variant and Speed Beez being the best fit here.
Fairly early on I swapped these for VZ 320's from VZ Grips. This improved support hand purchase, and trigger reach, but does change speedloader compatibility. After this modification I found HKS and Speed Beez were most useable. Later I added a few layers of hockey tape to improve my purchase on the slick aftermarket stocks.
Controls
Being a revolver, controls are fairly straightforward. The cylinder release is a non-event, and that's a good thing, being easy to manipulate and in a conventional location. The ejector rod is closed and rounded on the end, protecting your palm when aggressively performing reloads. Initially the ejector rod felt rough when pressing, and would frequently stick in its depressed position, requiring a press of the ejector star to close. Frequency and severity of these issues dropped as the gun has gotten worked in over the months. Occasionally I still experience a stuck rod, but that is a rare occurrence.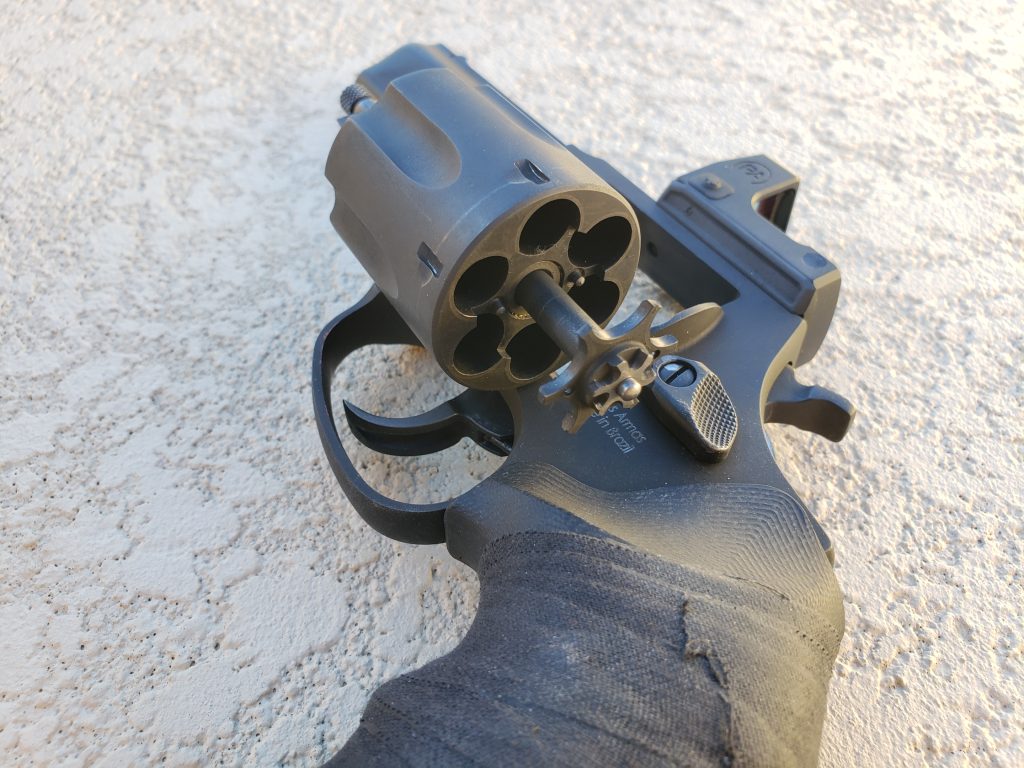 The trigger is one of the most interesting parts of the 856. As noted in my 856 Executive Grade review, it feels like the trigger goes further back than on Ruger or S&W revolvers. This leads to quicker fatigue, occasionally manifesting in a trigger that I cannot fully pull rearward, especially as round counts increase. While not a concern for a defensive encounter, I could see it becoming an issue in classes or competition, along with longer range days. The shoe is smooth and fairly wide, with a pronounced curve at the end. Overall the trigger is decent, and is continuously improving over time, feeling fairly smooth if a bit heavy.
Optics
This is the most interesting aspect of the 856 TORO, and why the gun earns its name. Using two screws running through the top strap, Taurus has attached a Holosun K-Series footprint optic plate to the 856. This plate arrived mounted to the gun, with screws ready for a Holosun K-series red dot. Initially I attempted to zero a Holosun 407K on the gun, but the optic lacked enough elevation to attain zero, even at 10 yards. This was quickly replaced by a Primary Arms MRSc, which easily achieved zero at both 10 and 25 yards, and remained for the rest of this review.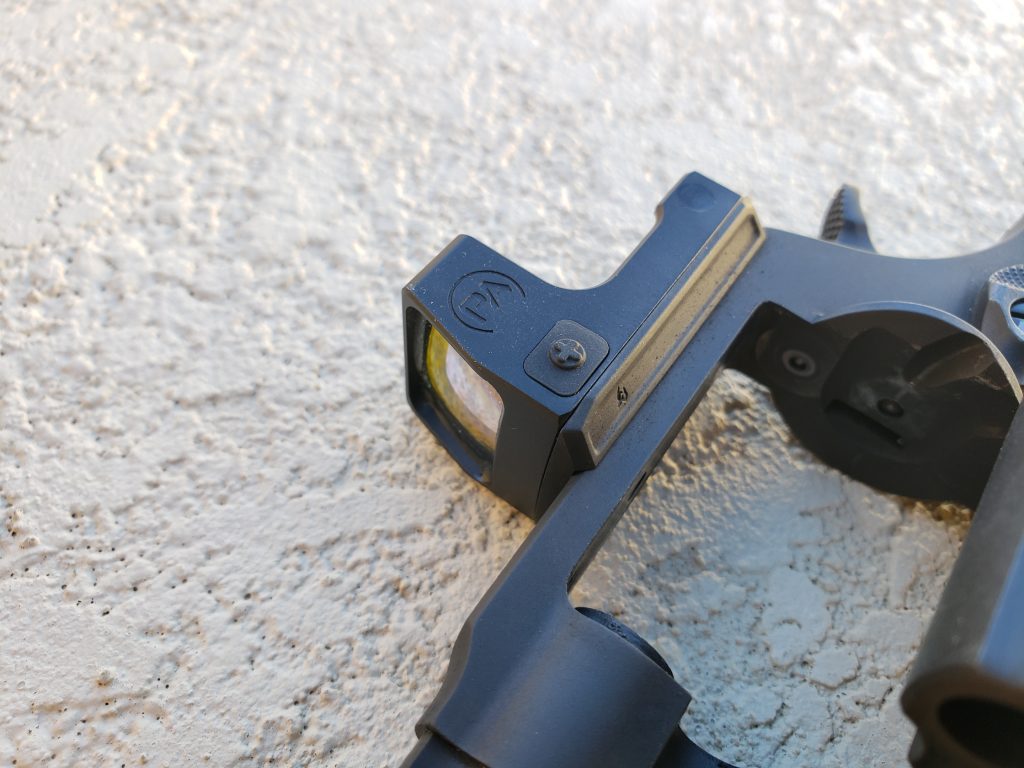 In addition to the optic, users also have integral iron sights for those wanting to run the gun old school. The rear sight is trench style, like a Model 10, being milled directly into the frame. The front sight is replaceable, with a roll pin keeping it in place. Unfortunately your irons are not useable with the optic mounted, though rumors of a Raven RBU-esque plate have begun circulating.
Optic Selection
Traditionally, most pistol mounted optics require robust construction to survive the forces of a reciprocating slide. If you haven't noticed by now, the 856 is a revolver, and lacks a reciprocating slide. This opens the door to a wider variety of optics, as the forces imparted on your sighting system are dramatically reduced. This isn't to say that any airsoft-tier budget brand will make the grade, but our options have certainly opened up.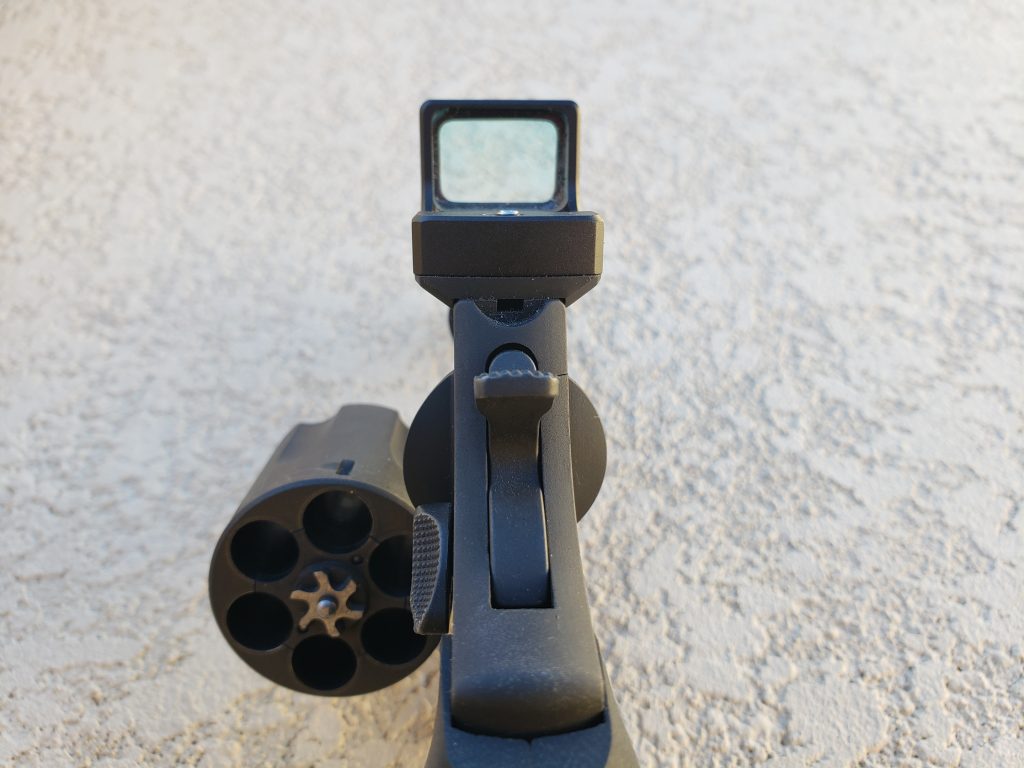 While still in the review process, the PA MRSc seems to be a solid option for the 856 TORO. Others, to include Caleb Giddings, have reported positive experiences with the Swampfox Liberty paired with their revolvers as well. Some companies are beginning to make shims for the Holosun K-series optic to help them achieve the proper elevation adjustments necessary for use on the 856. This option came at the suggestion of Caleb, though I haven't tested it myself.
Hopefully as time goes on we'll see more support from the aftermarket for different optics and more. My current suggestion is to look for optics with greater than 30+/- MOA of adjustment for a safe choice. Additionally, varying your ammunition selection will impact zero, as there are significant differences in POA/I across various bullet weights.
Range Time with the Taurus 856 TORO
Shooting with the 856 TORO was made up of my regular range time, mixing slow fire with a variety of drills. Some of these were slow bullseyes at 25 yards, while others were Bill Drills, and more. Early on in the review I frequently cleaned the gun in an effort to remedy some issues mentioned above. That said, the 856 did experience roughly 600 rounds without any cleaning or lubrication, to no noticeable reduction in performance.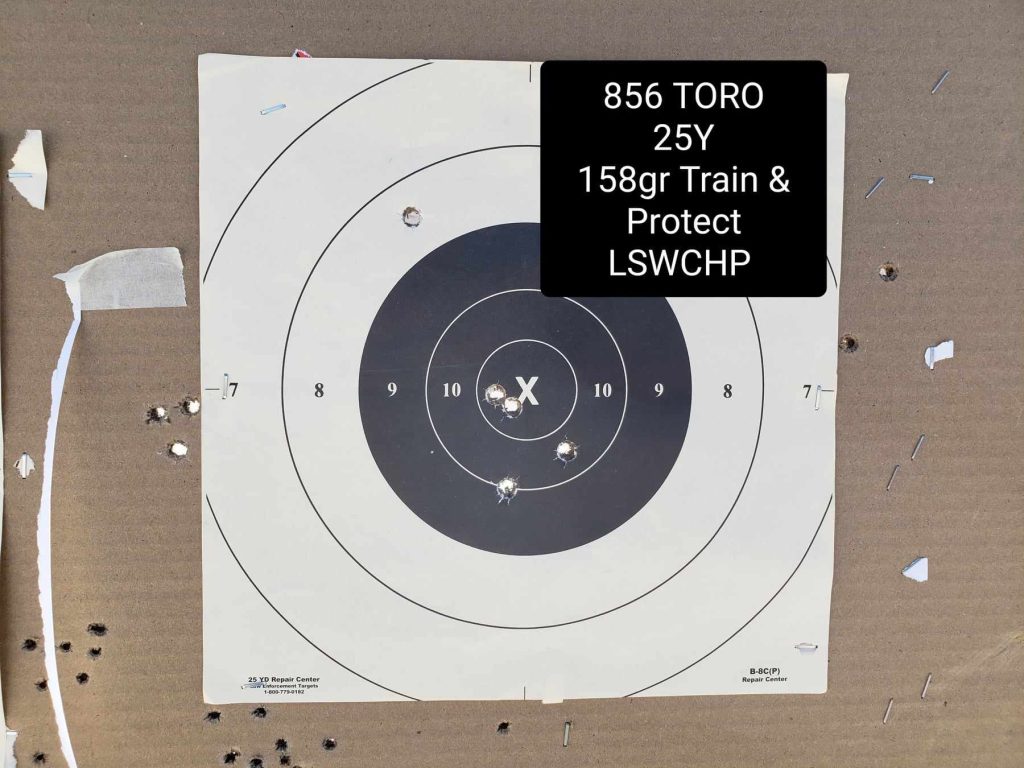 In addition to the live fire rounds listed below, I roughly doubled the round count in dry fire, also mixing up slow and fast presses. In total I fired 1,300 rounds through the 856 TORO during the course of this review.
10x Inceptor 77gr ARX
10x Hornady Critical Defense Lite 90gr FTX
36x Critical Defense 110gr FTX
4x Federal American Eagle 130gr FMJ
5x PPU 130gr FMJ
25x Fiocchi Range Dynamics 130gr FMJ
50x Herter's Target 130gr FMJ
5x PMC Bronze 132gr FMJ
27x Federal Gold Medal Match 148gr Wadcutter
50x Winchester Train & Protect 158gr LSWCHP
50x Federal American Eagle 158gr LRN
864x Speer Lawman 158gr TMJ
23x Federal Punch 120gr +P JHP
100x Remington UMC 125gr +P SJHP
20x Federal Hydra Shok Deep 129gr +P JHP
2x Federal HST Micro 130gr +P JHP
19x Speer Gold Dot 135gr +P JHP
My very first rounds through this gun were shooting 5x5's using the bare optics plate, bisecting the target and easily passing. Accuracy is comparable to what I achieve with other guns in my inventory, making easy 57/60 and 48/50 on 25-yard B8's using Speer Lawman.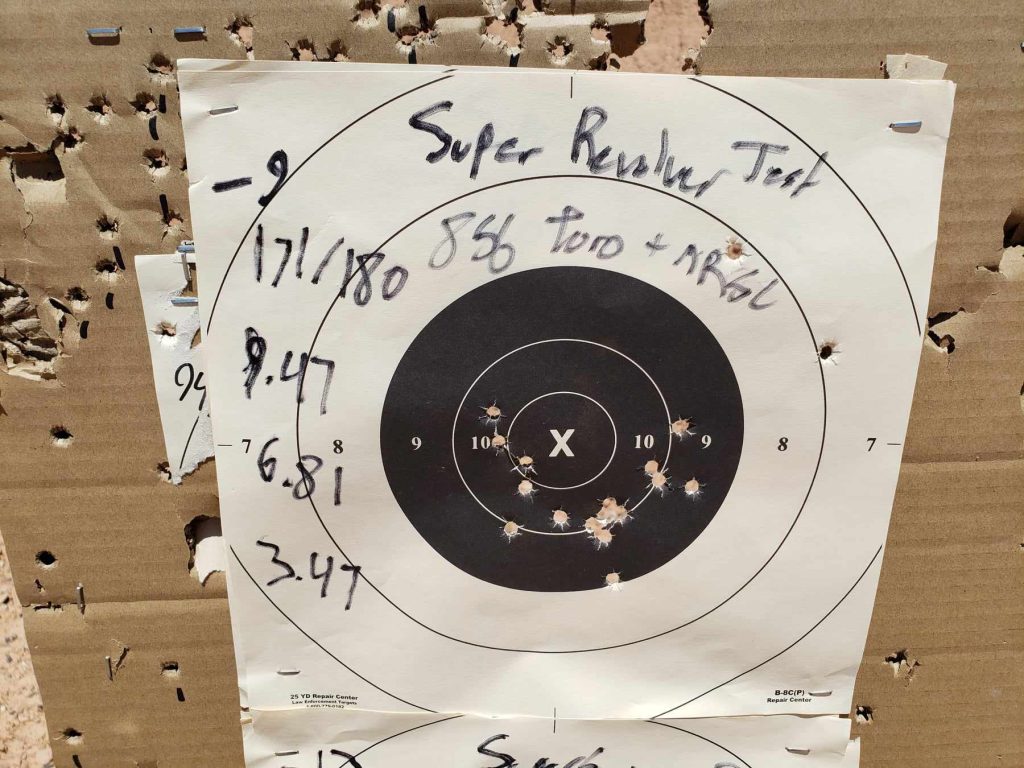 Super Revolver Tests are easily passed, brining in scores in the high 160's and low 170's. On average my Bill Drill is roughly one second slower using the 856 versus a Glock, a combination of the more challenging trigger, and a slightly less secure grip. In short, the gun puts up solid numbers, and keeps up with more expensive offerings without difficulty.
Maintenance and Wear
Outside of interference from the grips, I never experienced a stuck case or other serious malfunction with the 856 TORO. As mentioned previously, I will occasionally get a hang-up of the ejector rod, though this has become more and more infrequent over time. Across my other two experiences with Taurus revolvers, only this example has run into that issue, making me think it may be an outlier.
This slideshow requires JavaScript.
For those unaware, a variety of screws keep a revolver in one piece. Applying witness marks to these screws helps the user to ensure that nothing is coming loose under recoil. Regularly checking these can help avoid sudden and uncommanded disassembly of your revolver on the range. Throughout firing only one screw found itself loosening, and traveling only about 2mm at most. This did nothing to impact function, but serves as a reminder to perform preventative maintenance, especially during more aggressive firing schedules.
Wear
I neither babied, nor abused the 856 TORO during my review. It spent time in an AIWB holster, frequently found itself laid on a concrete range table, and spent time locked up in a padded safe. The finish has worn a little but not in an excessive fashion. At no point has rust reared its ugly head, even when sweating on the gun without cleaning afterwards.
There are a few spots that appear to have some minor peening. Specifically I can see where the crane's numbers have imprinted themselves onto the frame; another spot just below the forcing cone where the crane is impacting the frame; and some uneven wear just above where the hammer meets the firing pin.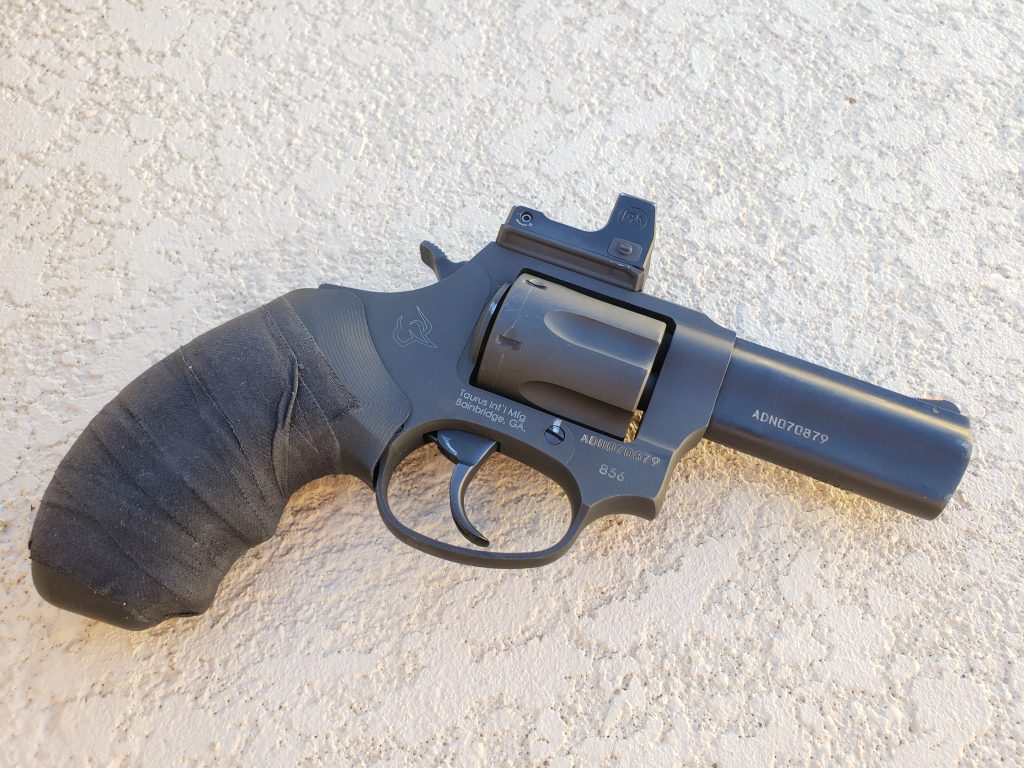 From what I can tell, these are all simply cosmetic, having no impact on function. I am curious to see what will happen over time, or if the gun were to be fed a larger amount of +P ammunition. I do not think this is cause for concern, but something I will monitor as time goes on.
Additional Benefits of the Taurus 856 Defender TORO
One of the best aspects of the 856 TORO is how fantastic it is as a training device. For years people have touted the efficacy of a double-action trigger to help with trigger control. Unfortunately, the feedback provided by irons sights, found on most DA firearms, can be rough, and difficult to analyze for newer shooters. This is where optics come in, providing a highly refined point of aim, giving instant and easily digestible feedback to the user. Now, with the 856 TORO, we have both of these components in one item, all for a fairly affordable price.
Just considering ammunition savings alone, the gun and optic will quickly pay for themselves, improving skill without leaving the house. Dry practice is one benefit I rarely see mentioned, but I think is the most outstanding part of the design. Even if I were to never fire another round through this gun, it'd still regularly find its way into my hands for this reason alone.
Accessory Support
As the first revolver of this style to make it to market, you may be wondering what options you have to accessorize your 856 TORO. This won't be all inclusive, but we'll provide you a few notes on how to get yourself set up properly. The Taurus website is a great place to start, and is surprisingly easy to navigate.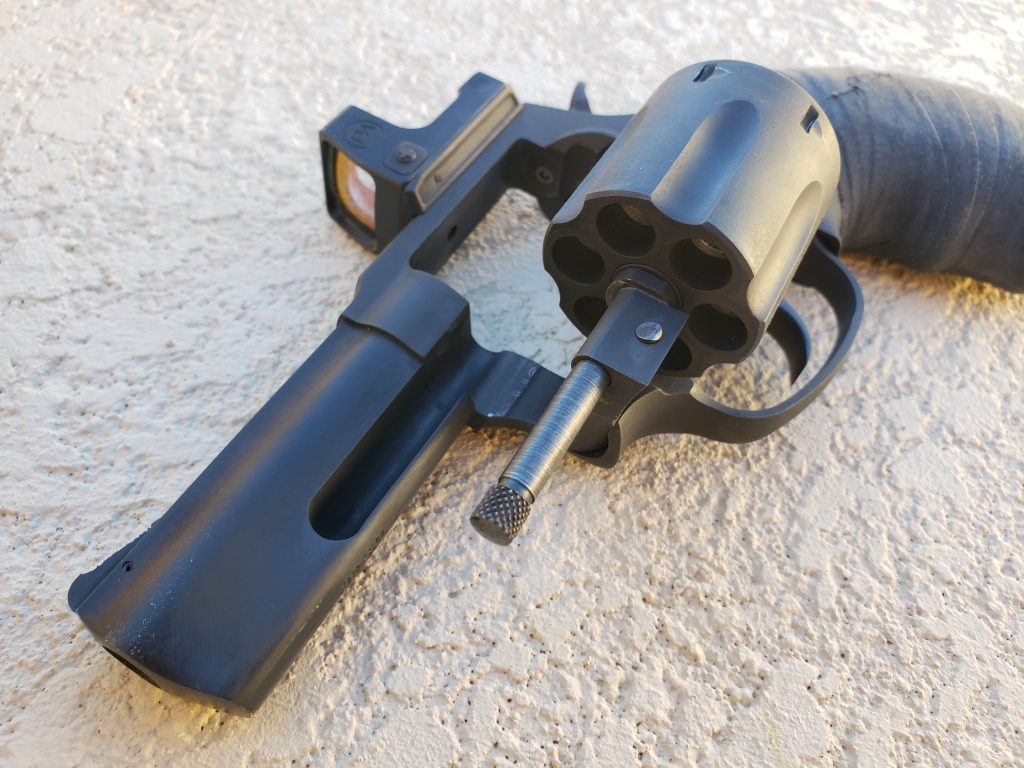 For grips we have the aforementioned offerings from VZ, with Hogue, Altamont, Viridian having solid options as well. Concealment holsters will be covered by Dark Star Gear, PHLster, and the previously reviewed Harry's Holsters Monocle. Over the past few months Caleb Giddings has been previewing an OWB holster from Galco, which looks excellent. Speed Beez, HKS, Safariland, Jetloader, and SL Variant speedloaders for S&W K-Frames have given me varying levels of success depending on my chosen grips, though some offer specific 856 loaders as well.
Final Thoughts on the Taurus 856 Defender TORO
Overall I've been very impressed by the Taurus 856 TORO. While the base gun is clearly budget focused, the 856 continues to clean itself up, and has presented no major concerns or issues. Being my first long-term review of a Taurus revolver, I wasn't quite sure what to expect, but the journey has been incredibly informative for me. Its optic plate appears to be fantastic, and is the stand-out feature here.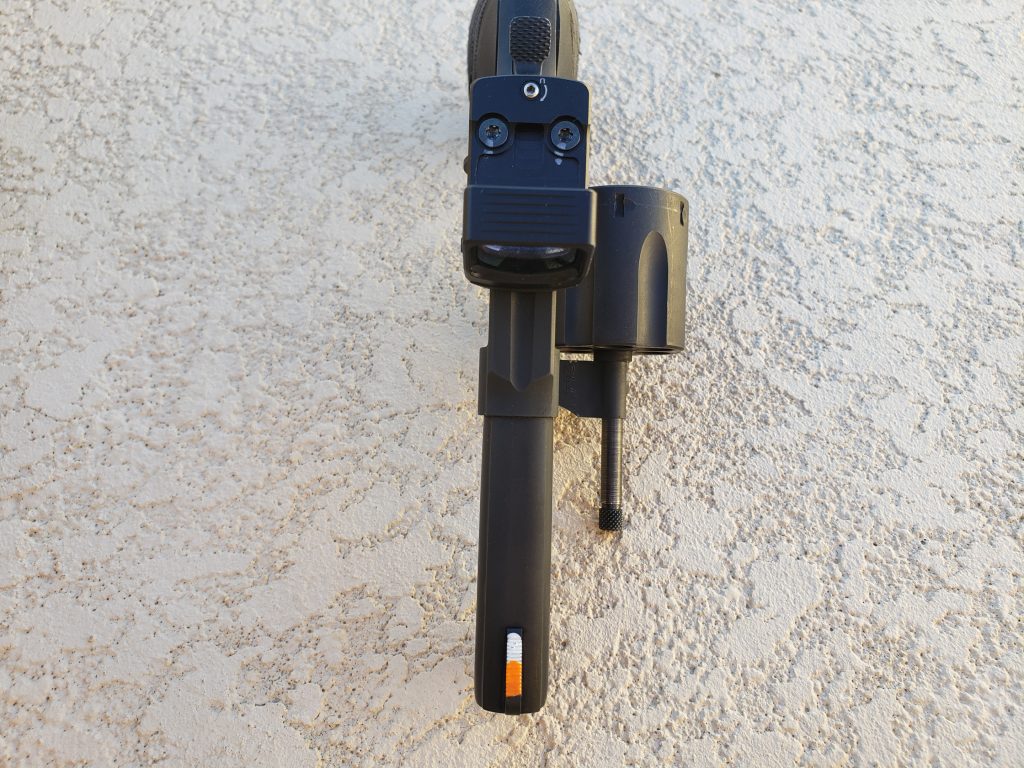 As it stands now, I'd be comfortable throwing this gun in my waistband when leaving the house, or on the nightstand at bedtime. Outside of live fire, the 856 TORO has become my go-to dry practice tool, as my wife will attest to thanks to the incessant clicking of the trigger coming from our office. I love the ability to mount an optic on a revolver, and I can't wait to see this system put on more guns, such as the Executive Grade or the 608. If you're looking for a revolver for protection or just for fun, consider the Taurus 856.
MSRP on the Taurus 856 Defender TORO comes in at $445.99 for the black variant, and $460.99 for stainless. Taurus also offers the 605 for an optics ready, five shot, 357 Magnum option. You can check out the entire TORO line of revolvers directly from Taurus >>HERE<<
If you're feeling generous, consider subscribing to my Patreon.
Author's Note: The 856 TORO was sent to me on loan directly from Taurus for purposes of this review. No expectations of a positive review were given by any party.