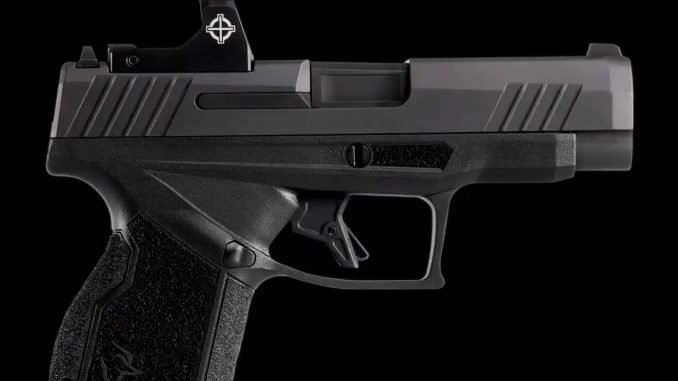 Yesterday Taurus announced their latest addition to the GX4 line, the XL. The GX4 XL offers a longer slide and barrel, along the lines of the P365XL, in both optic ready and iron sight only variations. Unlike other XL variant pistols, the frame has stayed the same size, providing 11 round flush fit, or 13 round extended magazines. You can check out the details below, or on the Taurus website.
Taurus GX4 XL Specifications
The GX4XL is built on the same award-winning polymer receiver as the GX4. Hailed for its exceptional handling characteristics in a micro-compact profile, the GX4XL's hybrid stainless steel and polymer receiver includes a modular grip with standard or high-swell backstrap options for a custom fit, industry-leading grip texturing for optimal firearm control, an ergonomic and reversible magazine release to promote no-fumble mag swaps, and a class-leading flat-face target trigger with a generous trigger guard to accommodate all hand sizes.

What separates the GX4XL from the GX4 is its extended barrel and slide assembly. The GX4XL barrel is .64 inches longer than that of the GX4. This extended length translates to an increase in muzzle velocity and harder hits downrange. With this increased barrel length comes a longer slide profile and subsequent extended sight radius. Already noted for its remarkable accuracy, the GX4XL further tightens the point-of-aim/point-of-impact ratio. In short, the deep-conceal GX4XL's micro-compact design gives up nothing in the kind of terminal performance, accuracy, and handling serious EDC practitioners demand.

Caliber: 9mm Luger
Capacity: 10/11/13 rounds
Magazines: 1×11 + 1×13
Firing System: striker
Action Type: SAO
Front Sight: fixed
Rear Sight: serrated drift adjustable
Safety: striker block, trigger safety
Frame: stainless steel frame insert and polymer grip
Grip Material: polymer
Slide Material: carbon steel
Slide Finish: gas nitride coating
Barrel Finish: black DLC coating
Barrel Length: 3.7 in.
Overall Length: 6.43 in.
Overall Width: 1.08 in.
Overall Height: 4.40 in.
Weight: 20 oz.

MSRP on the GX4 XL is $429 iron sight only models, and $459 for optics ready.