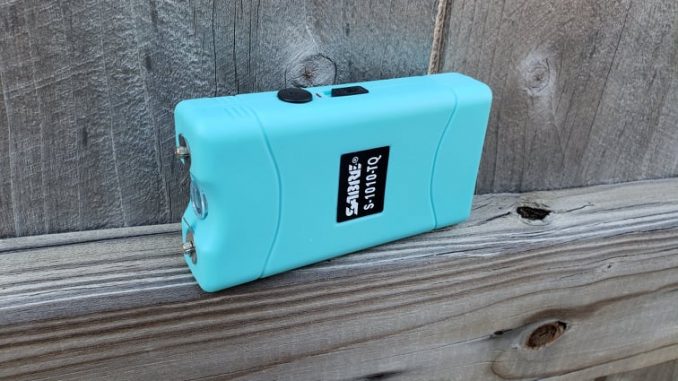 After attending Chuck Haggard's OC and Less Lethal course last year, my interest in alternative defensive tools was reignited. One of the most popular options I see pedaled is the stun gun. Most often these are pushed onto women of all ages and those who are opposed to guns and knives. Vendors will discharge the stun gun, resulting in some bright light and a loud zap, wowing those looking on. But how effective are these tools? I decided to find out for myself. This led me to buy my own Sabre S-1010 Stun Gun.
Form Factor
The Sabre S-1010 Stun Gun is a fairly compact package, being both small and lightweight. The body is covered in a sort of rubber texture, which allows for a more secure grip without being sticky or squishy. This definitely helps keep the Sabre S-1010 Stun Gun in your hand in adverse conditions such as rain or when sweaty. There are three colors to choose from for your stun gun; black, blue, and pink. Sabre also includes a nylon holster for the stun gun, which I promptly threw away.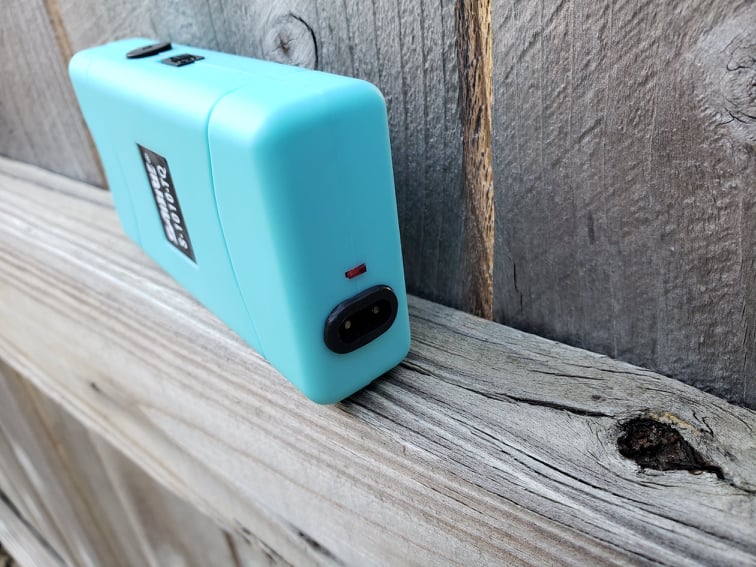 At the rear of the Sabre S-1010 Stun Gun there is a small port plug in the included charging cable. This is compatible with any standard wall outlet. Sabre suggests charging your stun gun upon receipt, which should take no more than a few hours at worst. A small light above the charging port indicates whether or not your stun gun is charging.
Controls are fairly simple. On top of the stun gun you'll find a single switch and a button. Slide the switch to the middle position and you'll activate the 120 lumen flashlight located between the two metal probes at the front of the light. Slide the switch to the forward position and a small red light comes on, letting you know the device is ready to deliver a shock. Once the switch is forward, with the red light on, press the large circular button above the switch to activate your stun gun. This will cause electricity to jump between the two metal probes, generating a shock and the signature zapping sound.
Use of the Sabre S-1010 Stun Gun
Luckily I have not had to use the Sabre S-1010 Stun Gun for defense. Since I've never actually carried it, that wouldn't have been possible anyway. That being said, it has been used on people during training. Its first real use was against my wife. Trust me, it's not as bad as that sounds. After seeing me teach a less lethal class, she turned to me and asked what being stun gunned felt like. She knew people who carried them, and wanted first hand experience to see if they were a viable tool. Camera in hand, I zapped her in the arm. She jumped a little and shouted, startled at the noise. Afterwards she said it was less painful than a bee sting, and it certainly wouldn't deter her if she was on the attack.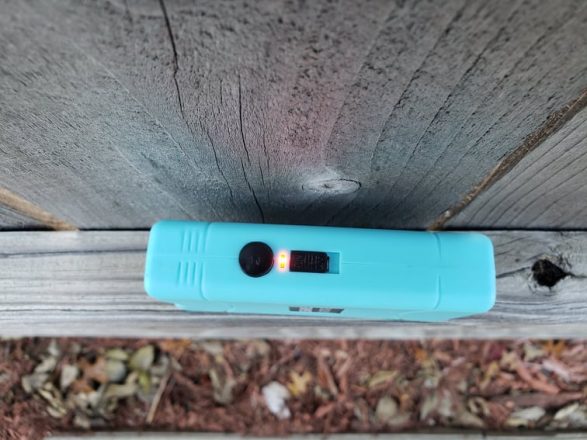 Results have been similar with the few others who have requested to feel the sting of the Sabre S-1010 Stun Gun. With results like that, I wouldn't feel too confident betting my life on a stun gun.
Battery Life
Many lower quality stun guns are known for parastically draining their battery over time. This means that even when not in use, the battery slowly dies without warning. This could result in someone having a dead stun gun when they need it most if they're not consistently charging theirs. To test this, I charged the Sabre S-1010 Stun Gun upon receipt, then never plugged it in again.
Roughly once a month I would discharge the stun gun to see if it would still function. On a similar schedule I would turn the flashlight on for roughly 5-15 seconds. Some months I would use the Sabre S-1010 Stun Gun more often when teaching or demoing to friends and family, but the above is a solid estimate. Surprisingly, the battery has lasted roughly 15 months without being charged. In early November I took the stun gun out to take pictures for this review, and it finally stopped discharging, though the flashlight still functions.
Durability
The Sabre S-1010 Stun Gun once again bucks the common trends found in stun guns. Typically stun guns are fragile, breaking after a short drop onto a hard surface. Wanting to see how tough Sabre's offering was, I decided to conduct an informal drop test. A few shoulder height drops onto concrete later, and the S-1010 is no worse for wear.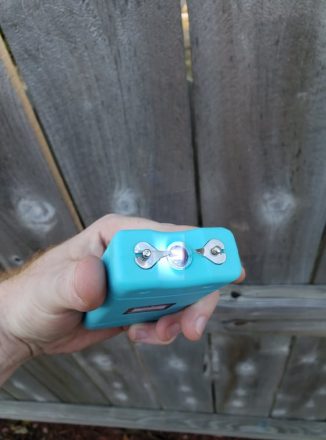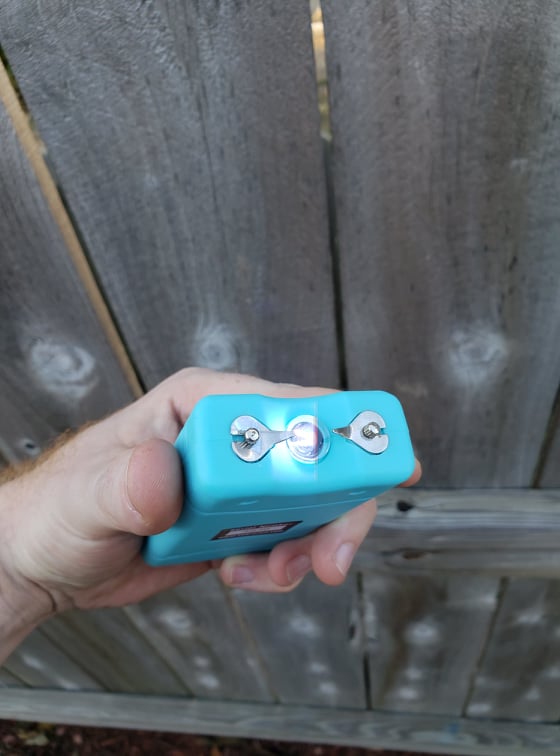 Final Thoughts on the Sabre S-1010 Stun Gun
Despite being an improvement over the typical stun gun, I would not recommend the Sabre S-1010. With its anemic light and pathetic discharge, it serves as nothing more than a magic talisman instead of a serious defensive tool. Instead I recommend carrying a dedicated light and something more effective to protect yourself. Specifically, I recommend pepper spray, like POM or Sabre Red. I've been exposed to both of those, and they're far more useful than any stun gun.
That being said, if you're still wanting to buy your own stun gun, the Sabre S-1010 is probably one of your better choices. Going for only $9.99 on Amazon right now, you could get one of these for the same price as some quality POM pepper spray. I know which one I've chosen for my everyday carry.