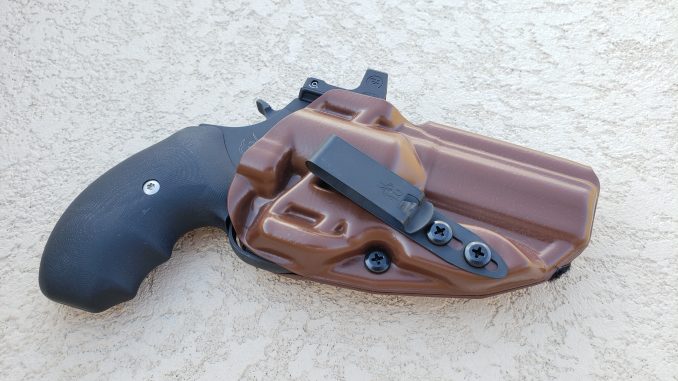 It's no secret that I'm a fan of Harry's Holsters. Over the past few years I've reviewed both their original Icon holster for snub revolvers, and this year's update, the Icon 2.0 with positive results. When discussing the new Taurus 856 TORO with Harrison, he offered to send me out a new holster design to get my thoughts. This holster is the Monocle, and it is designed specifically for the optics-ready Taurus 856 Revolver. How does this unique piece of gear compare to more standard holsters? Let's dive in and find out.
One quick caveat: This is a pre-production prototype. What you see here may not be 100% indicative of what the production holsters will look like. That said, this should give you a solid idea of what to expect from the Monocle.
Construction and Design of the Harry's Holsters Monocle
The Harry's Holsters Monocle is a fairly conventional kydex holster. It features a closed muzzle, and nicely melted edges, helping to improve comfort during long days of wear. This smoothness helps keep my knuckles in one piece even after extended range and dry fire sessions. Near the belt clip is a molded-in bump/wing which is small, but offers a helpful amount of concealment. A large, flat back of the holster provides plenty of real estate for shooters to add the own wedge, further improving concealment. Typically I've been using a well worn teardrop wedge from Dark Star gear on my Monocle.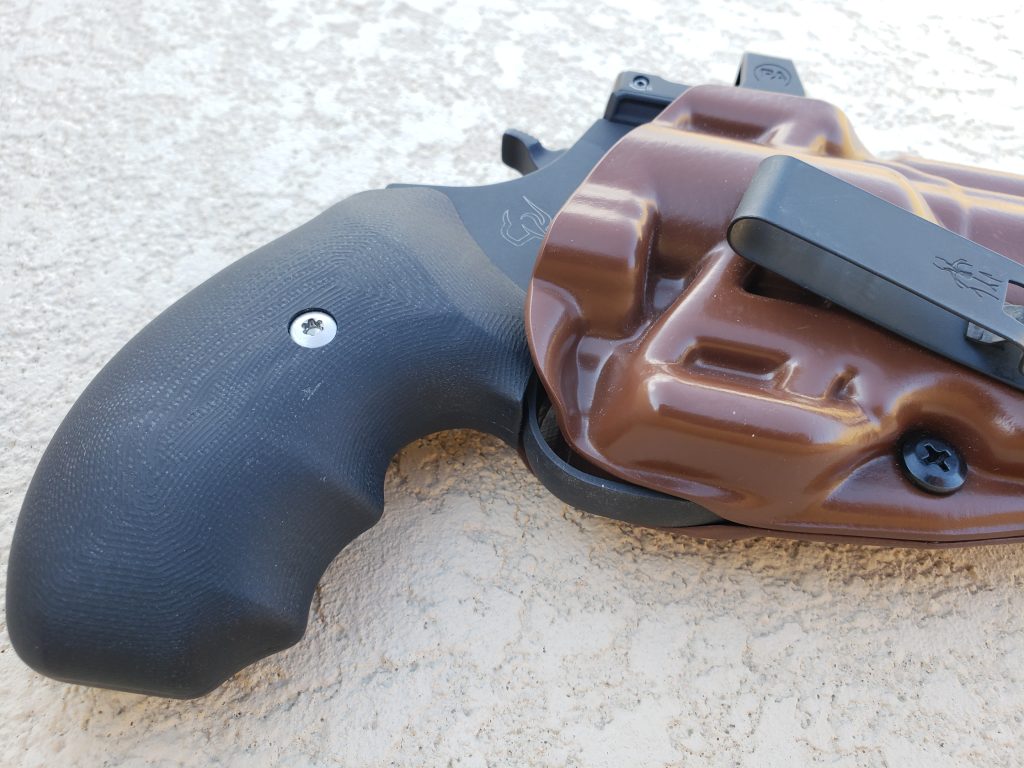 One of the nicest features of the Monocle is the large sweat guard. Unlike traditional designs on holsters for autoloaders, this a a very broad guard, going from the grips up to the base of the optic. This helps protect the wearer's belly from both the optics plate, as well as the hammer spur, and significantly improves comfort while also protecting the gun's finish. Additionally, the holster is compatible with laser grips from both Crimson Trace, and Viridian.
Interestingly, I've found the Monocle to be compatible with some of my J-Frames, which isn't what it's supposed to do, but is sufficient for my practice or blue guns. That said, I do not recommend carrying guns in holsters they were not intended for.
Mounting Options
One of the most striking, and unique, things about the Harry's Holsters Monocle is the reverse cant of its single DCC clip. This instantly impressed me, as this is the sort of cant that many high level shooters use on their OWB competition holsters. In short, the angle is a little more efficient than a straight vertical holster. It can also have some benefits for people who wear their holster past their centerline, in a pseudo-crossdraw fashion.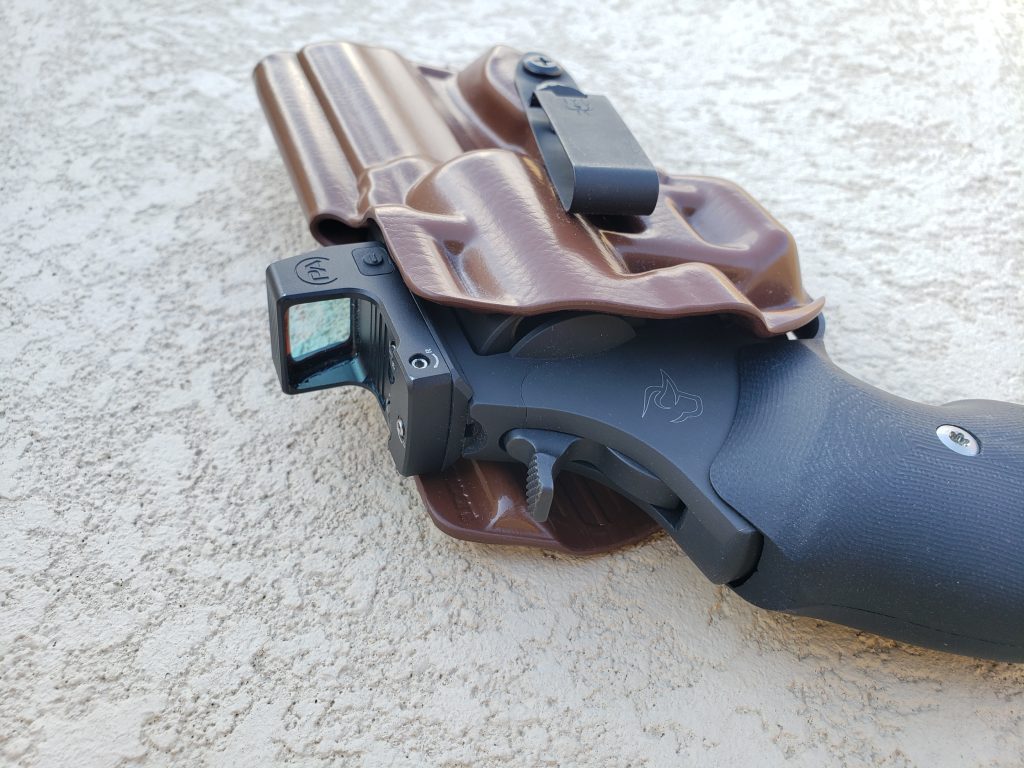 The single DCC clip offers solid retention along the belt, as we've come to expect from the type. Stability is improved thanks to the longer design of the holster, helping to keep the gun in place during movement. This also allows the shooter to adjust ride height through the belt clip to suit their preference.
Real World Use
I've been using the Harry's Holsters Monocle since late February of this year. In that time it has seen use in my personal training, along with dry practice, and it saw use the NPE/Counter Robbery course supporting a blue gun. Much like the Icon 2.0, the Monocle has proven to be fantastically comfortable and comparably durable. With hundreds of drawstrokes, and hours upon hours in my pants, the holster is no worse for wear, without a spot of rust on the hardware. One of the stand-out features here, as mentioned above, is the large sweat guard, which does a stellar job of protecting me from the hammer spur during long training sessions.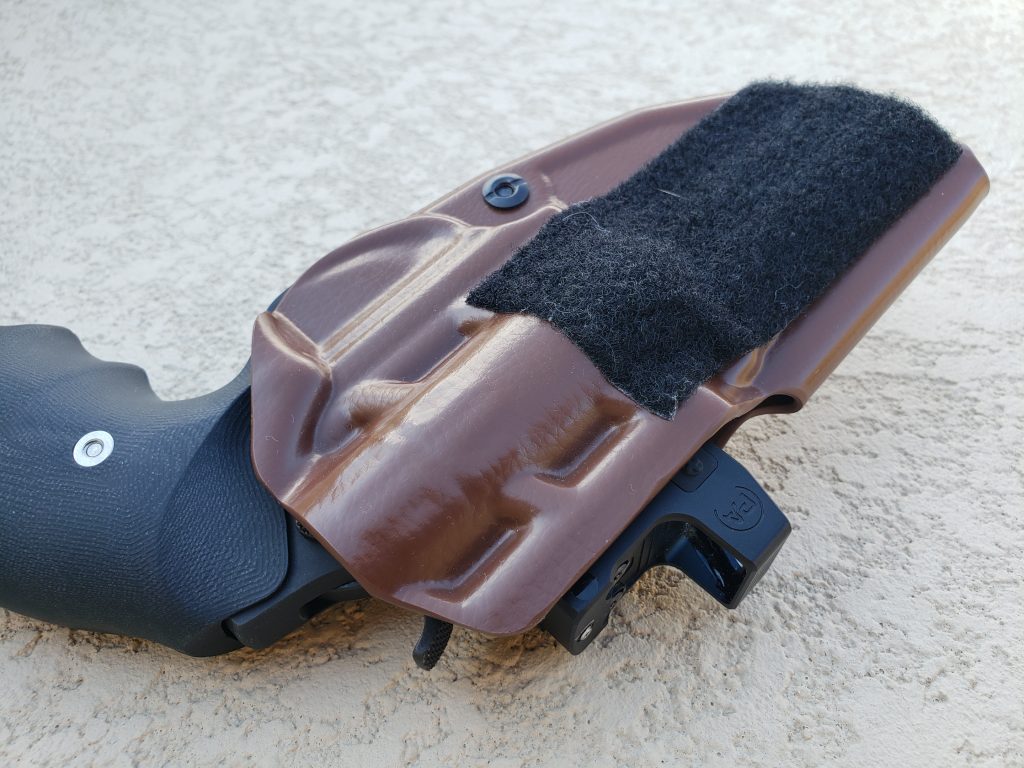 So far I've tested this holster with both the Primary Arms MRSc and the Holosun 407K, which fit perfectly. There's plenty of real estate available for optics, and I don't see anything compatible with the 856 TORO posing a problems for the Monocle. I have also swapped my grips from the OEM boot grips to larger stocks from VZ grips, with zero interference from the holster.
One thing to note is that the brown kydex will rub off on your gun when repeatedly drawing and holstering. This gives the appearance of rust, but is easily wiped away with a rag. This isn't a complaint, just something that caused a moment of panic upon first glance.
Final Thoughts on the Harry's Holsters Monocle
Overall I really like the Harry's Holsters Monocle. It checks all the boxes of being comfortable, concealable, secure and fast, while also being durable. Small design cues show fantastic attention to detail, and it just looks plain nice. I'd love to see this  holster be expanded to cover other makes and models of revolvers as well, such as those from S&W or Ruger. If you find yourself needing a holster for  your 856 TORO, give the Harry's Holsters Monocle a serious look. You can check out what Harry's has to offer >>HERE<<.
Author's Note: This holster was provided for free from Harry's Holsters for purposes of review and feedback during pre-production. No expectations of a positive review were given by any party.