A few years back I wrote a review for the Surefire EDCL2-T flashlight. Surefire announced a new version of the light at SHOT 2022, and that got me thinking. I've got three and a half more years of using the original model, and wanted to pen an updated review. Is it still holding up as a good pocket light?
What is the Surefire EDCL2-T?
The EDCL2-T is a handheld, two cell pocket flashlight made by Surefire. It uses two CR123A batteries, and boasts an impressive output of 1200 lumens in its high mode, and 5 in the moonlight mode. Candela isn't shabby either, at about 11,300 advertised candela. The flashlight uses a unique "gas pedal" style tailcap, where a slight press activates the moonlight mode, and a harder press is max output. There is no clicky-tailcap here, as you've got to turn the tailcap to keep it in constant on mode.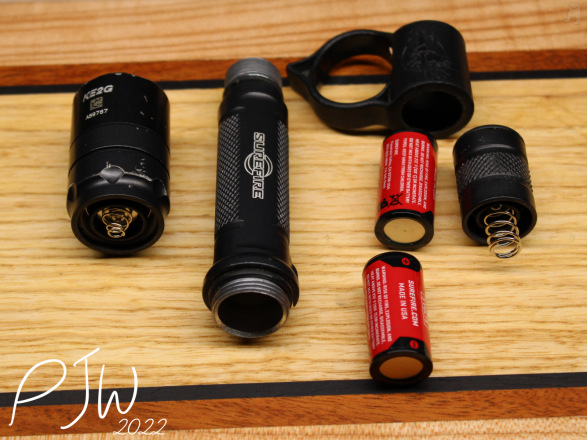 The light is pretty simple, with just a head unit, body, batteries, and tailcap needed to make the light work. While Surefire includes a pocket clip, I've tossed that aside, as it was a flimsy thing. Rather, I've been using a Thyrm Switchback as my flashlight tool/carriage device.
Runtime of the EDCL2-T is generally about 1 hour on the 1200 lumen mode, and closer to about 55-60 hours on the low mode. On my scale with my older modified Switchback, the EDCL2-T comes in at 4.2 ounces with batteries. Not too bad, lighter than most medium sized pocket knives.
How does the output look on the EDCL2-T?
The Output of the Surefire EDCL2-T
I decided to roll some footage of what the throw and beam pattern on the EDCL2-T look like.
The distance in the video is roughly 40 yards, shot in my backyard. The throw of the light is quite impressive, and the spill is also really great.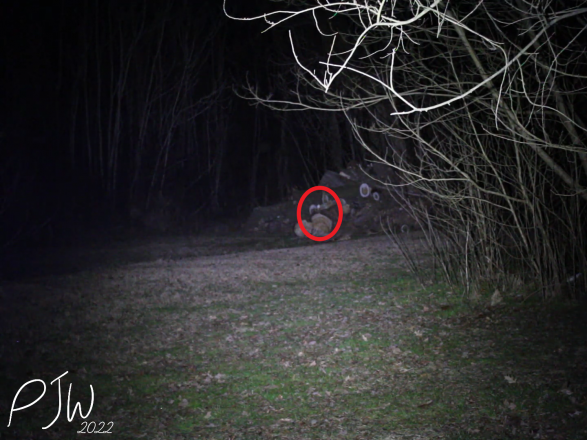 Sure, this is no Modlite or Cloud Defensive light, but the output is still excellent for EDC and self defense light use.
Carry Experience With The Surefire EDCL2-T
It's been great. While the EDCL2-T isn't the shortest light (just under 6 inches), it is thin and lightweight. It melts into the pocket, and I've even had evenings where I've forgotten it was on me until I got in bed and felt it.
The pressure pad is easy to use and is very responsive. I've never noted any lag when pushing through the low to high mode via the gas pedal button. The knurling on the light is also excellent, and provides that happy medium of being grippy, but not too much.
The EDCL2-T has been extremely durable during my time with it. I've dropped it many times, with plenty of nicks and chips in the body and head unit. I've never once had this cause a reliability problem. The light has flown with me for close to 20 flights, and has made it through TSA checkpoints unmolested so far.
For use as a handheld light, the administrative low lumen mode is excellent for looking for dropped keys, needing some light to read in the dark, or trying to find that loose hose under the hood. The high output mode works well anytime that you need more light (duh), such as when walking the woods, or during a power outage at night. Use of the EDCL2-T in conjunction with a handgun is extremely easy with a Switchback too. The length of the light is a positive here, as it allows for it to clear your palm easily, and pull back in to your thumb to actuate. The lack of a clicky-cap makes "tactical" use even easier too.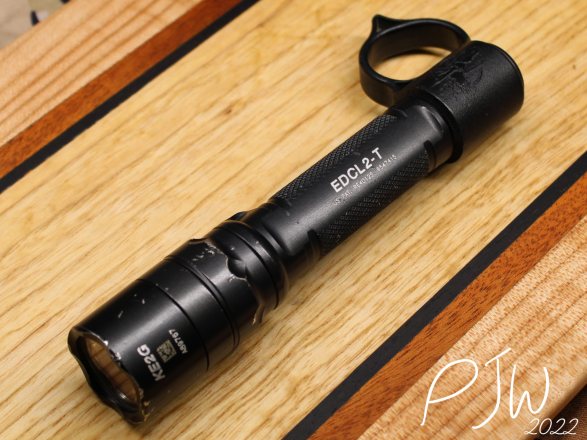 I've carried this light for nearly 4 years, and I think that speaks to how much I like it.
Do I (Still) Recommend the Surefire EDCL2-T?
Yeah, I still do. This light has been my personal favorite EDC light over the last half decade, and has yet to let me down. Why do the updated review then, if my opinion hasn't really changed much since 2018?
Daniel R. recently said to me that "We've been writing for the website about as long as we were in high school", and that really hit me. It's been about 3 and a half years since my original EDCL2-T review, and I wanted to publish a better review. My photography equipment and skills have gotten slightly better since 2018, and my writing has become a little more naturalistic. More time using the light also helped.
Surefire had also officially published more information about the candela output for their lights since the original review. I had quoted 24,000 candela on the EDCL2-T in 2018, as that was what was being reported by independent testers. However, Surefire now lists the 11,300 number on their site. I foresee possibly picking up one of the new Turbo EDCL2-Ts, and wanted to have a more current review to compare the lights. Until then, the EDCL2-T will be my trusty pocket torch.