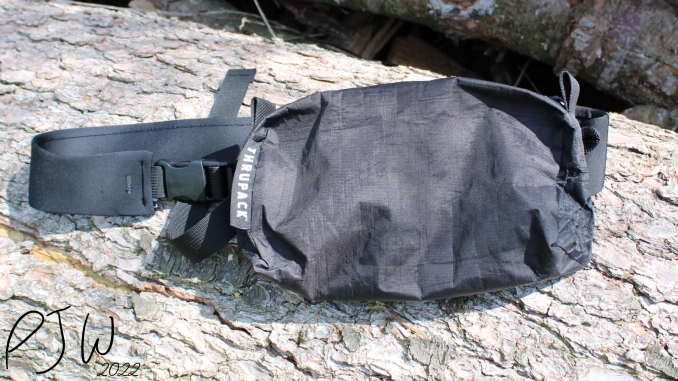 I'm an unabashed fanny pack lover. I've been using them for nearly a decade, both while hiking, or at the gym. I recently retired my ancient Maxpedition fanny pack, and decided to give the Thrupack Summit Bum Classic DCF a try. How is it?
Who is Thrupack, and What is the Summit Bum?
Thrupack is a small, cottage company from Norfolk, Virginia. It's my favorite type of company, a small mom & pop type of deal. I stumbled upon them during a YouTube binge of ultralight content a few months back, and decided to try a few of their offerings. Thrupack specializes in lightweight gear, which I totally dig.
The Summit Bum is the standard fanny pack that Thrupack makes. It's a simple design, with a main pocket, and two small inner pockets. There are also two external, and one internal loop for attaching carabiners. It features a water-proofed zipper, and has a swappable hip belt, rather than a permanently attached one. I splurged for the Comfy Strap, but a standard thin nylon one is offered standard.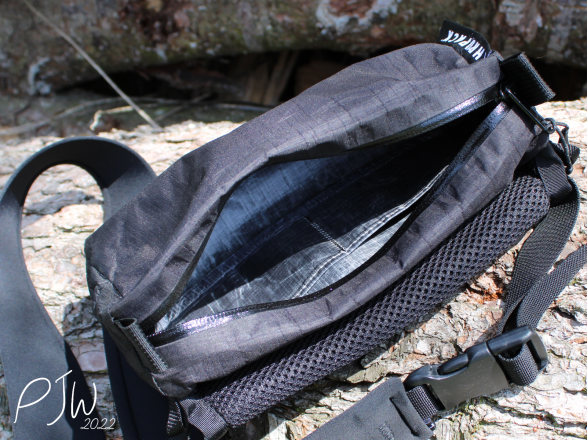 I opted for the Summit Bum DCF, which comes in a lighter weight material. Dyneema Composite Fabric (DCF) is an extremely lightweight, durable material. Favored by ultralight hikers and backpackers, I wanted to give it a try over the standard material. I was tired of my fanny pack weighing a ton before I put anything in it, so that really drove my choice. Weight with the Comfy Strap was a svelte 4.4 oz.
The ordering process was extremely simple, and the lead time was about a week and a half. How well did the Summit Bum do?
Using the Thrupack Summit Bum
While I don't hit the trails as often as I like, I do wear a fanny pack a lot. I'm an aspiring meathead, and workout 4 to 5 times weekly, with my fanny pack being the best way to carry my EDC items around. I hate having my stuff in my pockets while lifting weights or doing cardio, so a fanny pack is a must.
The Summit Bum DCF is extremely light, so even when loaded with the 2lbs of stuff I carry around, it doesn't feel that heavy. The Comfy Strap also does an excellent job at distributing the weight evenly around your waist, and keeps the fanny pack from sagging low. Even when doing farmer carries, the pack stayed in place, despite walking with weights and doing weighted shrugs.
The space within the Summit Bum is pretty big. It is a 2.5 liter compartment, plenty of room for all of your needs. When I'm not carrying a full size gun, my Shield fits wonderfully within the Summit Bum. Since there is no dedicated separate compartment, I use a trigger guard cover to keep the gun safe, but then the two small pockets can fit the rest of my things.
This slideshow requires JavaScript.
While not a pocket, there is a gap made behind the main compartment that can be used for storage. A little spot, perfect to hold a phone, is made by the waist loop for the belt strap. Very nifty, but also does a good job at keeping the pack directly off of your body, and helping with adding some airflow.
The DCF material has a sailcloth look to it, which I really like. The subdued, non-tactical look is a major plus too. The pack does have a "crinkle" noise to it, much like a fresh sail or raincoat.
Minor Gripes with the Thrupack Summit Bum
…and I do mean minor.
The zipper pulls from the wrong side for me. As a right handed person, I would have preferred the zipper to pull from right-to-left, rather than from left-to-right. For my pistol drawstroke from a normal fanny pack, I use my left hand to unzip the compartment, and my right to draw the gun. The Summit Bum wasn't designed with necessarily containing a concealed pistol, so I doubt that the zipper pull location was a major thought. Heck, I'm sure I could have requested to have mine made with the zipper pulling the other way, but hindsight is 20/20 here.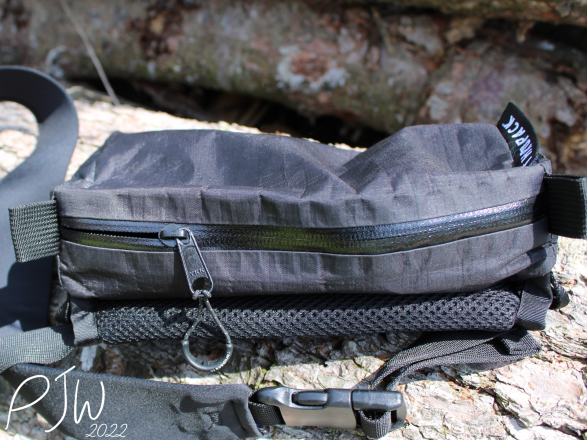 Speaking of the zipper, it is tight. The waterproofing on the zipper works well, as I've gotten caught out in the rain and not had any water get into the compartment. That being said, you do have to pull that zipper pretty intentionally to move it.
Minor gripes, but gripes nonetheless.
Would I Recommend the Thrupack Summit Bum DCF?
I totally would. It is extremely well made, works excellently, and is extremely comfortable. I like the DCF material a lot, but it does add some cost. The base version of the Summit Bum runs $49.99, while the DCF version is $64.99. The extra $15 bucks was certainly worth it to me, but unless you really care about the extra weight savings, the normal SB would probably be fine. I'm happy to keep using and abusing my Summit Bum DCF into the near future, especially with a move out to the Utah in the near future.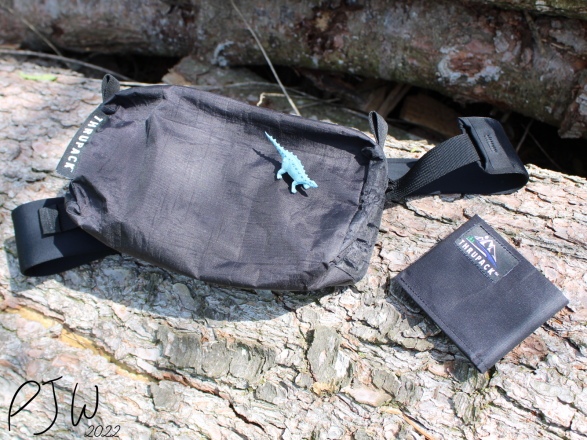 End of 2022 Update
Hey there! I wanted to provide an update, 8 months after the initial review. The Summit Bum DCF is still running strong, and has been continuing to suit my needs. Thrupack has since discontinued the DCF model, and replaced it with a new material "Ultra" Summit Bum Classic. Maybe I'll review that one in the future, but I'm still very satisfied with my current SB DCF.