There are a lot of special interest gun groups out there making it hard to know who to follow and support. Here at Primer Peak we strive to provide you as much non-biased, quality information as possible. With that in mind, we're going to do a series on some of the more prominent gun groups. We'll cover who they are and what they stand for, as well as some positives and negatives. First up is The Well Armed Woman.
History
The Well Armed Woman (TWAW) was started in 2013 by Carrie Lightfoot after she left an abusive relationship. Her ex was stalking her and kept showing up to intimidate and scare her. She decided to seek out the means to protect herself and was frustrated by the lack of information and support, especially for female gun owners. When she went to learn about guns she found a decided lack of training and resources for women. Instead of giving up she decided to do something about it. Thus, The Well Armed Woman eventually came to be.
Current Structure
The organization is run by a small Board of Directors and several staff members. Information on board members and structure is not readily available on the groups' website. Based on an email recently sent to members there are four board members. Two General, a Programs Director, and the Chair. Carrie Lightfoot recently announced she would be stepping down as President and Chairman of the organizations' board. Her decision is related to family matters and not issues with the group. She intends to stay on as a mentor and trainer. The Board has announced plans to evaluate their current programs and mission to better serve women.
Mission and Purpose
According to the About section on their website, Carrie's purpose in starting TWAW was to "introduce you to the ins and outs of armed self-defense, gun ownership, gun safety, shooting skills and products for women shooters. We'll discuss everything from permits to holsters and we'll do it in a candid and concise manner. I created The Well Armed Woman, LLC to be a complete resource without fluff or frills for women gun owners of all ages"
The Well Armed Women accomplishes these goals through two distinct mechanisms. The local shooting chapters provide socialization and training for women all across the country and the website offers gear and reviews specifically for female gun owners.
Local Chapters
The Well Armed Woman Shooting Chapters are not-for-profits that provide in-person meetings and training for women. There are currently 345 chapters in 47 states. They report having over 10,000 members nationwide. Each chapter is run by a volunteer leader or team of leaders.
The Website
The Well Armed Woman's website and Facebook page provide a plethora of information. The quality of the information however, varies. We'll discuss that below. There are resources for training, conceal carry, gear/products, gun reviews, and survivor stories. It can be hard to find what you are looking for using the menu at the top of the website. The sidebar menu labeled 'browse categories' is much better for navigation.
The Good
The local shooting chapters are generally a great resource for women. They create an opportunity for women shooters to get together monthly for learning and range time. Each local chapter is run by volunteers, so the quality of the chapter is heavily dependent on those leaders. TWAW organization only offers general guidelines for the groups.
The survivor stories shared on the website are amazing. One of the ways the anti-2A groups control so much of the narrative is by sharing stories of loved ones lost to gun violence. The stories of people whose lives were saved by their firearm need to get greater exposure. Sadly this section is buried in the website instead of being front and center. Still, the stories are there and are occasionally shared on their social media.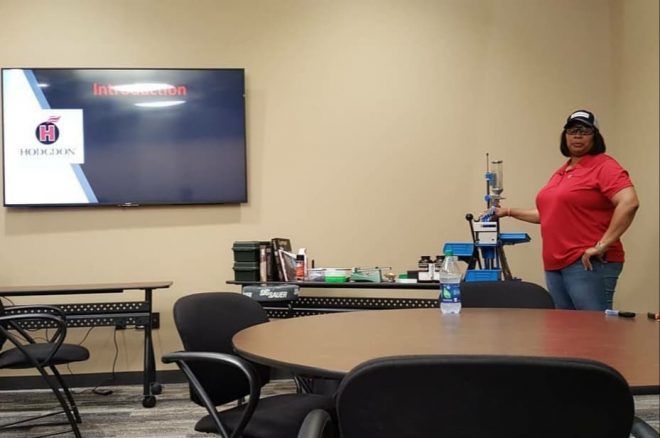 The Bad
While there are some great things about The Well Armed Woman, there are some bad things as well. The gun reviews are a mixed bag. On one hand it is nice to be able to read other women's thoughts on different guns. The problem is, most of these women don't have any serious training or knowledge about what makes a quality firearm. Often times these reviews boil down to "I like how it feels in my hand" or "It's easy to shoot" or God forbid "I love the color". It's also a fact that many of these women have never shot another gun besides the one they are reviewing. That's not to say they are all bad, there are just better resources out there (or right here at Primer Peak).
The heavy focus on merchandise sales is also a little concerning. We get it, no one here at Primer Peak is getting paid to do what we do. We do it because we love it and want to make the 2A community a better, smarter, more informed place. The vast majority of items we review were either borrowed, or bought with our own money. So we can appreciate the desire to make some sales to support the work (we have a Patreon and participate in Affiliate Programs too). However, some of the items The Well Armed Woman pimps, especially the holsters, are of poor quality. They seem far too comfortable forgoing quality information and products in order to make a sale.
The Ugly
Unfortunately, we have seen several examples of The Well Armed Woman giving bad, and sometimes outright dangerous, advice. A good example of the poor advice often given was a recent post they shared about traveling with a gun. The post featured an image of an incredibly cheap car holster with no retention. The information in the post was also lacking in important details. They failed to discuss the importance of knowing the conceal carry laws for each state you would be traveling through. The holster featured would also likely fail to retain the gun in an accident, creating an highly dangerous situation. After being called out by our own Managing Editor and a couple of others for the poor quality and bad advice, the post was deleted.
Conclusion
Despite some of the negatives, The Well Armed Woman is an overall positive organization. It is the only one of it's kind right now focused on educating women and it generally provides some good information. The local shooting chapters provide a great opportunity for women to connect with other female shooters. Just make sure to use good judgment when evaluating the information provided in meetings or online. Remember that the information given is only as good as the person giving it.