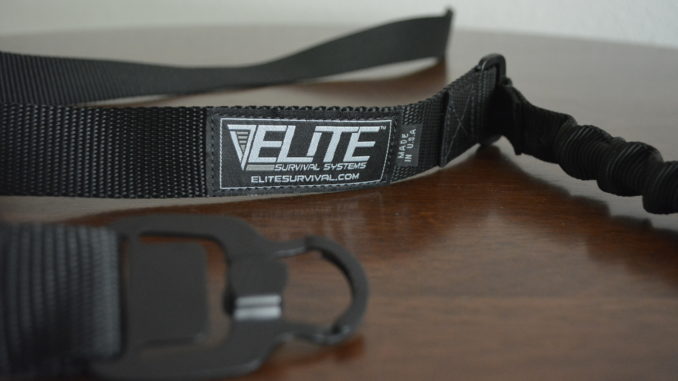 The Elite Survival Systems Shift sling offers an interesting hybrid of features with their two-to-single point convertible sling. While it may not perform as well as a specialized sling, it allows shooters to test the waters of both methods without breaking the bank. If you have yet to decide what style you prefer, give the Shift a serious look.
The Shift sling is convertible from a two-point sling into a single-point sling, allowing the user to test both methods without having to fork over the cash to buy one of each style. This versatility comes at a cost, however, as the Shift misses a few key features that you'll find on some of the competition.
I Go Both Ways
Keeping up with their penchant for adaptability, the Shift comes with two options for mounting hardware. Attached from the factory are steel HK style hooks, which are highly functional at the expense of high weight and being a bit dated. MASH hooks are also included in the packaging, which are what I have opted to use with my Shift. Both types are fairly universal in nature, though the MASH hooks have an edge due to their smaller profile.
Elite Survival Systems has also included a pair of noise dampeners to use with your attachment hardware. These are a nice addition that I don't often see from other manufacturers.
Other Features
As is common with single-point slings, the Shift has a section of bungee material near one of the mounting points. This allows for additional range of motion, for example when shooting from your opposite shoulder while slung. The bungee material provides enough resistance to snap back into place, but not so much as to require focused effort to stretch.
The Shift also includes a polymer buckle to act as a quick release in the event you need to rapidly detach yourself from the rifle. This buckle seems to be solid and stayed connected despite my best efforts to pull the two ends apart.
Two Point, Single Point, Low Point
One of the biggest failings of the Shift is its lack of rapid adjustments. With slings such as the Blue Force Gear Vickers, or the Magpul MS series, you will have some sort of tab connected to the sling. Pulling on the tab allows you to quickly tighten or loosen the sling, single-handedly, opposed to having to manually thread material through hardware as is the case with the Shift.
Another shortfall of the Shift is the construction. While I have no doubts about the durability, it is far from the most comfortable I have used, with the texture being not far removed from a seat belt. The Shift is fairly narrow, which isn't a problem during a short range trip, but after a long day on the range, a wider sling would do wonders for helping to distribute the weight of your rifle across your shoulders and neck.
My final gripe is that any excess material created by shortening the Shift is left to dangle in the wind. I don't think this would hamper the use of your other gear, but is aesthetically displeasing, and to me reflects weak attention to detail. One more thing to get in the way when I have enough to worry about.
In Conclusion...
Would I buy the Elite Survival Systems Shift? Probably not, but I'm a dedicated two-point sling guy, with three Vickers and one Magpul sling in my safe. Would I stop someone from buying one? Probably not, but I would ensure they knew how it stacked up to the competition.
The Shift compares well against other convertible slings such as the Magpul MS series; both being similar in price with their own pros and cons. For the shooters who haven't dedicated themselves to one style or another, I would encourage you to consider the Shift. It may not be the best of either type, but it holds its own in the hybrid realm.
*Writer's update 30AUG2018: This sling was provided to me free of charge for the purpose of this review.