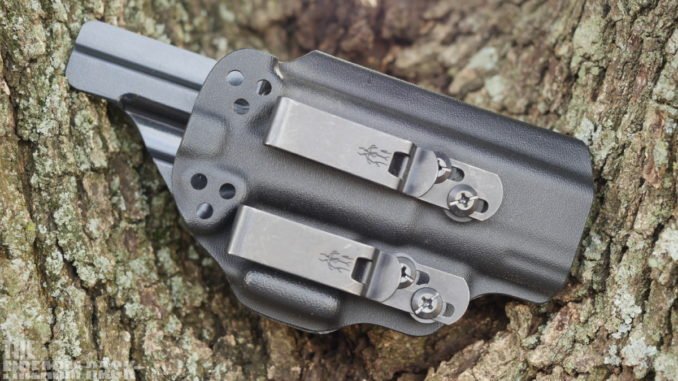 With appendix carry becoming all the rage, I thought it was time to see how the current crop of holsters had improved. The Tenicor Velo Glock 17 holster seemed to be one of the most forward-thinking designs, so I thought it had the best chance of converting me to appendix carry. I reached out to Tenicor and asked if they would be interested in us doing a Velo holster review and they were happy to sent one out.
My current appendix holster concealed a Glock 19 decently but had problems with printing the butt of the gun when I twisted around or raised my arms too high. I also felt the blood flow getting cut off to my leg after a long day of sitting down at work.
When I read about the Tenicor Velo holster's "wedge" design that caused it kick into the hip at an angle and sit out from the pelvis, I thought it might resolve my current holster problems. Thankfully Jeff at Tenicor graciously agreed to let me write a Velo holster review and sent one out at no charge.
The Velo comes in three Glock-compatible versions: a Glock 17 that also works with the Glock 19, one for longer Glocks like the 17 and 34, and a Glock 43 model, as well as other models for those who haven't seen the Austrian light. I pulled my 17 out of the safe to give the Velo a run for its money, since the smallest size accommodates both 17s and 19s including those equipped with red dots.
The Tenicor Velo's Construction
The Velo has a rock-solid set of belt clips with fingers curved back and under the gun belt, something I'd never had the pleasure of experiencing before. It provides an unparalleled platform and it's absolutely not coming off accidentally.
The inside-facing wedge pushed the muzzle of the 17 away from my inner thigh when sitting down and kicked the full-size grip into the hip. I easily passed off the Glock 17 as natural folds in the fabric of any shirt except for very tight athletics. It completely disappeared in button-ups. A full-size service pistol was now easy to carry all day incognito as an average-sized guy.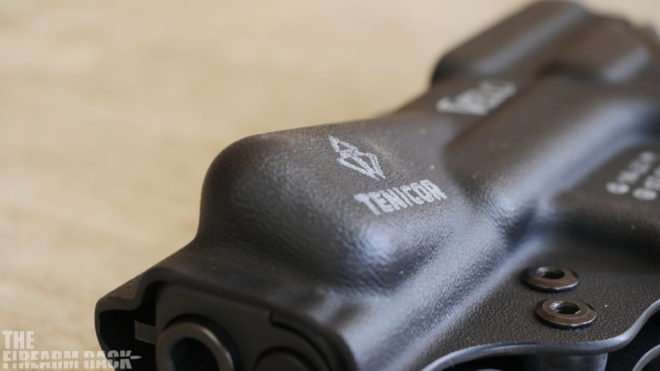 It's still an appendix holster though, so if you're new to AIWB or even transitioning over from an old holster like I was then prepared for a familiarization period of a week or two. After that, I didn't even notice its presence with one exception that would crop up in certain positions or after a very long day.
The Dark Side
The Velo has a small spine that separates your abdomen from the rear of the slide, presumably to minimize sweat contacting the metal parts. This is of questionable utility considering the Ragnarok-proofed Glock surface finish (no promises on the Gen. 5), and you will feel the thin Kydex protrusion more keenly than the rounded back corner of the slide when you're bending forward. An undershirt mitigates this issue but isn't an option in the scorching southwestern summer. I may end up removing it with a Dremel and file. Frankly, my old holster was superior in this area.
The Tenicor Velo's Judgment
The Velo holster is a great design that has clearly drawn upon the concealed carry experiences of a hard-working team.
If you repeatedly experience an issue with the upward-protruding spine, I'd personally advise you to modify it instead of going elsewhere. This killer combination of positives will be tough to find in another product on today's market.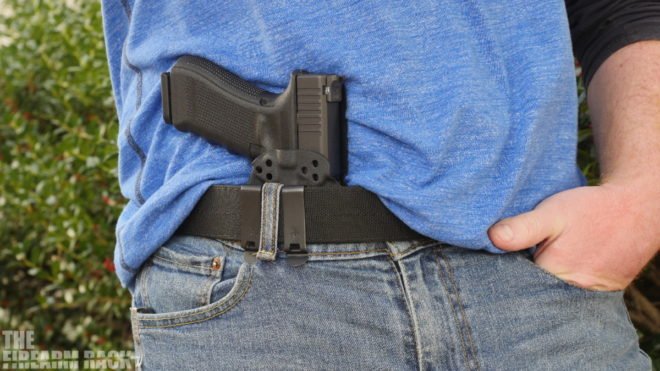 The Tenicor Velo carries an MSRP of $95 and is available for order on the Tenicor website HERE.
Affiliate Disclaimer: Firearm Rack is funded through direct donations and affiliate programs. Some links on FirearmRack.com are affiliate links. Using one of these links costs nothing extra, the retailer pays a percentage of the sale to Firearm Rack. Funding in this manner will assure that factual information is always first. If you would like our Amazon affiliate link or find more retailers on the Support Us page