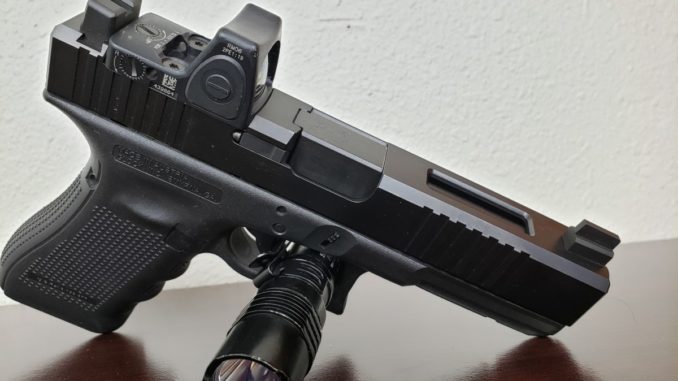 Enduring months of daily disembowelment at the hands of my Trijicon Bright and Tough suppressor height sights, I was ready for a change. I still wanted a solid option for backup irons, but something kinder on my tummy. Some friends on our Discord pointed me towards the less pointy MOS sights from Dawson Precision. Within a few days I had new irons on my RMR'd carry pistol.
Carry and Use
These sights are T H I C C, which is both a blessing and a curse. The rear sight is nice and rounded, along with being twice the thickness of my Trijicon rear sight. This relieves all pressure on the stomach during carry. I never developed any sort of discomfort or hot spots no matter the weather, activity level, or clothing style. From a comfort perspective, the Dawson Precision MOS are a godsend.
The front sight keeps up the trend of girth. It is more than four times the length of any other front sight I've used. I'm not totally sure why Dawson went with this, but it seems to be a mixed bag of results. For months I carried a Glock 17 in a Glock 19 size Tenicor Sagax Lux. The extra length on the front sight allowed for the rear of the front sight to be concealed within the holster. This prevents any sort of snagging during the draw. When using shorter front sights in similar holster configurations, I would repeatedly get snags on either my underwear or undershirt while drawing.
The one issue I've experienced with the front sight is it turning. Repeatedly the front sight would gradually rotate under recoil, despite being Loctited in place. Rotation was never substantial, but certainly noticeable. Despite this, I was still able to get hits out to 25 yards, although with a slightly obscured sight picture.
MOStly Good
One of the biggest issues I have with Dawson Precision MOS sights is their susceptibility to rust. Much like XS F8 sights, MOS are uncoated, leaving just the bare metal exposed. When carrying with these, I find myself brushing and oiling the rear sight at least weekly during hotter months. This does not affect function, but is an annoyance.
For MOS Glock users, these sights are something you should look into. If you use a Brownells slide, or have your slide milled, you might want to look elsewhere. Dawson makes these very tall, which is great for a lower 1/3 co-witness on an MOS gun. With my Brownells slide, they side at about 50-60% co-witness. This is an issue, as it substantially reduces the area in which I am able to see my reticle, even when shooting with both eyes open. Ultimately, this is why I am moving away from MOS sights outside of an MOS Glock.
Final Thoughts on Dawson Precision MOS Sights
Overall, Dawson Precision MOS sights are a solid option for use with an MOS Glock. If you keep up a regular maintenance cycle, rust will never be an issue. Comfort is unparalleled, and the sight picture is solid.
Dawson Precision offers several configurations of the MOS line. Variations are available for use with virtually every MRDS on the market right now, as well as shorter, irons only setups. Shooters have the choice of flat black sights, fiber optics, and tritium night sights.
MSRP ranges from $64.95-118.95 depending on configuration, with all options available now from Dawson Precision