When I was told I would be reviewing an action camera I was a little confused, being a firearm blog I am not really used to seeing electronics come up for review. After I got the Replay Prime X action camera in I understood why they chose to send us one for evaluation.
In a saturated action camera market, there are several choices that one could choose to record whatever they liked, some better than others. In the past, that choice was easy, buy the GoPro and be done with it. Replay has introduced a solid contender into the market that offers some unique advantages over the other offerings.
Before I get too far into things here are the specs from the Replay website. It is quite a lot to read through but I want to make sure I don't leave anything out.
Display
Wi-Fi enabled iOS/Android AppExternal HDMI display option (Click Here for ReView Field Monitor)
Removable Storage
microSDXC Compatible
4GB micro SDHC IncludedClass 10 or UHS recommended
Ports
Micro HDMI Output
-Live HD 1080p60 Video Streaming
-HD Video & Photo Playback, Thumbnail Display, Play/Stop, Skip Forward/Reverse, Menu On/Off
-3.5 mm Aux Audio Line-In with adapterStandard Mini USB
-Charge and Sync
-Composite Video OutmicroSDXC slot
– Backwards compatible with microSD, microSDHC
Power
Rechargeable Internal 1700mAh* Li-ion Battery up to 210 min (3.5 hr) Record Time*
Housing
Durable Aluminum Housing
-Black Anodized
-Round for 360º Mounting Rotation
-Impact ResistantBlack with Laser Etched Logos
-Easy Alignment
-Discrete PlacementO-ring Sealed
-Front and Rear Bezel
-Low profile Exterior ButtonsWaterproof 3 m (10 ft)
Wi-Fi
Free iOS and Android App
-Live Video preview to App
-Record and Camera control functions
-Advanced settings control
-Playback, copy videos and photos to your device and share them with Facebook, Instagram, and YouTube
-Delete photos and videos on the cameras memory card
Size
30 mm Dia. x 99 mm Length, 29.5 mm Mounting Dia.
1.18 in Dia. x 3.8 in Length, 1.16 in Mounting Dia.
Weight
99 grams (including internal battery)
3.5 ounces
Control
On Top
Power button: "On/Off", "Record, Stop, Playback, Clip File" Buttons with Vibration FeedbackOn the Back
Mode button:
-1080P, (1200P), 720P, (960P), Photo
-Mass Storage Device ModeFPS button:
-Video 120 fps, 60 fps, 30 fps,
-Photo Manual Shutter, 3, 5, 15, 30 Sec.
-LiveView UI On/OffFOV button:
-Video Mode, Super Wide 140º, Wide 116º, Narrow 70º
-Photo Mode, 16MP, 14MP, 12MP
Photo Mode
16 MP JPEG Photo 4608 x 3456
14 MP JPEG Photo 4608 x 3072
12 MP JPEG Photo 4608 x 2592
-Manual Shutter, Time-lapse Photo per 3, 5, 15, 30 sec
-Burst Mode, and Custom time-lapse duration available in Advanced Settings
Video Settings
H.264 Codec, Quicktime .mp4 file type
HD Playback, HD LiveViewBitrate Adjustment: High, Medium, Low
Exposure Control EV Adjustment
Auto Exposure Metering: Center, Average, Spot
Automatic White Balance
White Balance Presets
Contrast Adjustment
Sharpness Adjustment
Saturation Adjustment
Date and Time Stamp
Frame Per Second Control
Video Resolution
16 MP (4608 x 3456) CMOS Sensor1920 x 1080, up to 60 fps
1600 x 1200, up to 60 fps
1280 x 960, up to 60 fps
1280 x 720, up to 120 fps
848 x 480, up to 240 fps
640 x 480, up to 240 fpsNTSC 60/30, PAL 50/25, Cinema 48/24LiveView HDMI Output 1080p60, 1080p50
Optics
Hyperion CinePrime X Lens
T2.8 / ƒ/2.7 Natural Wide Angle
140 Degrees @ 1080P, 960P, 720P, Photo
116 Degrees, Available most resolutions
70 Degrees, Available most resolutionsFOV: Superwide 140º, Wide 116º, Narrow 70º2x Better Lowlight Sensitivity
1.3V/lux-sec Light Sensitivity
Lens Cover
Replaceable Aluminum Bezel and Glass Window
Audio
AAC and AC3 2-channel
48K, 16-bit, Auto Gain Control
Internal Mic Omnidirectional3.5 mm Aux Line-In with Adapter
Power Supply
5V +/- 0.5V / 1A-2A
System Requirements: PC Video Playback
Windows
Recommended minim system requirements
Windows® 7 and later
1920 x 1080 screen resolution
USB 2.0 Port, Mouse
VRAM 1GB
RAM 4GB
Macintosh
Recommended minim system requirements
Mac OS X 10.7 and later
USB 2.0 Port, Mouse
VRAM 1GB
RAM 4GB
The T&E model I got had several attachments and did not arrive in a retail package. As a result, I am unsure as to what ships with the Prime X. We can take a look at what they sent me though. Replay sent the camera in a nice zippered case that contained all the mounts and accessories. If you have used a GoPro you know that they aren't as thoughtful. When I had mine I had to find a bag to contain all the extra mounts and such. It is nice that Replay thought to include one. It is a bit of a tight fit with everything that they included though.
I laid all the mounts out on the table to see what options I had for testing the camera. They included several bases and four mounts, one fixed, one that had a ball swivel, one that attaches to a tripod, and one picatinny mount.
Here is the ball swivel mount, it was nicely constructed and is adjustable to line up some pretty cool shots. I admittedly didn't use this one because I didn't want to waste one of the double-sided tape pieces. I do think it will be a valuable asset for anyone wanting to mount it to a fixed surface that might not be parallel to what they want to capture on camera.
I put the ball swivel mount into the base to see how much height is added and found it to be not that much. Keeping the camera low to the surface mounted to would allow you to mount the Prime X camera in places you wouldn't be able to mount a GoPro.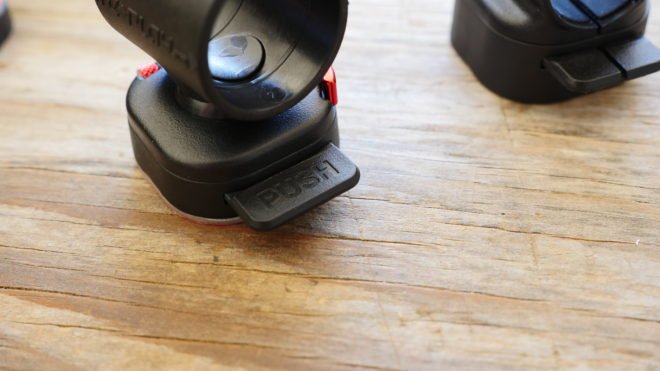 The bulk of the controls are located under a weatherproof cap on the rear of the camera. Replay saw fit to include a quick guide on the back of the cap. The back of the camera also includes a mini HDMI output, a USB connection that the camera can be connected to a computer with or charged from, and the Micro SD card slot. One large limiting factor I found was the lack of replaceable batteries, you only get 3.5 hours out of the internal battery.
The mount bases are offered in both flat and curved flavors. This is especially nice if you want to mount the Prime X to a helmet, in the past some mounting systems have proven to be a bit difficult to do so.
The low profile mount that was included was exactly that, very low profile. You don't have the aiming capability of the ball swivel mount but it does sit lower to the mounting surface. I can see this as being one of my go-to mounts.
Once I got to the pic rail mount I understood why they sent the camera to TFB. I mounted it onto my Sphinx SDP and plated with the position a bit to get it where I wanted. The mount is incredibly adjustable and by loosening one of the two Allen screws you can clock the camera so that it is parallel to the ground no matter what position on the gun it is mounted. The mount also swivels so it can be mounted on the right or left side with the camera hanging below the mount or above it.
Time to get shooting with the camera attached. It was light enough that it didn't really affect the pistol's balance.
With the Prime X mounted on the left side of the pistol I found it to be a bit in the way. It seems when mounting the camera on a pistol rail one should really mount it on the side opposite to the shooters dominant hand.
In the camera's current position I was forced to shoot with a teacup grip. Gross.
I made some adjustments to the mount to see if a high mount worked better. I was able to get a much better grip on the gun with it mounted in this position.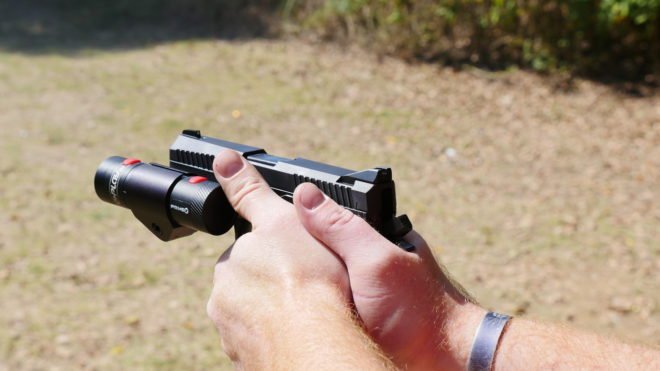 Here is some short video I shot with the Prime X. There is some footage of me shooting it on the Sphinx and some of it mounted on a 930 JM Pro.
I have to admit, I was a bit impressed with the camera. If you are looking for a low profile action camera the Replay Prime X might just fit your needs. Myself personally I think I might still go for the GoPro because of the number of accessories available, but the Prime X would be a close second. The Prime X carries an MSRP of $299 with a street price closer to $225. You can learn more by clicking here to be taken to Replay's website.
This post originally was run on The Firearm Blog - http://www.thefirearmblog.com/blog/2015/11/05/review-replay-prime-x-action-camera/