I, like many shooters of my generation, tend to prefer polymer "tactical" type of pistols, often overlooking modern classics like the CZ 75, Hi-power, PPK, or the P38. However, Phil changed that for me when he contacted CZ in an effort to broaden my perspective as a firearms enthusiast. Not long after, a CZ 75b arrived at my dealer's door.
I was surprised at how I had missed out on the CZ 75 for so long, especially since I love shooting handguns. I had tried the Witness compacts before, but they never felt right; I just dismissed them and didn't pay much mind to the CZ 75 pattern of pistols. I guess it was lucky that I was asked to write up this Cold War classic, because as soon as I picked the pistol up it felt at home in my hands. Unlike my friends' Witnesses, the CZ 75b felt well-rounded and complete.
The CZ 75b I received had their black Polycoat finish, which felt different from other firearm finishes. If the surplus pistols that recently made their way onto the market are any indication, it seems to be incredibly tough.
Before we get too far into things, like usual, here are the specs from the CZ website.
MSRP
$612
Firearm Type
Handgun
Purpose
Home Defense
Chambering
9mm Luger
Magazine Capacity
16
Frame
Steel
Grips
Plastic
Trigger Mech
DA/SA
Sights
Fixed Three-Dot
Barrel
Cold Hammer Forged
Barrel Length
4.6 in
Weight
2.2 lbs
Overall Length
8.1 in
Height
5.4 in
Width
1.4 in
Safety
Manual Safety, Safety Stop on Hammer, Firing Pin Block Safety
Name
CZ 75 B – 9mm
The CZ 75b arrived in a nicely laid out plastic case. The foam was nice closed cell foam perfectly cut out for the shape of the handgun. Nestled to the left of the pistol I found two beautifully blued, all steel 16 round magazines. Like most service type pistols, CZ saw fit to include some very basic cleaning implements, a Glock type poly brush and a plastic rod with a slot in the end for patches.
The two included magazines had a mirror-like finish applied making them feel like they are worth every bit of the $43.00 MSRP from CZ-USA. I still wish that the factory mag pricing was a bit cheaper, at $43 I am much less likely to buy several spares. Thankfully there are a metric ton of aftermarket options out there.
The safety on the CZ is a bit of a sore point for me. I have medium sized hands and had a hard time turning the safety off when in firing position. When the safety is in the up position it prevents the slide from moving much like the 1911.
The front sight has an interesting attachment method, the sight is pressed into a forward facing dovetail and secured with a roll pin driven through a notch in the front sight.
The CZ 75b shipped with a set of three dot sights that I found easy to acquire quickly. In this photo, you can see the marks on the frame and slide that you line up to take the pistol down for cleaning.
Take down is pretty easy, align the marks on the slide and frame then drive the slide stop pin out, after that the rest of the process is exactly the same as just about every other pistol out there.
With the slide on top of the frame, you can really see the slide rails that ride on the inside of the frame. You also can see the firing pin block (the little black circle) that ads that b designation to the CZ's name. It is my understanding that this was the only change from the older CZ75 pre-b model. I am sure you guys will let me know if I overlooked other changes, I have faith.
The locking lugs are very similar in appearance to those on a 1911. I found the CZ to lock up nice and tight like a high end 1911 would. Some shooters have complained about the machining marks on the slide, I honestly didn't notice any issues created by them and I didn't feel that it detracted from the overall quality of the pistol.
The cold hammer forged barrel is super tough. Built to persevere in the most hostile of climates in the hands of soldiers (we all know how well they care for equipment) the barrel will remain more accurate than most shooters much longer than most other service pistols.
Some have remarked that the CZ looks a lot like a Hi-Power, I can't say I disagree. I prefer the trigger on the CZ, but the Hi-Power's safety is much easier for me to turn on and off. I wish the CZ's safety was more accessible, but I understand that it is not intended to be carried cocked and locked so keeping the safety out of the way of a holster was the right move. As a recreational shooter I would have preferred a more proud lever.
The trigger was a touch gritty and had a small bit of creep in single action with a touch of overtravel, the double action pull was long and heavy like almost all double actions are.I understand that over time, the CZ's trigger gets better. I guess I will just have to shoot it a lot more to find out. Darn.
Using my trusty Lyman trigger gauge I tested the single action, half cock, and full double action pull weights. I wasn't surprised with the results as they were pretty typical of a service pistol.
Single action was under 5 pounds at 4 pounds 15 ounces.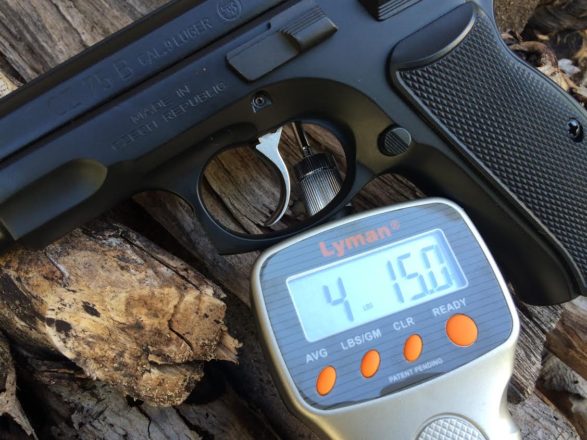 The half cock position provided more resistance at 9 pounds 5 ounces, not too bad for a double action.
The full double action pull was a bit weighty at 10 pounds 14 ounces. Yikes! That could give your trigger finger a bit of a workout!
I really enjoyed how the full sized CZ fit into the hand, it felt natural. Other than my gripe with the safety I was rather pleased. Recoil wasn't too bad, you can see that muzzle flip is about what you would expect out of a 9mm combat gun. I imagine that the CZ's hefty 2.2 pound weight had something to do with that. I don't really mind the weight because I am not planning on carrying the CZ 75b and the weight means this gun is built like a tank. The CZ's extractor also doubles as a loaded chamber indicator protruding from the slide and allowing you to identify a loaded chamber by running your finger over the extractor to feel the raised edge.
Even though the trigger isn't of match quality I didn't have any issue hitting a 4.5″ hostage swinger on one of our steel targets repeatedly. The sight picture was easy to pick up quickly and the CZ 75b pointed naturally.
A quick accuracy test at 10 yards resulted in better than combat levels of accuracy. I did pull one shot, but the rest of the group was pretty impressive. I have said it in the past that shooting groups with handguns is not something I practice a lot and should do so more, I forget how rewarding it can be to get a decent group out of a gun.
Overall the CZ 75b proved to be a great shooter and a fantastic value. I am a bit sad that I haven't had an opportunity to shoot one until now. As a self-proclaimed handgun guy, the CZ75's absence from my collection was inexcusable. Just like the last pistol I reviewed, the manufacturer is going to get a check back instead of a gun. It seems this job is going to run me into the poor house at this rate. I think I may have caught the CZ bug and have found myself perusing my favorite gun auction site in search of a very early one or maybe even one of the very cool SP-01 Tactical to add to my Sphnix SDP Compact and my new CZ 75b.
I put about 600 rounds downrange with the CZ 75b and it never hiccuped or gave me any problems. It really displayed service pistol like reliability.
The MSRP of the CZ 75b is $612 at the time of this writing, but the street price found with a quick Google search resulting in finding the gun in the $550 dollar range, a pretty good value for a gun built as well as this one is. You can learn more about the CZ 75b at CZ's website here.