After receiving the Taurus 856 TORO for review I needed an optic to go on it. My go-to was the Holosun 407K thanks to past experience. Unfortunately, I wasn't able to get a proper zero, as the Holosun lacked enough elevation adjustment. This experience wasn't a one-off, as several other shooters report the same problem with their Holosun and 856 combinations. This led to me to seek out alternatives, with the Primary Arms MRSc presenting an affordable option. How has the Primary Arms MRSc compared over the past several months?
Construction and Use of the Primary Arms MRSc
The Primary Arms MRSc is a fairly standard pistol mounted optic. It features an open emitter, with screws going through the body to attach it to a slide or mount. Using a Shield RMSc footprint, the MRSc should fit on most slimline optic cuts, and the Taurus 856 TORO.
Battery Life and Function
The Primary Arms MRSc gets its power from a single CR2032. This is loaded into the optic directly through the bottom of the MRSc, much like the Trijicon RMR. There is no sealing plate here, though I cannot speak to its resistance to moisture. Regarding battery life, Primary Arms claims 40,000 hours in their manual, and 25,001-50,000 hours on the MRSc product page. This of course will vary widely based upon your brightness setting.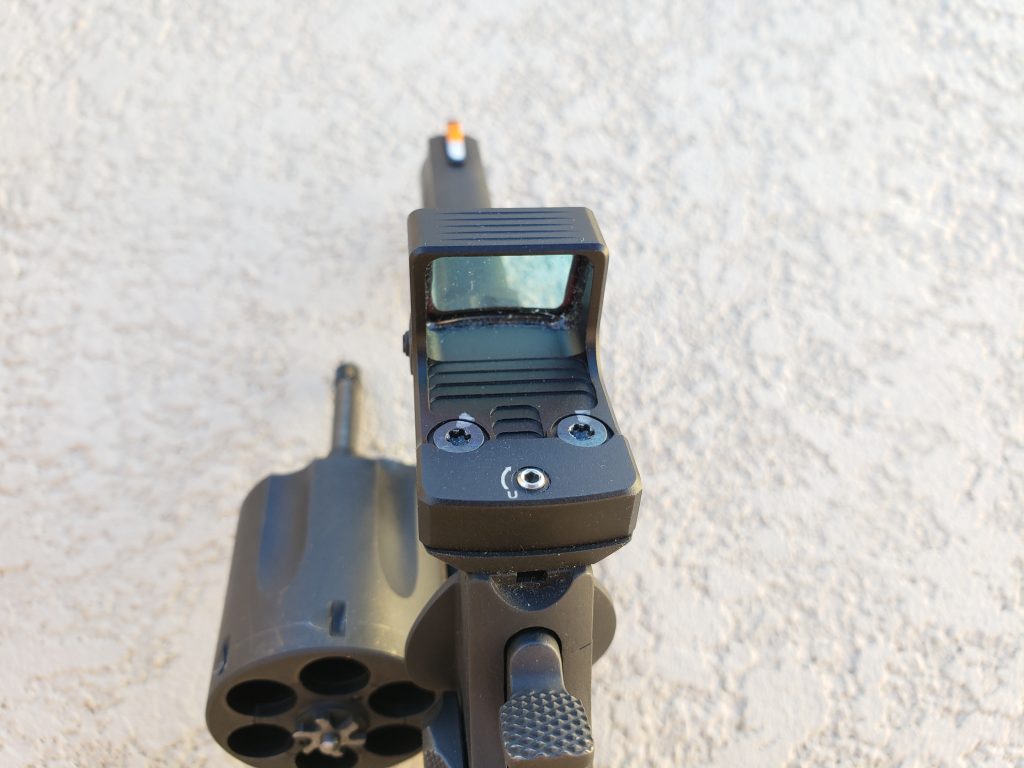 The optic features on auto-off function which activates after 16 hours. I rarely shut the MRSc off manually, instead relying upon this feature, which reliably functioned throughout review. There is no shake-awake technology here, so you'll need to press the "+" button to turn on the dot when off, or keep auto-off at bay.
Controls and Adjustments of the Primary Arms MRSc
Controls are very straightforward on the Primary Arms MRSc. There are two brightness adjustment buttons, one on either side of the optic. The left side features a "+" button to increase brightness and activate the optic. Pressing the "-" button on the right side will decrease brightness, and holding it for several seconds will shut off the reticle. These buttons have positive clicks, both tactile and audible in nature. Each press gives a noticeable change in brightness, with moderate steps up and down to help find an appropriate level.
The MRSc remembers your last brightness setting upon activation, which is a nice feature. That said, always verify your brightness before strapping the gun on for the day. With 10 brightness settings, users should be able to find one appropriate for their situation.
Adjustments
The windage and elevation adjustments are probably my biggest complaint on the Primary Arms MRSc. These are simply setscrews, with no clicks whatsoever to discern adjustment. Primary Arms includes a small wrench to make adjustments, so you'll want to keep that handy in your range bag. While I was able to get the gun sighted in at 25 yards, making precision adjustments is very difficult. There is a total of 60MOA of adjustment on the MRSc, with 30MOA in either direction. If I could make one change about this optic it would be to make it click-adjustable.
Reticle and Glass Quality
I was very surprised at the quality of the glass in the Primary Arms MRSc. The glass is incredibly clear, well above any Holosun offering, though not quite to the level of Aimpoint. There is very slight magnification, and a minor amount of distortion near the top of the housing, but nothing to impact function. The 3MOA reticle is incredibly crisp, being one of the finest dots for my eyes to date.
Both of these features make the MRSc very pleasant to get behind. I'm extremely impressed in these regards, especially for the price the MRSc goes for. There are plenty of more expensive optics who could take note to improve their glass and emitters to this degree.
Range Time with the Primary Arms MRSc
The Primary Arms MRSc spent its entire life atop my Taurus 856 TORO for this review. Range time consisted of my regular practice and at least double the round count in dry practice. Shooting is a mix of slow-fire accuracy focused targets, and drills such as the Bill Drill and Super Revolver Test. Brightness has been perfectly suitable for the direct Nevada sunlight during Summer. Below is the total round count as of the time of this writing.
Rounds fired: 1,205
10x Inceptor 77gr ARX
10x Hornady Critical Defense Lite 90gr FTX
21x Critical Defense 110gr FTX
4x Federal American Eagle 130gr FMJ
5x PPU 130gr FMJ
25x Fiocchi Range Dynamics 130gr FMJ
5x PMC Bronze 132gr FMJ
27x Federal Gold Medal Match 148gr Wadcutter
50x Winchester Train & Protect 158gr LSWCHP
50x Federal American Eagle 158gr LRN
834x Lawman 158gr TMJ
23x Federal Punch 120gr +P JHP
100x Remington UMC 125gr +P SJHP
20x Federal Hydra Shok Deep 129gr +P JHP
2x Federal HST Micro 130gr +P JHP
19x Speer Gold Dot 135gr +P JHP
Much to my surprise, the Primary Arms MRSc maintained zero despite the lack of click adjustments. Mounting screws also stayed secure, despite some differences in geometry between what Taurus includes and the shape of the MRSc. While not abused, I did repeatedly get the gun and optic too hot to touch, which the dot survived without issue.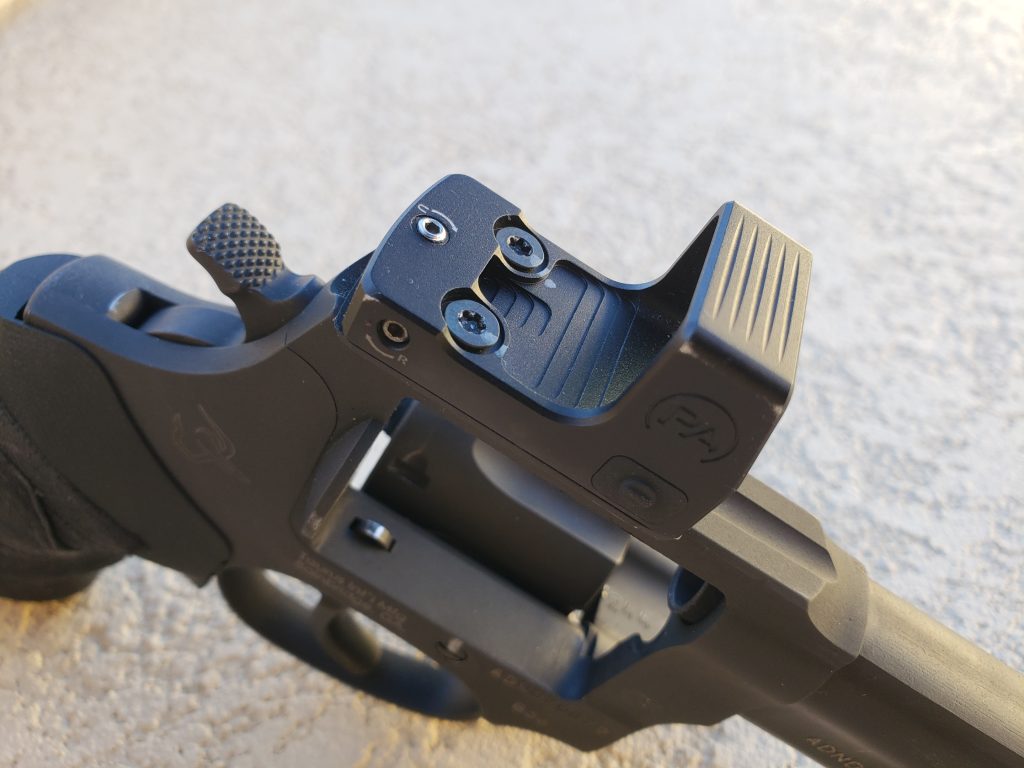 Having spent its life on a revolver, I cannot comment on the MRSc's ability to withstand forces associated with the reciprocating slide of an autoloading pistol. That said, it appears to be perfectly sufficient for life on a revolver or carbine.
Final Thoughts on the Primary Arms MRSc
Overall I am very impressed with the Primary Arms MRSc. While I would like to see changes made to the zero adjustments, I don't have many complaints, especially for the price. If you're looking for an inexpensive red dot to put on your 856 TORO or a carbine for competition or fun, consider the Primary Arms MRSc.
MSRP on the Primary Arms MRSc is $149.99, and you can find yours >>HERE<<
Support My Work
If you made it this far, thanks for reading! Writing isn't my full-time profession, and nearly everything I do comes out of my own pocket. Between ammunition, tuition, range fees and more, expenses add up fast. If you like what I have to offer, consider making a donation to my Patreon.
Every bit helps bring more work like this to you, and contributes to shortened timelines or more in-depth work on my part. You'll also have more direct access to me, offering suggestions for future projects, looking behind the scenes, and getting early access to some content. You can find my Patreon >>HERE<<