The Vanquest FATpack 4x6" is not a new release. This particular one has been my go-to IFAK for quite a while. As such, I wanted to ensure I got a solid review into the world. There are other reviews of the Vanquest Gear attempt at a medical pouch, but most are first impressions and short term. Here is my long term, 18-month review of the Vanquest FATpack.
FATpack Features
Disclaimer, this product was provided for free from Vanquest.
The FATpack I have is one of three sizes. I opted for the 4" x 6" version in red as I intended this to be a kit I could keep in my everyday backpack or wear to the range.
Also available are a 5" x 8" and a 7" x 10" model, depending on your need. In a world where tactical pouches are all the rage, I'm very happy they offer red in addition to things like flat dark earth or multicam. I hardly LARP anymore, and having something that overtly screams "medical pouch" is very welcomed.
On the outside are a pair of elastic bands that are advertised as being for tourniquets. I've found they work equally as well for trauma shears or other such gear.
With a 1000D Cordura construction and #8 YKK zippers, this pouch is certainly built to last. The internal pockets are also constructed out of rip-stop material. These pouches are used in an emergency, after all. When the blood is pumping, equipment isn't generally plucked out carefully.
The back panel is MOLLE to allow for various mounting options. Vanquest also sells MOLLE Sticks that will allow you to attach them to a chest rig or MOLLE belt. They are also quick-release, allowing you to detach the pouch entirely if desired. I have also worn this sideways and threaded a 1.5" gun belt through the loops.
Long Term Use
Firstly, all the photos you're seeing in this article are from about 18 months of use on a belt, stuffed in a backpack, or fastened to the outside of my hiking gear. If the pouch looks like it's in excellent condition, your eyes are not deceiving you. The materials have held up very well.
I heavily prefer IFAKs with a rip-open design. The Vanquest ticks that box wonderfully. The handle at the top is intended to be the grip for pulling the pouch open. The zippers have been used and abused often and I haven't encountered a hang-up yet.
Part of what keeps things nice are the leverage tabs sewn onto the bottom of the pouch. They are large enough to grab with gloved hands, making the rip-open procedure smooth. I have a similar design on a 5.11 UCR IFAK pouch and the procedure isn't nearly as smooth.
Given a time machine, I think I would grab one size larger. There is a 5" x 8" version that can fit more items. As you can see, my packing list for this IFAK is pretty sparse as far as medical pouches go. That's due to the space constraint. The 4" x 6" works wonderfully as a bleeder kit, but I would advise more space if looking for one stand-alone IFAK.
Organizing that equipment, however, is very easy. The number of small straps and elastic bands to secure items are a joy. I have a pet peeve with IFAKs often being rebranded GP pouches. Looks materials just never seems to work out the way people think it will in my experience.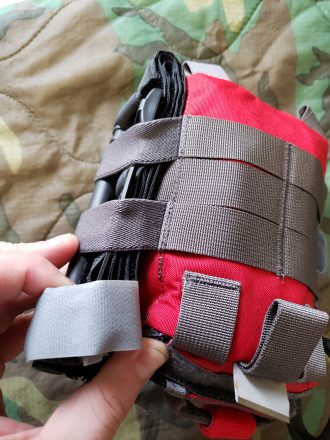 One Complaint
There is one gripe-worthy bit, though. And it's a complaint I have with most tourniquet holstering systems. The clasp on a CAT loves to get hung up on elastic. The FATpack has some pretty taut elastic at that. I found myself staging the CAT so that the clasp was always on the bottom end and the buckle already under the top elastic. This was how I found I could pull the CAT quickly without getting hung up most often. Yet, it still got hung up occasionally.
Pictured to the left you can see where the elastic bulges out as I start to pull.
This is a nit-pick, of course. You can muscle your way through that elastic if you really wanted to. And in an emergency, you probably really want to.
Conclusion
It's become my go-to IFAK over the last year. Considering I'm a guy with a dozen or so IFAKs, that's saying something. It can quick release. It lays completely open. It rips-open to use. It secures all your materials. It fits anywhere you put it.
For being under $40, it's a home run. Of course, it doesn't come with any medical materials for that price. The cost will free up quite a lot of budget for you to chase down that tourniquet and combat gauze, however.
If you are in the market for an IFAK, you can find the Vanquest FATpack 4" x 6" Pouch here, currently listed at $31.49.