The Magpul Tejas "El Original" was not my first gun belt, but it may be my last.
One often forgotten, but essential piece of equipment for anyone who carries a gun is a proper belt. While any old leather strap can keep your pants from falling down, they don't do much in the way of supporting your pistol. The thin material of your average belt sags and bends under the weight of a gun, reducing not only concealment but also retention and comfort.
Many shooters opt for belts constructed of nylon and kydex, but those aren't always appropriate depending on the situation or attire. These do an excellent job at supporting gear but scream "I have a gun" and can be uncomfortable. Surprisingly, Magpul offers an alternative with their line of Tejas gun belts.
Construction
The Magpul Tejas "El Original" features a bullhide leather exterior reinforced with a polymer interior for added rigidity, making it ideal for carry. The hardware is chrome plated and requires no tools to remove. Magpul offers three color options on the "El Original"--black and two shades of brown. Replacement hardware comes in both brass and pewter for those wanting to color coordinate their outfit.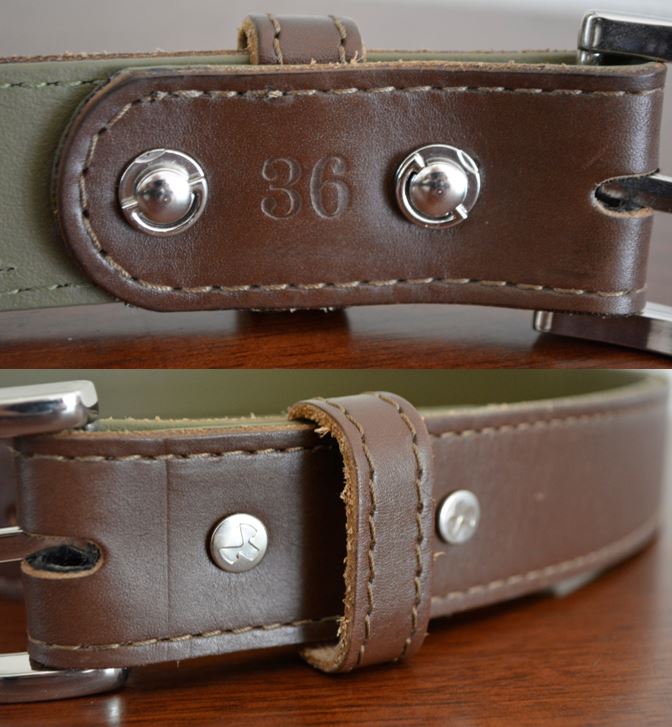 Magpul offers two other belts, each with unique colors. "El Burro" is solely constructed from a reinforced polymer, making it 100% waterproof. "El Empresario" features full aniline leather in addition to the polymer reinforcing, and is 1.25" in width. This makes "El Empresario" the thinnest belt in the Tejas line.
Every belt has seven sizing choices, from 32 to 44. This range may not work for some of our more skeletal (or robust) readers, but most should find one to fit them. My Magpul Tejas "El Original" is the same size as my other belts, so no additional considerations for fit are necessary.
All of Magpul's belts are made in Texas if that matters to you.
Putting It To Work
After over a year of daily wear, the only wear on the belt are some creases in the leather from donning and doffing, as well as light impressions from the buckle. All of the hardware looks brand new, the stitching hasn't frayed, and the leather is smooth and pliable.
The Magpul Tejas "El Original" finds an ideal cross between form and function. Having worn it through everything from ECQC to my business-casual day job, I can assuredly say that this belt has never given me issue. No pinching or discomfort, no sagging or sliding. Monday through Friday my coworkers compliment the fine leather and shining buckle. On the weekends my Model 10 and speedloaders ride securely on my hip.
Even with the ability to support heavy loads, the Magpul Tejas "El Original" remains comfortable and able to bend along with your body--something that my previous gun belts lack. I highly recommend this belt to anyone, whether they carry a firearm or not.