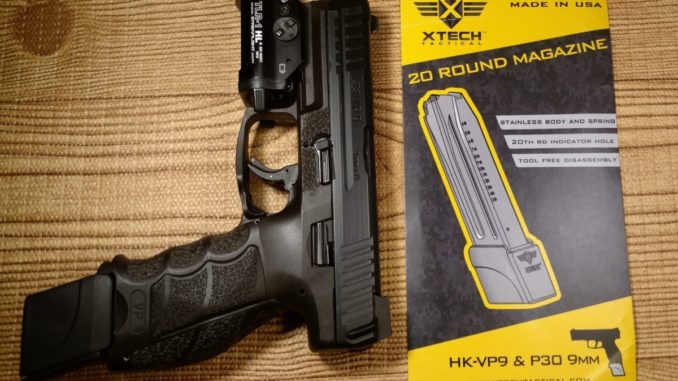 We all like a good value. Two for ones, rebates, and sales really get us, and our wallets going. XTech Tactical, being ones to offer a good value, sell a 20 round magazine, at a price that is considerably less than buying a magazine, and an extension separately. Admittedly, this is gonna be a fairly cut and dry review, as both of these separate components have already gotten my treatment.
Features of the XTech 20 Round Magazine
The 20 rounder from XTech is pretty easy to describe; take their 15 round HK mag, and put the +5 round extension on it. It's as simple as that. The mag body is the XTech standard one, along with one of their followers. The spring and the two piece extension are both from the +5 kit.
I see you in there, little guy.
We can now see that the magazine is full, through the 20th round witness hole.
Although not prerequisite reading, my reviews for 15 round mag, and the +5 extension show all of the features in great detail. The 15 Round XTech magazine review is here, and the +5 extension review can be found here. Although both of these parts rated fairly high in my book, how did the complete package work?
How Well Does The XTech Tactical 20 Round Mag Work?
It worked flawlessly. No malfunctions, no hiccups of any kind.
Much like the aforementioned 15 round mag and the +5 extension, the 20 rounder was tested in two different VP9s and a P30L. All guns ate rounds just fine and locked open when they ran dry. The mag dropped free every time that the release was hit, and the slightly added weight from the extension only aided in the magazine coming out of the gun. My 20 rounder hit the deck nearly every time and did not break, crack, or obtain serious damage.
Over the testing period, I put about 600 rounds through the magazine. I tested using Federal 115gr, to Winchester NATO spec 124gr, and some Federal HST 124gr. I did not have any malfunctions with any of the guns, regardless of ammo.
Where To Find The XTech Tactical VP9/ P30 20 Round Magazine
All prices are current at the time of publication. Please click the link to see the most up to date pricing.
Is The XTech Tactical 20 Round Mag Good?
Yep. I hate to sound like a broken record, but it works just as well as the other XTech HK mag products that I've tried out. The 20 round magazine retails at $49.95, which is about 20% cheaper than the OEM offering. XTech has managed to tap into that Obendorf recipe of the HK secret sauce. For the money, I'd take these over the OEM 20 round mags.
The XTech Tactical VP9/P30 20 Round Magazine was provided for Test & Evaluation by the manufacturer. Ammunition was purchased at full cost by the author.