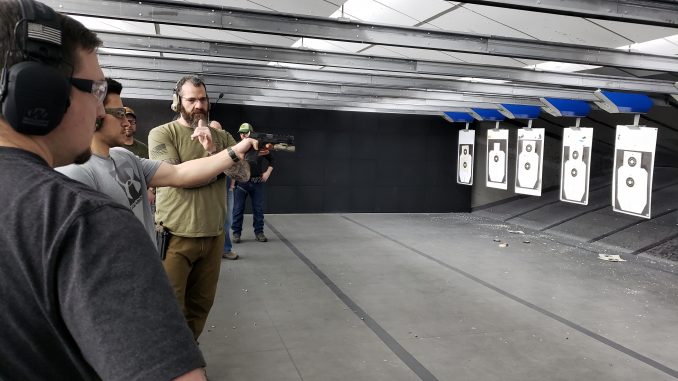 Steve Fisher of Sentinel Concepts is one of the giants in the firearms training community, and not just because he's taller than my dad. Having briefly met the man a few times during Shot Show, seeing him on innumerable podcasts and videos, and reading several AARs, he was on the shortlist of instructors I wanted to learn from. How does his courseware live up to my expectations?
Weather
Weather was cold, with temperatures dropping down to -25 with snow and wind. Luckily this was only a factor when moving from my car into buildings, as the course took place inside the Vortex Optics facility. In there, things were comfortable, allowing shooters to shed any cold weather gear they'd brought along.
Equipment
Throughout class I used my EDC gen 4 Glock 34 with an Aimpoint ACRO. This was carried in a KSG Armory Halcyon, with spare magazines in Esstac Kywi and HSGI Taco pouches. Magazines were topped with extensions from Shield Arms, Dawson Precision, Henning Group, Springer Precision, Strike Industries, and Zev Technologies.
Student's guns include a CZ P-07, several Glocks from 26 to 17L size, Smith & Wesson M&P, CZ-75, SIG P365, Nighthawk 2011, Roland Special, SIG P320. There is a mix of AIWB, Safariland duty holsters, and level 1 OWB holsters.
Personnel
15x Students. Careers include IT, real estate, auto mechanics, college students, unemployed, marketing, engineers and more. A handful of students are current or former military and current law enforcement. One student has no formal training outside of their local conceal carry course before coming to class.
Day One
Classroom Academics
The first training day starts in the classroom, beginning with some diagnostics.  Many issues are primarily a mental block which can be remedied simply by relaxing. Grip is a large focus throughout the weekend, ensuring shooters maintain consistent finger pressure and velocity of trigger press. Grip, trigger, sight verification. Next we move onto a discussion about red dot equipped handguns. From here we go into being intelligent shooters, then cover our safety brief and a quick Q&A. After roughly 25 minutes we move to the range.
Range Time
We start off on the range with empty guns to establish a baseline with our fundamentals. Steve follows a consistent format throughout the weekend; he demos a technique, then each shooter individually performs said technique under the watchful eye of Fisher, and finally the group performs together. This allows for each person to get subtle-to-significant tweaks. These tweaks cover everything from grip, stance, trigger and recoil control, magazine changes and more.
Shooting is done to maximize our time and ammunition. Steve provides a substantial amount of dry fire, paired with low round count drills and par times. Every shot counts, and we stress the importance of not quitting during a course of fire. Lecture is in depth in certain areas, and beautifully simple in others. In one moment we hear the science behind how our eyes respond to stimulus and how our body reacts. Next thing you hear is Steve's no-nonsense "put the box into the box" explanation of pistol reloads. This isn't to say that we take shortcuts, rather that we avoid overcomplicating things.
Post-Lunch Training
At midday the group takes a non-working lunch to relax and talk things other than guns. After this short break we return to working fundamentals. One of the more interesting techniques involves holding our pistol with just our thumb and trigger finger, firing at 5 yards. This is done to demonstrate how flaws in our grip can lead to reduced accuracy. Nearly every shooter on the line performs better here than with a traditional two-handed grip. Our next drill is 25 yard slow fire, 10 rounds in 10 minutes with three repetitions. My scores are somewhat low, with a 48, an 84, and a 77.
Even though everyone is using either a service size or compact pistol, Steve gives us words of wisdom for use with mouse guns, as well as rifles when techniques translate across multiple types. This leads into reloading and stoppage clearance drills. The day ends with a single B-8, firing 10 rounds in 10 minutes at 10 yards. I walk away with a decent 97-3X.
Day Two of Sentinel Concepts Handgun Employment
Range Time
Day two of Sentinel Concepts Handgun Elements starts on the range with a recap of the previous day's lessons and then some dry fire. Our first shots are10 rounds cold on a 25 yard B-8. I manage to hit a solid 88.
Fisher pulls down one of our targets to explain the versatility of the B-8 bullseye. We discuss similarities between the 5.5 inch black circle with the vital areas on people, along with its similar size to a USPSA head box. Folding in the sides of the B8 to be flush with the black creates a target nearly identical to a USPSA A-Zone.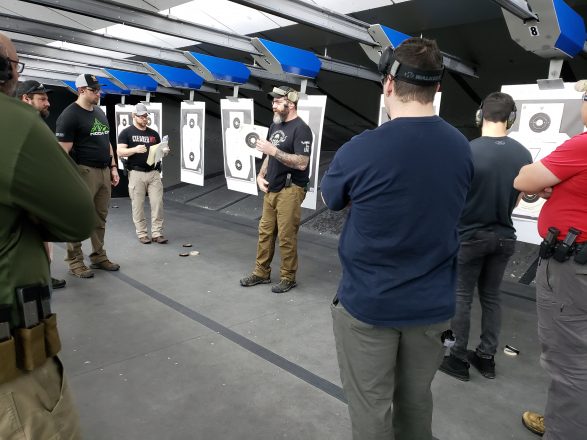 Our next drill is the Super Test. Fisher's scoring is anything out of black counts as a miss with black as full value. My performance here is lacking, which becomes a trend throughout the rest of the day.
11.76 with big flinch, 6.95 with two in 7 ring, 3.49 with 3 miss (2x in 8 ring, 1x in 7 ring)
240 with Fisher scoring, 272 traditional scoring.
Lost control at 5 yards. Weak support hand grip and overrunning headlights.
We re-baseline with a 15 yard slow fire after speeding  at the end of the Super Test. Snagging me a 98. Once we've accomplished this the class goes over ready positions, and their advantages. A couple of drills follow, and then we go into positional shooting. Standing, kneeling, double kneeling, and supine. I recommend knee pads for this, as taking a piece of brass to the soft part of the knee is a little unpleasant to say the least.
Our last three drills cover strong/weak hand shooting, an eye tracking drill using staggered targets, and Fisher's individual qual. I won't give the details of Steve's drill, but it's not easy. I went full Ricky Bobby on it, losing control, and completely failing. Sometimes our failures are our best learning moments, and I definitely won't forget that any time soon.
Final Thoughts on Sentinel Concepts Handgun Employment
This was a fantastic class. Steve's teaching method is great, and every moment of class is meaningful. Steve is highly knowledgeable and does an awesome job at citing his sources from folks like Pat Rogers, Ken Hackathorn, and more. Even with a wide variety of skill across all shooters, Fisher was able to provide effective feedback to everyone, ensuring nobody became uncomfortable or bored during class. As an added benefit, our round count was reduced from the online listing, to help reduce the pain of the current ammo shortage.
I plan on training with Steve Fisher in the future. If you're safe and comfortable drawing and holstering your pistol, you should check out this class. I highly recommend it.
Check out Sentinel Concepts on their website >>HERE<< and on Instagram>>HERE<<
This slideshow requires JavaScript.