Sidecar style holsters are an immensely popular option for conceal carry. After trying two of the leading options, in T.Rex Arms and G-Code, I was left unimpressed. Fast forward a few years and a new contender rockets in popularity. This new contender is Tier 1 Concealed (T1C). Setting themselves apart from the norm, their Axis line of holsters lash the holster and magazine carrier together with cordage. The theory behind this is that the added flexibility improves concealment and comfort. Despite previous issues with sidecar holsters, I want to put my money where my mouth is. How does the Tier 1 Concealed Axis Elite stand up to the competition?
Construction and Design
The T1C Axis Elite is an appendix carry holster setup in the popular "sidecar" configuration. In short, the spare magazine carrier is physically connected to the holster itself. For a more detailed look into the type, check out Why Sidecar Style Holsters Suck. Buyers can select handedness, weapon light compatibility, a wide variety of colors for holsters and shock cord, sweat guard height, options for threaded barrels and extended magazines, and belt clip style.
Configuration
This specific model is configured for Glock 34 with a Surefire X300U and an Aimpoint ACRO. Sweat guard is mid ride, standard belt clips, with a standard capacity spare magazine, in Arctic White and black shock cord. Pricing as configured runs $134.99 as of my purchase in mid 2020 for review.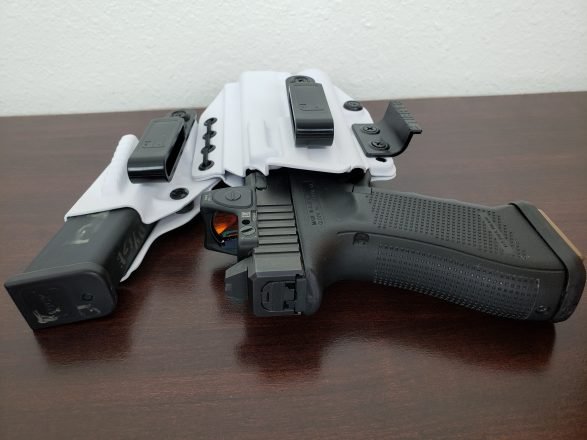 Construction is excellent, the guys at Tier 1 certainly know how to make a solid holster. Edges are clean and smooth, as are all the lines on the holster. Blocking is such that extended controls should be no issue. The mouth of the holster is slightly flared, allowing for easy re-holstering. Muzzle ends of the holster are closed.
The most stand-out feature of the Axis is its bungee cord attaching the holster and magazine carrier. This helps to improve concealment and durability compared to one-piece variants, allowing the two pieces to flex under movement, unlike traditional sidecar designs. However, this still necessitates larger holsters and magazine carriers compared to traditional setups, which reduces comfort and mobility.
Wedge and Claw
The T1C Axis comes standard with a large, screw-on claw on the gun side, and a molded-in "concealment ridge" on the magazine side, which acts similarly to a claw. The concealment ridge is an interesting design, and functions well, though there is no way to adjust its level of intensity. There is an option for a wedge from the factory, for an additional $15+, which I opted to skip.
Retention
Retention is highly adjustable for both the gun and the spare magazine. Both can be modified to nearly bucket levels of looseness or vise-like tightness. Retention stayed consistent throughout the review process despite hours of dry practice. There is no distinct "click" when the pistol is fully seated, but this is perfectly fine by me.
Mounting
Belt loops are relatively standard plastic clips emblazoned with the Tier 1 Concealed logo. Both clips are adjustable for ride height, allowing for a relatively large degree of customization. T1C also offers the Ulticlip and a special version of Discrete Carry Concepts clips for an additional charge. I opted to use the standard clips to represent what I typically see bought by others, though I'd recommend shooters use DCC clips for extra security.
This slideshow requires JavaScript.
Daily Use
I typically carry holster for a minimum of two weeks during the review process. Unfortunately I was not able to accomplish this with the Axis Elite due to severe discomfort. I managed roughly five, eight hour days of wear. Timeframe was May 2020.
During this time I took several 2.5 mile walks, and a few short hikes of 2-4 miles. I wore the Axis during my 1 hour commute, along with up to 9 hours at my desk during work. The first day I wore the holster for roughly 9 hours, and immediately had rubbed my stomach raw with the spare magazine. The fleshy space between the leg and groin was also raw from the bottom edge of the holster. To cut short comments about my physique, which are commonly used to discount my opinion, at the time of review I was 6'1 and 205 pounds. These are problems I've never experienced with standard configuration holsters and magazine carriers, even when at greater weights.
This slideshow requires JavaScript.
Of note, screws on the Axis Elite rusted after 48 hours of wear. I'm not sure if I got a bad batch of screws, as this has never happened with any holster I've previously worn.
Other Options
This is my third make of holster compatible with a Surefire X300. The other two are the PHLster Spotlight, and the Bawidamann Gotham v2. The Axis Elite is by far the most uncomfortable of the three, causing substantial discomfort within a couple hours, and pain within a few more.
Additionally, a sidecar style holster occupies more space than a traditional holster and dedicated magazine carrier. As a result, I am forced to carry fewer things along my beltline when using the T1C or other similar holsters. My Batman utility belt isn't as robust as some, but having to find somewhere else to place my tourniquet isn't ideal.
Final Thoughts
The Axis Elite is a very well made holster. It is certainly the best sidecar style holster I have used. However, the sidecar design is inherently flawed. If you are dead-set on carrying a sidecar style holster, despite their shortcomings, make it a Tier 1 Concealed Axis Elite. That being said, don't carry a sidecar style holster. Instead I recommend you check out offerings from places like PHLster, Bawidamann, Dark Star Gear, Henry Holsters, Tenicor, or JM Custom Kydex.
Want to learn more about sidecar style holsters? Or need another article to tell me about why I'm fat and/or stupid? Check out this article, Why Sidecar Style Holsters Suck