One of the very first self defense related book recommendations I received was for Violence of Mind by Varg Freeborn. At the time there was also a group on Facebook for people to have discussions on violence and defense topics. Like many groups on FB though, it grew to the point where it wasn't really meeting the original intent and Varg shut it down. He is still offering great content on his Patreon where he has better control on the content and direction of discussion. However, the book stands on its own and doesn't need the extra content to be worthwhile.
About the Author
One of the things that makes Varg's book so interesting is his personal story. He grew up experiencing violence at an early age. He has lost friends and family to violence and knows first hand what true violence looks like. At the age of 19, Varg was sentenced to 5 years in prison after stabbing another man 26 times in a self defense situation.
Instead of allowing his upbringing and time in prison to ruin the rest of his life, Varg decided to do something more. Eventually he was able to get his civil rights completely restored and has since become a highly respected trainer. He teaching firearms and tactical courses for civilians and law enforcement, as well as fitness training. He also owns Cognitionis Training Systems, a fitness and weightlifting training company. Full Disclosure: I have been training remotely with CTS for several months now. I am a paying client and no trade/offer/sponsorship/etc was offered related to this review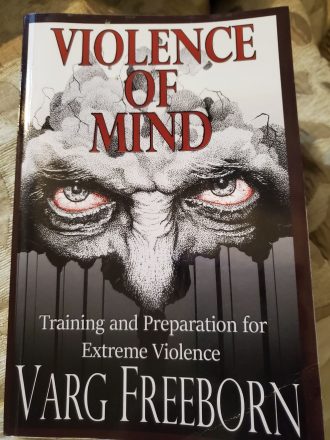 About the Book
Violence of Mind is divided up into three sections focusing on Mission, Training, and Conditioning & Orientation. The first 1/3 of the book is a quick and fascinating read. Varg talks about his background and experiences with violence while growing up. He uses those experiences and stories to review the concept of knowing your mission. As he states, for most of us the mission is to get home to our family each day. He covers topics such as things we do that can be counter to our mission, and things we can do to ensure we achieve our mission.
For me personally, the second portion of the book dragged a bit and I struggled to push through. We talked about it some on our Primer Peak Discord and fellow writers Paul and Daniel had similar struggles. I feel like this section on Training and Conditioning will speak way more to individuals with less exposure to the concepts. Our staff is generally well trained and has experience with the ideas covered. I worked in child welfare and in a state maximum security prison for a while, so these ideas were not new to me. No matter your background, the concepts covered are important and useful.
Worth the Wait!
The final third of Violence of Mind was my favorite. Conditioning and Orientation are important personal protection concepts that are not often covered by trainers and authors. One of my favorite quotes is; We do not rise to the challenge, we fall to our level of training. This is an incredibly true statement, especially during times of crisis. If you do not condition yourself to respond to situations naturally without second thought, your brain may fail you. Varg covers the importance of these concepts in an interesting way that challenges your ideas about yourself and your level of preparedness.
Final Thoughts
I highly recommend everyone read Violence of Mind. If my experiences have taught me anything, it is that most people highly underestimate the level of violence and depravity their fellow man can achieve.
Perhaps one of the most thought provoking statements in the book is, "Violence of action premeditated by preparation and orientation equals violence of mind.". Most "normal" people don't think this way. The "bad guys" do. Violence of Mind gives us a glimpse into the mind of those people and offers a guidebook on how to avoid becoming a victim.
Varg's writing style is a little rough at times, but the message is authentic. The perspective he offers comes from a place most of us have not experienced, If we are lucky, we never will. This is a book that will make you think and take a deep look at your preconceived notions about yourself. We don't often get to learn from other's history and this is not an opportunity to be missed.
What's Coming Next?
Violence of Mind is currently available in paperback and on Kindle. However, in a recent live chat on his Patreon, Varg announced he had begun working on the audio book version. I am looking forward to listening to the book read by the author. I always think it is interesting to see where they put the emphasis. He has also started his second book and shared a couple of paragraphs with participants. It promises to be an interesting read as well.