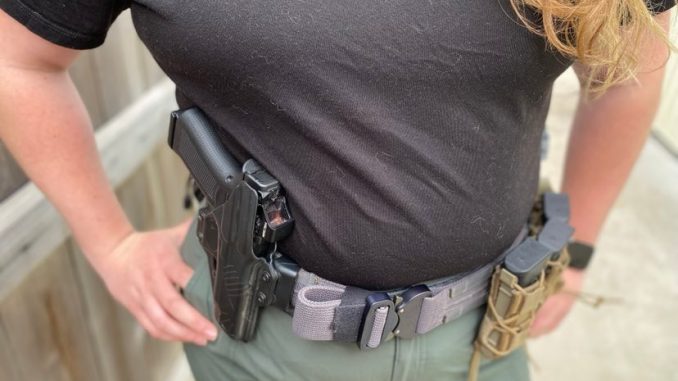 Last month I attended Pistol 250 at the legendary Gunsite Academy. For classes I had taken in the past I was able to conceal carry, and I shoved spare mags into my pockets. A requirement for Pistol 250 was that we have an OWB holster and three spare mag pouches. I wasn't thrilled with the idea of carrying so much on my waistband, especially when considering movement between our AirBnB and Gunsite. My husband pointed me to Blue Alpha Belts, and our editor secured one for me to review for a whole week of gunslinging! I was very excited to try the MOLLE Double Belt Rig for myself.
Construction of the Blue Alpha Belts MOLLE Double Belt Rig
The Molle Doublt Belt Rig consists of an inner low profile belt, and a load bearing utility (outer) belt with a COBRA Buckle. This set up allows the user to take off the outer belt without taking off their gear. I loved having this option while I was at Gunstite. During lunch and lectures I would take the outer belt off so I could move more freely without my mag pouches and tourniquet rubbing on my muffin top.
My Set Up
My husband got everything that I could have needed on my belt for a week at Gunsite. This setup included my Glock 48 with Holoson 507K, a Raven Concealment holster, four mag pouches from HSGI, a tourniquet pouch from North American Rescue, and an administrative pouch from 5.11 Tactical.
My favorite item was administrative pouch from 5.11 Tactical. It was very useful to hold empty mags, spare rounds, my journal, and flashlights that I used during the night shoot. I would encourage everyone to add one of these guys to their battle belts.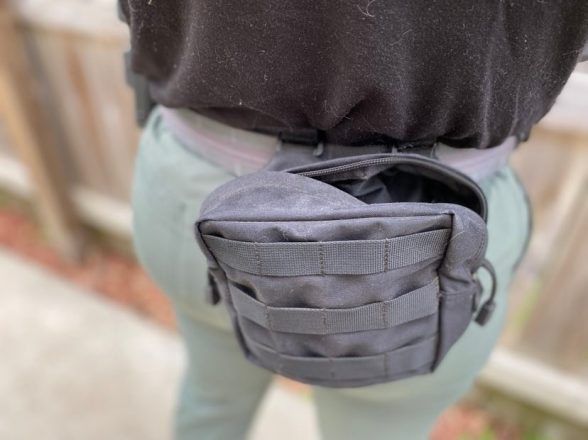 Another wonderful addition was the North American Rescue Rigid CAT Tourniquet holder. During our first day an instructor asked my husband and I what we did for work because we both had tourniquets on our belts. Since January 2020 I have never left the house without a tourniquet on my person, and it is necessary to have one on the range.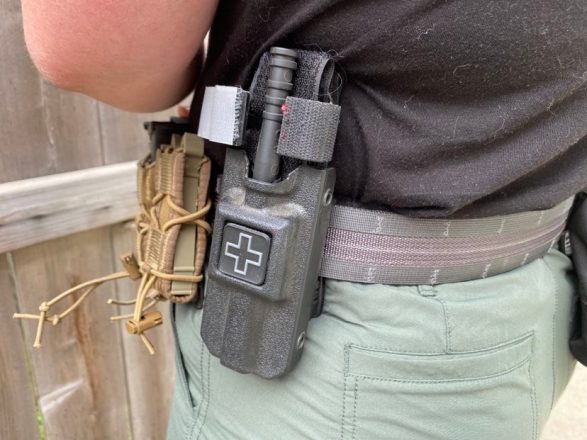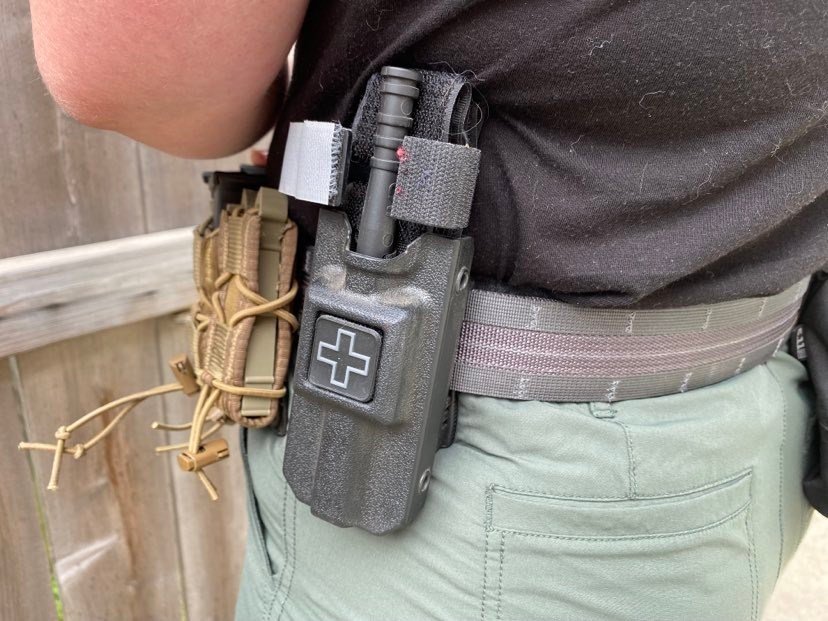 What I Like about the Blue Alpha Belts MOLLE Double Belt Rig
The load bearing utility (outer) belt was easy to take off during breaks and at lunch. At lunch I appreciated the ability to take all of my gear off. It was a lot more comfortable to sit without a pouch above my bottom, and a tourniquet rubbing my muffin-top. In the same vein, I was able to take the belt off for the drive back to our AirBnB, which was about 25 minutes. It allowed my husband and I to stop at the grocery or hardware stores without looking like we were battle ready.
This slideshow requires JavaScript.
The inner belt managed to hold up the heavy outer belt without difficulty. A lot of students commented on it, and seemed like they would be interested in something similar if they did this again.
What I Disliked
COBRA Buckle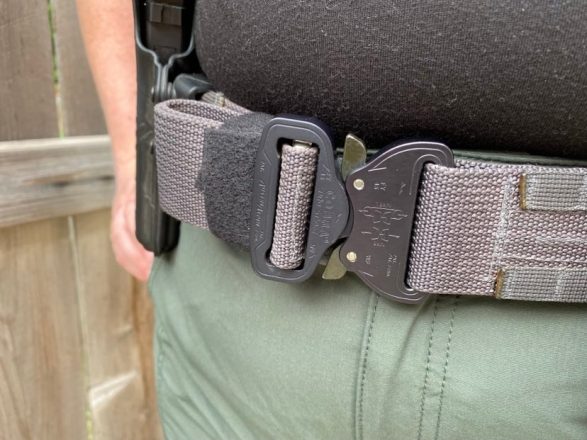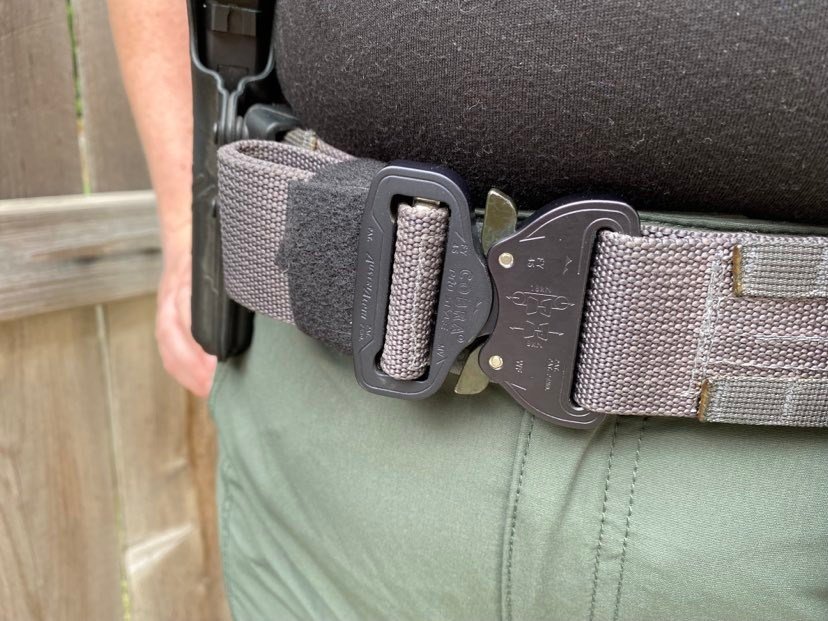 About Wednesday I noticed the buckle was difficult to open. I chalked it up to all of the dust making the buckle tense up. While we were cleaning our guns that night we sprayed some air into the buckle, which seemed to help a little. While taking pictures for this article the buckle continued to stick. We haven't tried any other solutions, so it could be the buckle, or it could be a maintenance issue. This is not a problem I've encountered with other Blue Alpha belts that also use Cobra buckles.
Inner Belt
I liked the inner belt. It did a great job holding up my pistol while we were conceal carrying. However, it was difficult to cinch to my liking. This is because it does not have any kind of buckle to tighten the belt with. Since I took the outer belt off when I used the restroom, went to lunch, and at the end of the day, it would take me at least two tries to make sure the inner belt was tight enough for the outer belt to attach securely. Small complaint, but I would have preferred the inner belt to have a buckle of some sort.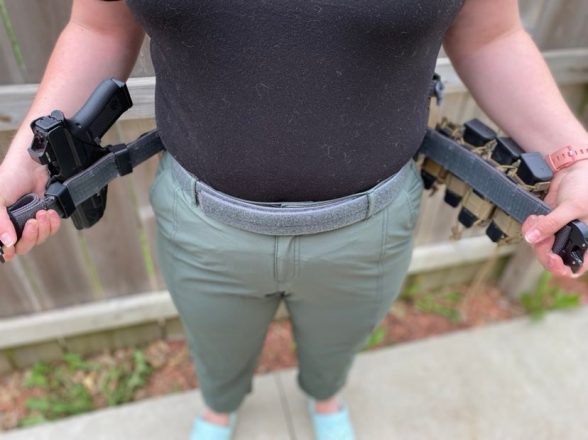 Final Thoughts
Blue Alpha Belts were very kind to send me this belt to use at Gunsite. It made a world of difference being able to take a break from all of the weight on my hips, and not have the tourniquet and spare mags poking into my ribs. While I wasn't thrilled for an OWB class, I'm glad I had this belt. I would suggest this to anyone who regularly takes OWB classes, or participates in competitions.
Editor's Note: This belt was provided to the author by Blue Alpha Belts for purposes of review. No expectations of a positive review were provided by Primer Peak, nor requested by Blue Alpha.